The Unusual Suspects
By: Elisa Gaudet
"The Usual Suspects" movie received a lot of comments for its killer twist of an ending, and the film has proved to be enormously influential. On the Lip's "Unusual Suspects" comprise a unique cross-section of influential characters who just so happen to, surprisingly, golf.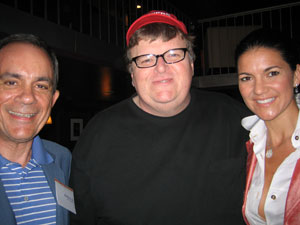 Michael Moore, the controversial documentary filmmaker whose latest film "Sicko" recently opened to rave reviews. The folks at General Motors in Flint, Mich. (remember "Roger & Me"?) where Michael grew up built five golf courses around the plant to offer workers an opportunity for some recreational golf. Michael's father and friends would play after work, and Moore and his friends grew up playing after learning the game from their dads.
To date, Moore's lowest score is 101, but he hopes to break the century mark some day. He mused at the irony of all the plant workers playing golf after a hard day's work. That background might have influenced a scene in "Sicko" where he interviews a Brit on a golf course. "You cut out my golf swing," the Londoner called out at the English pre-screening of "Sicko." This came from the same man who explains universal health care to a mock-skeptical Moore on the course.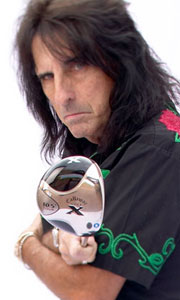 Another unlikely golfer is Alice Cooper, the rock singer, songwriter and musician whose career spans four decades. Known for outragious stage shows with guillotines, electric chairs, fake blood and boa constrictors, Cooper drew from heavy metal, garage rock, horror movies and vaudeville to create a theatrical brand of music that would be called "Shock Rock." The single-digit handicapper hosts his own celebrity golf tournament that benefits the Solid Rock Foundation, an organization started by Cooper and other community leaders with the primary goal of helping to meet the spiritual, economical, physical and social needs of teenagers and children in their Arizona community. During a recent interview, Cooper said he "traded one addiction for another" when he began golf while recovering from substance abuse. He's now hooked on the game, and has even managed to get a sponsor - Izod.
Though not well-known in the U.S., cricket is wildly popular around the world. The game, which took its modern form in England, after soccer, is the second most popular sport in the world, with more than 100 cricket-playing nations recognized by the International Cricket Council. In the countries of South Asia, including India, Pakistan, Bangladesh and Sri Lanka, cricket is the most popular sport. It's also a major recreational outlet in England and Wales, Australia, New Zealand, South Africa, Zimbabwe and the English-speaking countries of the Caribbean, collectively known in cricketing parlance as the West Indies. It's here that we find Brian Lara, arguably the best cricket player of our times.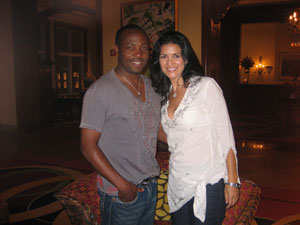 Also known as "The Prince," Lara is a record-breaking cricketer, the greatest batsman of his generation, and one of the best ever. This Michael Jordan or Tiger Woods of cricket is also a single-digit handicapper, a 5, though he's not played as much as he'd like over the past few years. The famous White Witch Golf Course in Jamaica was our backdrop as we spoke during the recent World Cup. Looking more like a rock star, this surprisingly open and down-to-Earth celebrity is an avid golfer who finds a great deal of similarities between his two favorite sports. The world's No. 1-ranked golfer in 2004 and '05, Vijay Singh, grew up on Fiji playing cricket and is still an avid devotee of the sport.
Like the movie, our unusual suspects have produced a great deal Moore than a surprise ending!
Elisa Gaudet brings a wealth of entertainment and golf experience to Cybergolf. Elisa has spent the past several years in the golf industry in the U.S., Latin America and Spain. She worked for the PGA Tour and the Tour de las Americas before founding Executive Golf International, a golf marketing company that works with clients to develop strategies using golf as the medium. Often referred to as the Maria Bartiromo (a business analyst for CNBC) of golf, Elisa says: "Golf, as a marketing tool, has been around for years. It's amazing how many new ways companies can align their brand with the golf market to reach their target audience. Our goal is to create alliances and establish cross-border relations." Elisa also worked in the entertainment industry for over 10 years, including five in Los Angeles as a model and actress. She can be seen at many celebrity golf events and often gets the inside scoop from PGA Tour players. For more information about Elisa, visit her websites at www.onthelip.com or Executive Golf International www.execgolfintl.com.