The U.S. Open at Bethpage: The Song Remains the Same
By: Jay Flemma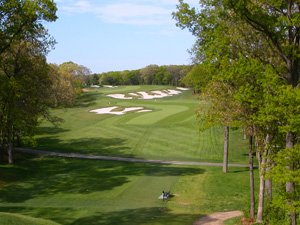 The glacier bunker of the 4th hole is an iconic image of Bethpage Black.
It's going to be one of those weeks when the odds are stacked 18-1 against, when the whole round is a hangover that thumps and pounds ceaselessly, and where every golf hole digs mercilessly for the sciatic nerve. Sure, U.S. Open competitions director Mike Davis promises change and excitement with flexible tee boxes and more strategic options in tournament set-up. But Bethpage State Park's legendary Black course will still be intensely difficult, and the U.S. Open will still be the long, hot grind it's always been when it's held June 18-21.
Yes, change has arrived at the USGA offices in Far Hills, N.J. After years of cloak-and-dagger claustrophobia from tee-to-green at the U.S. Open - with birdies being an endangered species - our national golf championship is finally more exciting for the fans because of more chances for birdie and maybe . . . gasp! . . . eagle. Davis's concepts sweep in like a galleon in full sail. With some tees set far forward on some holes, stretched to the tips on others, and anywhere in the middle at the rest, almost every hole can play a different length each day. With wider fairways, a thin strip of intermediate rough, and more risk-reward options, we'll see a more mercurial leaderboard then any U.S. Open in decades. That means more bang for the buck for paying customers.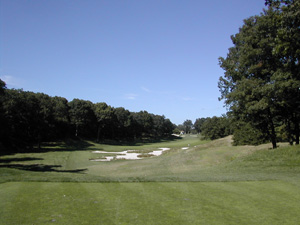 The par-4 5th hole is a classic example of heroic architecture.
Even so, Bethpage Black will still be the brutal, beastly behemoth it has always been since the A.W. Tillinghast design opened in the 1930s. Moreover, the U.S. Open will be its typical self in many ways: brutally long from tee to green, mercilessly penal to players in the deep rough, and so fast on the greens that the Boston Garden's fabled parquet floor will look tame by comparison. So all the New York City public golfers who want to see their favorite course tear the pros to shreds needn't worry; they'll see all of the tournament's trademark grinding, carnage, anguish, and hand-wringing. Plenty of post-round interviews will end with a grunt and a snarl, and a player storming out of the room, and the U.S. Open will still be the toughest golf competition of the year. As they say in rock 'n' roll: You can try changing the station, but the song remains the same.

Change you can Count on

This year, the competitors may lament their own mistakes rather than blame the USGA for sadistic playing conditions. "Where we can do it, we want to give the players a choice. Do you want to play conservative, or do you want to be more aggressive? And if you go to the latter and you pull it off, we want you to be rewarded with a birdie, perhaps even an eagle," Davis explained enthusiastically. "But if you do try it, and you don't pull it off, we want to see you penalized," he continued, his knowing smile hinting at a shrewd warning to the careless, greedy or unsuccessful player. "Everybody enjoys that kind of golf."

The fans certainly do. The U.S. Open used to be a long hot grind: dictatorial, center-line golf, "hit it here, then hit it here, then scrape a par." Too often the trophy went to the player who made the fewest mistakes, rather than the best shots. Although former USGA President Sandy Tatum famously said, "We're not trying to embarrass the best players in the world, we're trying to identify them," too often they'd separate the "truly great" from the "merely pretty good," and then award the trophy to the merely pretty good. Michael Campbell, Ed Furgol, Oliver Moody, Lou Graham, Lew Worsham, (a club pro from Oakmont), Scott Simpson and Steve Jones are so obscure you couldn't "identify" any of them in a line-up of the New York Giants.

This year a truly great player will likely win because, while players will get more rope to hang themselves and have the freedom to use all their skills, they'll have options to take short-cuts to greens by challenging hazards and, if successful, will have shorter shots with more lofted clubs on approach. This year, the winner will dare to make birdie, rather than dread to make bogey.
Holes six, seven, nine, and 13 are the best examples. Six, a short, dogleg-left par-4 with a severely downhill approach has seen the fairway section that tumbles down the hill restored. "What we hope to see are players making a choice, either laying up to the end of the fairway and having a mid iron to maybe an 8 iron, or trying to drive it the whole way down to the bottom of the hill and having nothing more than a relatively simple pitch," explained Davis.

At seven, though the par-4 will play a gargantuan 525 yards - longer than the fabled par-5 fourth, a paltry 515 yards by comparison - the fairway has been widened and the tee box moved to a better angle so players are encouraged to hit driver. In fact, Davis said that players will be encouraged to hit driver "at least eight times, probably more," during the course of the round.

At nine, a dogleg-left par-4, the USGA added not only 40 yards. But a diagonal bunker, almost a cross-hazard, in the landing zone which may be carried to leave a wedge to the green. Or it can be played short for an uneven lie with a longer iron. If you hit a really poor drive, the hole becomes a blind hook with a long iron. Finally, the par-5 13th, which has the original Tillinghast now back into play on the drive, will fluctuate between playing over 600 yards, or a mere 550 some days so players can take a run at an eagle.

More birdies, and possibly eagles, means more excitement for the fans, and a chance for a Sunday charge a la the Masters. "We're taking our foot off the accelerator come the final day on Sunday," said Davis. "We purposely did that last year at Torrey Pines, and you saw I think Sunday represented the easiest setup of the four days."

It's a refreshing change. Playing in the U.S. Open was like playing Russian roulette, you just waited to hit the chamber with the bullet. Now a player might be tempted into a dangerous shot, which could actually lead to a worse score, but also could lead to a string of birdies, which means fans will be absolutely riveted to the action in the hope of fireworks that so seldom came during past Opens.

"I'm in favor of whatever they feel is necessary to make the tourney the most exciting show for fans," said ardent fan and Bethpage regular Eric Scher. "Having a more accessible course - and a less tricked up one - adds excitement," he explains energetically. "It's no fun to watch these guys have to grind it out all the time. Part of the fun of watching them get into trouble is seeing them use their world-class talent to get right back out of it. Some of the most dynamic players in history earned that reputation by being great recovery players, like Seve out of the parking lot at the British Open and Trevino in several majors. Those are the most memorable majors, and those are the memories I'd like to see at our beloved Bethpage."
Our Beloved Bethpage: that perfectly describes the locals' love affair with "The Black" as she is called. Bethpage Black: the goddess of every New York public golfer's idolatry. "It's great we've found a truly public course, a municipal course, good enough to host an Open," said Marty Freedman, another New York public golfer. "Besides, we want another shot to show the world we're tougher than Torrey Pines," he finished, referencing last year's venue, also a municipal facility.

The More things Change, the More they stay the Same

Freedman raises an interesting point. Californians are not New Yorkers and, while New Yorkers embrace how hard Bethpage is, Californians people want a fun, low-impact round. Being on high alert to a triple-bogey on every shot is not their idea of a good time. They expressed concern that their money didn't necessarily buy a better course last year, just a much tougher course. They felt they had every right to gripe when $3.5 million was poured into a course they love like the child of their loins - and that they love as much as NYCers love Bethpage - only to find out that, when they think they've sent their daughter to finishing school, she's come back with tattoos and a nose ring.

New Yorkers are another story altogether. They relish showing off how tough both they and Bethpage are. New York City golfers love to play in the street and dodge the cars, so to speak. Well, locals needn't worry about Bethpage being kinder or gentler, because this also may be the longest U.S. Open with the fastest greens. Indeed, Davis's media day press conference focused on these two issues immediately after the welcome news that players would have more options.

"This U.S. Open venue is going to be long," Davis declared. "A player is absolutely going to be able to have to move the ball out, and he's going to have to hit approach shots that are high and soft . . . So many of the greens either sit up in the air or there's rough and bunkers in front of the green, that somebody who's going to do well at Bethpage has got to be able to fly the ball to the green and have it stop." The course will measure 7,426 yards, par-70 on the card, though the yardage played on any given day will be lower.

Moreover, the greens may be the fastest in recorded history. According to Davis, they'll run between 13.5 and 14.5 on the Stimpmeter. "I think for the most part, these greens can handle that speed with one exception, any of you who have played the course, you know the 15th green has a lot of slope on it. In fact, I've woken up a couple of times in a cold sweat at night thinking about the 15th green," Davis said.

Of course he would. Fifteen has not only the most severe slope on the golf course - it's got a lower front area with a big ridge running through it, and then the back portion where there is only one hole location. But it's one of the most severe greens in American golf. Indeed, all four hole locations will have to be relatively close to one another.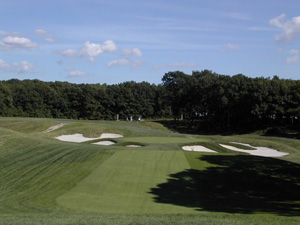 The par-4 6th hole will have the fairway extended to encourage a long drive and a short pitch on the approach.
Additionally, 13.5 - 14.5 on the Stimp on any golf hole is too fast: it's like putting on tile. But 14.5 on Bethpage's 15th green is too much. It reminds me of that great scene in "Spaceballs," Mel Brooks's lampoon of "Star Wars," when Rick Moranis plays a short, dorky version of Darth Vader and shouts, "Light speed's not enough! We're gonna have to go right to . . . ludicrous speed!"

Stimps that high are not good for golf, because golf course green committees mimic what they see on TV. When it comes to televised golf, "like a video replay, they do what you say," and it generally costs more to build and maintain greens at that speed. Worse still, greens have to be flatter and you get fewer hole locations. Golf needs more interesting greens with more interior contour: great greens like Oakmont and Winged Foot that insure the adventure doesn't end upon reaching the putting surface, not flattish greens like the vapid Medinah.

Now Davis made a show of telling the assembled media not to mistake Bethpage's greens for flat. "Another thing, this was an issue that was brought up in 2002, but the putting greens for the most part relative to other U.S. Open courses are pretty flat," he began. "Do not make the mistake of thinking these greens are flat; they are not."

I don't agree, and neither does golf design expert Matt Ward. Ward once accurately described Bethpage's greens as "six flat, six mostly flat, and six with contour." He's right. Even Davis raised a knowing eyebrow when I mentioned that they shaved the front of the green on the par-3 8th hole . . . so balls might spin back into the pond fronting the green because the slope is so severe. But aside from eight, 11, 15, and a couple others, Bethpage is not Winged Foot or Oakmont. As Davis confided, "what we are able to do when you have flatter greens is get the green speeds faster. I do think in general you see these greens are a bit less undulating and a bit more level than most. So I think that it's fair to say that you're probably going to see a few more putts made at this U.S. Open than other U.S. Opens, because the greens roll so true, and again, there are not a lot of humps and bumps like a Winged Foot or an Oakmont."

Finally, Davis ordered fresh sand for the bunkers to encourage fried eggs, drop zones in gnarly rough so you can't get a break hitting deliberately into the grandstand. "Week to week, I would say the players love to get in bunkers at a tour event; they are not going to want to be in the bunkers at Bethpage. We purposely softened up the sand so that they get less spin out of it," Davis commented. "But it was really refreshing last year. For the first time I heard a player came [to the U.S. Open] and said, 'I don't want to get in the bunkers this week - I actually have a better ability to recover from around the greens in the grass than in the bunkers.' "

Now another interesting stat to watch on the leaderboard will be fairways hit and greens in regulation. Last year, the leaders averages were well down in both categories, and this could be attributed to the intermediate cut of rough Davis introduced. Consider this chart from the leaderboard after Day 2 at Torrey:
Rocco Mediate - 11 of 18 greens, 11 of 14 fairways, 56 putts (over two days)
Robert Karlsson - 10 of 18 greens, 8 of 14 fairways, 58 putts
Tiger Woods - 14 of 18 greens, 9 of 14 fairways, 59 putts
D.J. Trahan - 9 of 18 greens, 11 of 14 fairways, 55 putts
Davis Love III - 10 of 18 greens, 9 of 14 fairways, 56 putts
Lee Westwood - 8 of 18 greens, 9 of 14 fairways, 57 putts
Robert Allenby - 9 of 18 greens, 7 of 14 fairways, 56 putts
Geoff Ogilvy - 11 of 18 greens, 6 of 14 fairways, 62 putts
The question for debate is whether the intermediate cut of rough reduces the importance of driving accuracy too much. Now Torrey - probably the easiest Open venue since Olympia Yields, I mean Olympia Fields, may not be the best litmus test. Nevertheless, this is a story line to watch. That and whether the U.S. Open will continue to have fewer birdies, fewer pars, fewer eagles, and the highest scoring average to par than each of the other major championships, as it has so often in recent memory.

Handicapping the Field

When asked if a short or medium-length player could win at Bethpage, Davis candidly responded that it was unlikely. "That player is really going to have to be on his game . . . I think it's going to take a shorter- to medium-length player who's hitting all of the fairways and is really on with his approach shots." In other words, it will take the best week of golf of his life.

With length being tested more than driving accuracy, Tiger Woods is the favorite. First, where Woods wins, he repeats, especially at majors. Medinah, Augusta, St. Andrews, Pebble Beach, Torrey, Firestone, Sawgrass, (he won The Players and U.S. Amateur there), I'll ride that trend since it has never failed yet.

Some say Woods is not the same as he was before he blew out his knee. Maybe, but Woods has the magic and good fortune of a conjurer who just caught a speeding bullet in his teeth and no way on God's Green Earth is going to tell how he did it. His gallant win at Torrey is still ringing in our ears, and will throughout the ages. Being consistently outshone is an occupational hazard of being his contemporary. Maybe the old Tiger would have the course for breakfast and spit out the bones . . . like he will next year at Pebble Beach . . . but as New York Daily News golf writer Hank Gola observed, Woods putts his best on fast greens. He also putts best on flat greens. He is a prohibitive favorite here.

As for the rest of the field, watch Geoff Ogilvy. He won his only major on a Tillie (Winged Foot), and he loves tough tests. So does Padraig Harrington, another good pick. Everyone says Sergio Garcia is a mess, but he plays well in New York and he plays well at Tillie courses. Maybe out of the spotlight, he can find the missing pieces and put them together. As we go to press, we don't know if we will even see New York phan phavorite Phil Mickelson. For a sleeper, try George McNeill, the old school throwback golfer with a great game and devil-may-care swashbuckling on-course attitude.

The Course Remains the Same

In earlier years, reports from media day and pre-tournament interviews confirmed that the players should be panicking, exactly why they should be panicking, and what form the panic should take. You'd think the venue was less a golf course and more a homicidal maniac . . . or Oakmont, take your pick.
But although Davis discussed hope and change, I'll believe it when I see a winning score lower than 5-over. Bethpage Black, for all its new options, will not be a pleasant gambol in the sunshine. As usual, it will be a languid summer week in the bacchanalia that is New York City, hot as hell's boiler room, where every shot on every hole could result in a ghastly, costly mistake, a miscounted trump card that triumphantly falls - perhaps some smirking Queen of Spades - that spells the difference between making that small slam redoubled and 400 points above the line and a fat stack of your bills for the opposition. A hair divides the false from true, and also defeat from victory, just like every U.S. Open for decades.

Things to do at this Year's Open

Since I'm the hometown boy this year for the U.S. Open, the press gang is looking to me for recommendations. So channeling my best Marty Hackel, just with food, not clothes. I'll be making golf and dining recommendations for your enjoyment at the end of each piece I write for the U.S. Open.

Public Golf. While public golfers everywhere celebrate the restoration of fabled Bethpage Black to conditions deserving of a venerable classic, another restoration of equal historical import is finishing in the shadow of the George Washington Bridge in Parsippany, N.J. The Knoll Club West Course has been painstakingly restored by George Bahto, an expert in the designs of Seth Raynor's protégé, Charles Banks. The venue showcases many holes made famous at Raynor and Macdonald's National Golf Links of America, and can claim as spectacular and unlikely a return to glory as Bethpage Black.

Built in 1930 by 30 millionaires, the course was devastated by the Great Depression. What cost the founders $2 million to build was sold only seven years later as a distressed property for $110,000. After changing hands several times, the club was finally bought by the town of Parsippany.

Years of indifference triggered decay. The course looked completely unrecognizable as the work of Banks with one exception; nobody changed the greens. Their fiendishly intricate internal contours - worthy of mention beside mighty Winged Foot or Oakmont - remained unspoiled, a miracle that persevered during the long period of doldrums.

Bahto's passion for the Knoll spurred him to accurately restore the course to the specifications found in the oldest known aerial photos from the 1930s; there are no modifications or "enhancements."

"We put it back as it was built" Bahto says firmly. "I guard the original design of these greens with my life."

"It's another miracle for Tri-State area public golfers," agrees one NYC public player. "It's nearly impossible for public golfers to play a Macdonald, Raynor or Banks course, so Bahto's providing a timeless gift to all New York golfers."

Private Golf. Inwood Country Club in Queens was the site of the 1921 PGA Championship and 1923 U.S. Open, won by Walter Hagen and Bobby Jones respectively, making Inwood one of only two courses in the world to claim both Jones and Hagen as major championship winners. (The other is Royal Liverpool.) Built in 1901, the course is mere steps from JFK Airport, but feels as though it were on the coast near Charleston, not New York. Indeed its flattish, tidal layout feels as charming and graceful as the Carolina's Lowcountry.

Inwood is a composite course derived from a number of designers, some of whom are lost in the mists of history. Herbert Strong was the most notable of a small cadre of contributors, and Tom Doak finished the recent, excellent restoration to the 1923 layout. Besides honing the excellent horizontal movement of the fairways through tidal marsh, Inwood also features excellent green complexes: hog's backs on Nos. eight and 15, a punchbowl on 14 and terrific diagonal angles on many other holes, the adventure only continues upon reaching the putting surface, the hallmark of any great golf course.

Best of all, Inwood's routing is unique in golf. Three consecutive par-5s (holes 3-5) are followed by two par-3s because this was what the land offered. Inwood simply let the land dictate what holes lay best where. At 37-34=71, Inwood is still one of a kind, just as it has been for over a century. They are taking new members at the excellent price of $8,000 per year for golf. Phone them today for a tour.

Food. The bustling Queens neighborhood of Forest Hills wins the contest year-in and year-out for best suburb of New York City. With numerous boutiques, countless great restaurants, and a gorgeous gardens section with houses done in Georgian architecture, it's not just for tennis players or Spiderman. (For those of you scoring at home, the legendary comic-book hero lived near Ascan Avenue.)

Two streets stand out for food. On Metropolitan Avenue, newly-opened Pampas Argentinean steakhouse has some of the best beef in all New York City, as well as all the Italian dished you'd expect from an Argentine restaurant. Dee's Pizza has won several awards for best wood-fired pizza in town and has the tastiest pepperoni you can find outside of legendary Faicco's Deli on Bleecker Street. My Kitchen restaurant is the latest incarnation of famous restaurateur, Galik Ambarsom. Featuring huge portions at terrific prices, patrons enjoy steaks, fish, poultry and artisan desserts from the master himself. Caviar quality at recession prices: it's a bargain all day long.

Wrap up your evening with cappuccino at La Dolce Italia, the best coffee in town, and ice cream at Eddie's Sweet shop, the old-time soda shop that looks so much like a 1950's movie set, Hollywood blocks off the street to shoot scenes there all the time.

On Austin Street, Q Thai Bistro is still king. Sisters-in-law Vesda and Jean Gmerek were friends and fans of the Desmond Llewellyn, the legendary Q of 007 fame. Some of their dishes are as inventive as Q's spy gadgets. "Now pay attention 007! This ordinary hamburger actually has an Asian spice infusion of massaman curry and basil." With tasty whole crispy fish, savory pad thai, and other Asian favorites, it's every bit as the Southampton location was when you went there during the 2004 U.S. Open. Moreover, Jean is an uber-hottie, so make sure to compliment her on her smokin' bod, luxuriant red hair, and alluring smile. Finally, Mark at Uno's is a Queens favorite for area bartenders, so stop by and have him mix you up a nightcap while you watch the golf recap or a summer ball game.


Since launching his first golf writing website in 2004, http://www.jayflemma.thegolfspace.com, Jay Flemma's comparative analysis of golf designs and knowledge of golf course architecture and golf travel have garnered wide industry respect. In researching his book on America's great public golf courses (and whether they're worth the money), Jay, an associate editor of Cybergolf, has played over 220 nationally ranked public golf courses in 37 different states. Jay has played about 1,649,000 yards of golf - or roughly 938 miles. His pieces on travel and architecture appear in Golf Observer (www.golfobserver.com), Cybergolf and other print magazines. When not researching golf courses for design, value and excitement, Jay is an entertainment, copyright, Internet and trademark lawyer and an Entertainment and Internet Law professor in Manhattan. His clients have been nominated for Grammy and Emmy awards, won a Sundance Film Festival Best Director award, performed on stage and screen, and designed pop art for museums and collectors. Jay lives in Forest Hills, N.Y., and is fiercely loyal to his alma maters, Deerfield Academy in Massachusetts and Trinity College in Connecticut.