The Viewer's Guide to the Potomac Cup
By: Jay Flemma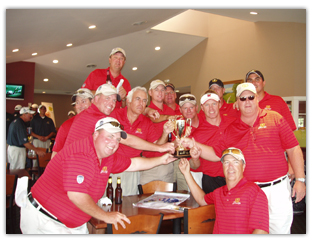 Maryland Celebrates with Cup Win for First Time in Four Years
Cybergolf's Jay Flemma will once again be on hand to report on the annual Potomac Cup, a hard-fought team competition involving the best amateur golfers in Maryland and Virginia. Here's a "viewer's guide" from Jay on the 2009 edition.
What: The Potomac Cup: the ninth annual amateur team golf competition between the best amateurs from the states of Maryland and Virginia. The field consists of state amateur champions, state team champions, U.S. Open qualifiers, players on the amateur circuit, and two-man teams that finish first, second or third in one of two qualifying events.

This year's competition will return to Blue Ridge Shadow Golf Club in Front Royal, Va., August 28-30. Maryland is the defending champions after last year's 19.5-16.5 victory, and Virginia leads the overall series 5-3.

Teams compete for the Potomac Cup, which - despite its prestige, is irreverently revered as one of the ugliest trophies in the world of sports. "This event means so much to the players of the region, they'd play for a spittoon if they had to," said Maryland Assistant Captain Ron Thomas. "I ask you...," he continued, "The Old Oaken Bucket? The Ashes? Those plaid jackets from the Heritage? What are those?"

Not much, I agree, and yes, though the Cup is drab, the emotions are cathartic. It's an atmosphere of golf camaraderie and altruistic amateur competition untainted by drugs, too much money or disingenuous hype. "We're proud to represent our state. It was a great thrill," said Virginia player Lee Fields last year.

"This is our Ryder Cup," added veteran player and assistant Maryland captain Vance Welch.
Potomac Cup Teams Line Up for National Anthem
As an aside, the winner of the most outstanding player award, as voted upon by the assembled media, gets a much better trophy, the Sherriff's Award, a statue of a cowboy on a bucking bronco.

Past Sherriff's Award winners for most outstanding player:

2008 Brad Hankey (Md.)
2007 Peter Badawy (Va.)
2006 Scott Inman (Va.)
2005 Ross McIntosh (Va.)
Where: Blue Ridge Shadows for the second consecutive year. The course's penal architecture makes it a good match-play venue. There is a good mix of par-4s: several are long and traverse severely rolling hills with uneven lies, others are short and dangerously narrow. The par-5s should all be reachable, so there is a chance for anything between an eagle and a double-bogey. The greens have some interior movement, so the adventure and challenge don't end upon finding them in regulation.

The 18th plays to a green surrounded by water and directly underneath the clubhouse, making it a fantastic finisher. In one of the iconic moments in the tournament's history, Maryland player Rusty Hall, the last man on the course, holed out for eagle to close Friday's play last year and secure a win for his team. Outracing a thunderstorm to the safety of the clubhouse, Hall sank a 110-yard, 52-degree wedge shot for a walk-off eagle and the win.

Assistant head professional Angela Williams thinks the course makes a great match-play venue. "Our course doesn't just cater to long hitters. You have to be accurate, there are a lot of placement holes." Williams also coaches the Clark County high school boys team.
Who: The beating heart and soul of the Potomac Cup is Fox Sports broadcaster Steve Czaban, the founder and chairman of the tournament. He is also Captain of the Virginia squad, Team Blue to its friends.

Virginia Players to watch:

Ross McIntosh - tall, slim and smooth, this affable Zimbabwean ex-pat is the flag-bearer for coach Czaban. He's all but unbeatable.

Frank Romano - Another fierce competitor, this inscrutable character quietly beats your best player. He'll take on anyone, heedless of how bloody his nose might get. He makes a great anchor in singles.

Steve "The Thing" Nolin - great player, better nickname. A dead wringer for the stone-shaped hero from the "Fantastic Four," he's a former wrestler with a flat swing, but great short game. Hearing his teammates growl, "It's Clobberin' Time!' as he drives off the first tee is one of the most fun moments of the Potomac Cup.

Dan Derisio - Solid, fearless player, but mercurial. Can go really low and beat anybody, but occasionally loses a head-scratcher. If he gets on a roll, he could help Virginia pull an upset.

Rookie to watch: Mark Fegani. He paired with McIntosh in qualifying. If he's anything like Ross, he could win rookie of the year.
Maryland Players:

The team starts with Assistant Captain Vance Welch, probably the strongest player in the field. You'd think that would put a target on his back, but he welcomes it. Watch for an epic battle or two with Romano, "the TV pairing," as it's affectionately called.

Bill Jenner and Pete DeTemple: great doubles team and unflappable singles players as well. They were front and center for Maryland's win last year.

Lee Flemister and Jeff Lim-Sharpe: doubles specialists. They were so impressive in dispatching more highly favored opponents on the first day of doubles last year, they became the team's lead pairing. The tandem went directly into the teeth of Virginia's line-up, and fought two battles with the greatest doubles team in Potomac Cup history: Dom Phattiyakul and Dae Chung. They lost both, but the rest of Maryland was able to exploit Virginia's soft underbelly and build a big lead going into Sunday singles. This year, they'll take no one by surprise, but will still be worth the price of admission by themselves.

Indeed, the loss of Chung (he moved to San Diego) and Phattuiyakul (either a conflicting tournament or a bizarre gardening accident) puts Virginia behind the 8-ball.
Swing Players: Rusty Pies is poised to become a breakout star. Mike Wah adds depth but must avoid the mental breakdowns he occasionally suffers, like the time he and Ron Thomas lost a match to "The Wonder Twins" (a pair of greasy-haired, nerve-rattling geeks with string warts that played one year for Virginia). "That was just a statistical outlier," muttered Thomas. No, it was loss of concentration and taking an opponent for granted, so stay focused for 18 holes.

That shouldn't happen with Vance Welch as the Assistant Captain. A cast-iron role model, he'll motivate the troops. They'll have to be careful during draws for matches, though, as Czaban of Virgina is a genius with his parings.
Advantages & Disadvantages

Doubles Advantage: Maryland. Jenner and DeTemple, Flemister and Lim-Sharpe, Welch and either Rusty Pies (Trusty Rusty) or Dave Ansellum: that's three tough teams. Is VA that deep? There are four doubles sessions to survive.

Singles Advantage: Possible edge to VA. It all depends on how Mark Vandegrift and Chris Huemmer, VA's swing men play.

Coaching advantage: Virginia. Czabe is a world-class golf coach, there's nobody better at psyching the troops up, although former Maryland star Pedro Carrasco came close . . . who could ever forget Pedro's brilliant speech the night before the 2006 singles when he shouted the immortal words that still echo through the years: "Choo gottoo wantoo ween wi chore lass brett!" and the rest of the team joyfully shouted, "ARRIVA!!" and BURST out of the meeting room with a lion's roar. Good times.
Great Tournament Traditions

* The National Anthem at dawn Friday followed by hearing your name called to play away may only be surpassed by seeing your name on your golf bag and the leader board.

* The "one-club tournament" where 40 guys play one hole at once is a scream.


Since launching his first golf writing website in 2004, http://www.jayflemma.thegolfspace.com, Jay Flemma's comparative analysis of golf designs and knowledge of golf course architecture and golf travel have garnered wide industry respect. In researching his book on America's great public golf courses (and whether they're worth the money), Jay, an associate editor of Cybergolf, has played over 220 nationally ranked public golf courses in 37 different states. Jay has played about 1,649,000 yards of golf - or roughly 938 miles. His pieces on travel and architecture appear in Golf Observer (www.golfobserver.com), Cybergolf and other print magazines. When not researching golf courses for design, value and excitement, Jay is an entertainment, copyright, Internet and trademark lawyer and an Entertainment and Internet Law professor in Manhattan. His clients have been nominated for Grammy and Emmy awards, won a Sundance Film Festival Best Director award, performed on stage and screen, and designed pop art for museums and collectors. Jay lives in Forest Hills, N.Y., and is fiercely loyal to his alma maters, Deerfield Academy in Massachusetts and Trinity College in Connecticut.