The Visionary behind Liberty National
By: Elisa Gaudet
It warms my Boston heart when I hear Paul Fireman say the word "harbor," which he often does given the spectacular location of his creation, Liberty National Golf Course in Jersey City, N.J. The course is perfectly situated in New York Harbor, offering breathtaking views of Manhattan, and the Statue of Liberty standing watch center stage.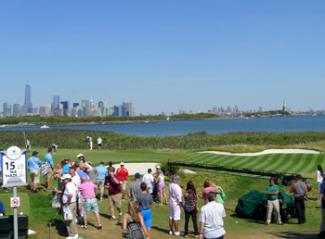 The Views from the Par-3 14th During the 2013 Barclays
Hole No. 14, a 150-yard par-3, and the 18th, a 490-yard par-4, have such astounding views that you're awed by their magnitude and beauty, and the foresight to create such a setting. The 7,353-yard Tom Kite and Bob Cupp-designed Liberty National has hosted The Barclays tournament twice; first in 2009 and again in 2013.

Some changes were made after the 2009 event and, this time around, the course appeared to have won the approval of the players and critics as the reviews were positive, especially from Australian Adam Scott, who won the first stop in the four-event FedEx Cup Playoffs two weeks ago.

Liberty National is one of those layouts that appears to have been sculpted into the surrounding environment and has been there all along. Given that not so long ago this property was a landfill and industrial wasteland, it is immediately evident that no expense was spared to transform it into a private club within eyeshot of the Big Apple.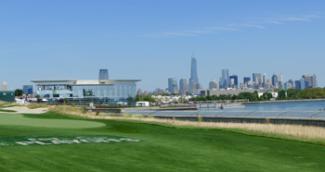 Liberty National's Clubhouse
It blends seamlessly with the marsh-enclosed waterfront, and features a $60 million clubhouse that looks like a glass ship about to set sail into the harbor. The structure, inspired by the Sydney Opera House, is 57,000 square feet of glass and steel. Its luxurious interior features locker rooms, a library, bar, formal dining areas and fitness center.

Fireman is no stranger to visionary ideas. After investing $65,000 in Reebok, he bought the North American distribution rights for the sneaker company in 1979, and took it to a public company before selling it to rival company Adidas in 2006 for $3.8 billion. His profit from the deal was close to $700 million.

Besides building companies, Fireman has experience building and rebuilding golf courses, including as the owner of Willowbend on Cape Cod in Mashpee, Mass., from 1991 to 2012. Liberty National is the culmination of his goals in golf.
After playing a round and spending time at this amazing facility, I realized the $250 million to mitigate the polluted land and redevelop, design and build Liberty National Golf Club was worth every cent.

Like visiting a historic building or a great monument, you learn to appreciate that Paul Fireman's vision and desire to leave a legacy was achieved here. Not bad for the former Thorny Lea GC caddie from Brockton, Mass.
Elisa Gaudet brings a wealth of entertainment and golf experience to Cybergolf. Elisa has spent the past several years in the golf industry in the U.S., Latin America and Spain. She worked for the PGA Tour and the Tour de las Americas before founding Executive Golf International, a golf marketing company that works with clients to develop strategies using golf as the medium. Often referred to as the Maria Bartiromo (a business analyst for CNBC) of golf, Elisa says: "Golf, as a marketing tool, has been around for years. It's amazing how many new ways companies can align their brand with the golf market to reach their target audience. Our goal is to create alliances and establish cross-border relations." Elisa also worked in the entertainment industry for over 10 years, including five in Los Angeles as a model and actress. She can be seen at many celebrity golf events and often gets the inside scoop from PGA Tour players. In 2011, Elisa published her first book, "Two Good Rounds" (Skyhorse Publishing). Her story for Cybergolf, "Golf a Romantic Affair at Cabin Bluff," won the top prize in ING's 2012 Travel Writing category, and that same year she won the ING's Outstanding Achievement award for the Op/Ed Writing Category for her Cybergolf article, "I Want to Fall in Love with Tiger Again." For more information about Elisa, visit her websites at www.onthelip.com or Executive Golf International www.execgolfintl.com.