The Whims & Fancies of the PGA Golf Show
By: Joel Zuckerman
The PGA Show is coming to Orlando late next week and, once again as is the case in late January of every year, many thousands of pros, buyers, media members, manufacturers and the game's dignitaries will converge at Florida's Orange County Convention Center for four days of meetings, seminars, buying, demonstrations and no shortage of schmoozing.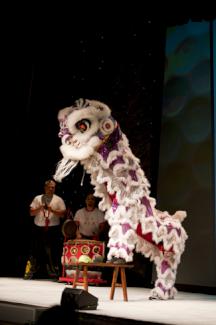 Some of the Color & Pageantry of the PGA Golf Show
(Photo Courtesy of PGA Golf Shows)
The real salad days for "The Show" were a decade past. It was a jamboree, a carnival, a joyous celebration of the game. But participation slowly winnowed, with some of the game's biggest names taking a leave of absence for a time, the rationale being that they could allocate their resources elsewhere, sending sales teams out in the field to make individual sales calls instead of building a showy booth the size of a Hollywood mansion and staffing it with many dozens of senior personnel.

Several years ago The Show was a shadow of its former self in terms of excitement and participation, but with the economy again ticking upwards, at least incrementally, optimism is running high for 2012. After all, the recent consumer electronic and automobile shows both did brisk business, and there's no reason to think the PGA Merchandise Show might also be on the upswing, however slightly, once again.

More than a thousand of golf's biggest (and smallest) names will be exhibiting, including heavyweights like Nike, Callaway, Titleist, Cobra, PING and Taylor-Made. Yet the curiosity factor is not necessarily with the name brands, but more with the mom-and-pop types who reserve exhibit space the size of three telephone booths and hope their "big ideas" finds a big audience. What The Show will always have in spades are dreamers - entrepreneurial types, inventors, little guys with a grand plan.
Here's a quick and quirky sampling of the types of products this correspondent has seen on display over the years, as these folks lurking around the periphery of the golf industry continue to try and build a better mousetrap.

I once met a young man named Jason Deal who invented something he called the Turf Trike. It's a three-wheeled, pedal-driven beach cruiser-type contraption outfitted to hold a golf bag between the handlebars, with plenty of baskets and storage units. It's apparently targeted for those who want more exercise than a golf cart can provide, but aren't willing or able to actually play the game the way it was intended - on their own two feet.

Speaking of one's own two feet, there were the German inventors of Free-Release golf shoes, who want players to reduce the stress of the golf swing in their feet, knees, hips and spine. So they developed a high-end golf shoe with a rotating sole plate (USGA legal) that reduces strain and keeps golfers from spinning out of their stance during the follow-through.

There was an English chap at a small corner booth who pressed a football-shaped golf ball in my hand, which at first glance seemed to be a promotional oddity, like a massive animal head-cover or jewel-encrusted putter. But the oblong, dimpled orb is the key to a brand-new game he was attempting to market called "Golfcross," where instead of depositing the ball into a hole in the ground - as has been the object for centuries - one endeavors to "kick a field goal" into a net, set up 20-or-so yards to the side of a green on a conventional golf course. Speaking of which, players use conventional clubs to propel the ball and, apparently by tilting the top of the egg-shaped ball left or right on the tee, one can automatically slice or hook on command. (For more on this golf offshoot originated in New Zealand, see Jeff Shelley's piece in Cybergolf at http://www.cybergolf.com/golf_news/golfcross_a_new_way_to_play_the_game.)
One year my interest was piqued when I saw four men attempt to lift a burly fellow sitting in a chair with just two fingers each. They couldn't budge him, but when each donned a Quantum Pendant, they lifted him with ease. Next thing you know, I spent 15 minutes doing field tests, and it was indisputable that my balance, flexibility and strength was noticeably better wearing this half-dollar-sized medallion than without it. It produces "scalar" energy, whatever that is, but I made for the exit quickly when my Malaysian guide was telling me it'll make screw-cap wine taste like the finest Beaujolais, and putting it in the trunk under the spare tire will result in better gas mileage.

Other thoughts about The Show, for those who've never been there:

The swing contraptions on display could fill a gymnasium. The sheer volume of flexibility and golf-fitness equipment alone are enough to make the head spin. With so much gleaming, high-tech apparatus available, the first thought coming to mind is, "Why are so many of the golf-oriented folks plodding the aisles in such mediocre condition?"

It's impossible to assess accurately how much ground people cover on the Expo floor. My biggest regret of these weekends is not wearing a pedometer to see how many miles I added up.
Not only would a first-time visitor not expect to see the types of peripheral equipment and accessories on display, but would further be amazed at the sheer competitiveness of these seemingly fringe products. For example, there were numerous examples of different sunscreens, visors, personally embroidered caps, sunglasses, golf jewelry, art, plaques, statues and accredited collegiate programs, all vying for the attention of the attendees.

In its heyday, the Expo is an aural as well as a visual phenomenon. Carnival-style barkers attempt to lure show-goers to see the latest, greatest drivers/wedges/putters, etc. Music blares discordantly from some booths, which are accompanied by the "thwack" of balls being slammed into tarpaulins, interrupting the hum of 10,000 conversations taking place at once.

Costumes often play a major role at The Show. For instance, one year the staff at Diamond Touch Drivers wore tuxedos, showing a touch of class as they showcased their new $1,000 drivers with industrial diamonds imbedded in the face. Close by was a gang in tiger stripes, hoping to interest the buying public in the entry-level Orbiter line of clubs. Not far away you'll find Scotsmen in kilts showing off the birthplace of the game as a travel destination. And everywhere you turn there are scantily-clad models in bikinis, hot pants, tank tops, navel rings and the like.
The single most superfluous display had to be the miniature golf exhibit. One would be amazed at how many types of miniature golf balls are available. You can buy balls painted like soccer balls, footballs, cue balls and baseballs. You can purchase low-bounce, floating, even cut-proof miniature golf balls. One wouldn't think there was much of a market for cut-proof miniatures, but then again one could make the same argument for the products at fully one-third of the booths on the floor.

To sum it up in a single phrase, the Expo is everything in the world you could possibly need to play and enjoy the game, and so many, many things you don't.
Joel Zuckerman, called "One of the Southeast's most respected and sought-after golf writers" by Golfer's Guide Magazine, is an award-winning travel writer based in Savannah, Georgia. His five books to date include "Pete Dye - Golf Courses," which was honored as "Book of the Year" by the International Network of Golf. His sixth book, titled "The Kiawah Mystique," will be released in spring 2012. Joel's course reviews, player profiles, essays and features have appeared in 110 publications, including Sports Illustrated, Golf, Continental Magazine and Delta's Sky Magazine. He has played nearly 800 courses in 40-plus states and a dozen countries. For more about Joel, visit visit www.vagabondgolfer.com.