'The Wit and Wisdom of Golf Course Architects'
By: Bob Spiwak
I have to interject at the start that I have a personal connection with the author of "Putting A Little Spin On it: The Design's The Thing." It was written by Lark Leslie, a 30-year journalist. I was a writer for Golf Course News for over a decade and was among the observers laughing when he floundered in PGA West's "Tip O'Neill bunker," the 18-foot-deep hazard on the 16th hole at the Stadium Course.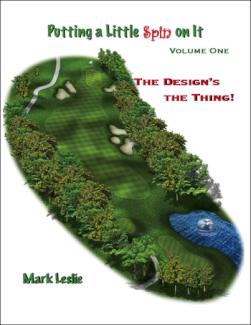 Putting a Little Spin on It!
I mention this because during our round on the Pete Dye punisher, he was probably more involved with mental and verbal notes about the course than with his score or what club to use. That was when I gained my ultimate respect for the man. Both of us are more intrigued by the stage than what is being played upon it.

In addition to being the longtime editor of Golf Course News, Leslie has written books not only about golf but history as well. I read his latest e-book on a Kindle with the letters enlarged, and thus have no clue as to what page I was reading. But they are worthwhile.

In 15 chapters he details what defines a golf course, the designers and their creations, societal applications and implications, a study of course owners, and designers' affiliations with God. All the time he offers quotes from paragons of golf architecture - and some unheralded - with whom he has spoken and interviewed over the years.
Leslie delves into the unsung heroes - geniuses in some cases - who convert the architect's designs into realities. These include the builders and contractors, the guys who follow paper plans and prepare the course on their dozers and other implements.
Then he discusses the shapers, who can make or break a venture for the architect, always with quotes from the sources. As any golfer knows, no course is going to be perfect for everyone and there will always be detractors and malcontents. Shapers are the ultimate artists who read the plans, walk the course and by some magic build a green that Stimps at a prescribed speed.
Of all the chapters, the most intriguing to me was No. 15, the finale entitled, "The World's Most Dangerous." One does not think often about a golf architect being threatened by machete-wielding people who are losing their land to a golf course, being shot at during while a national revolution was underway, being attacked by wild animals - including the most deadly snakes on the planet, and many more incidents. But there these stories are, from walking raw sites all over the world to their fruition, and about the people who make golf courses possible.
This book is a must-read for any serious golfer and golf-architecture aficionado. It offers history, geography, sociology, psychology, individual and family portraits, and blessedly, not a single tip on how to hold the club or escape from a bunker.
Maybe if it had the latter, Leslie would have had a better round at PGA West many years ago. I am looking forward to his sequel, "The Grooming's The Thing."
The book is available for Kindle (www.amazon.com) and Nooks (www.barnesandnoble.com/nook). It's just a bit more costly than Amazon's $3.99 shipping charge for conventionally printed books.
Bob Spiwak took up golf in 1953 while awaiting the Korean War draft. First published at the age of 12, he entered the golf-writing arena in the early 1980s as a freelancer and staff writer for Golf Course News and GolfWeek, all the while freelancing for other publications in the U.S. and abroad. A co-founder of the Northwest Golf Media Association and contributing editor of Cybergolf, he lives below a mountain near Mazama, Wash., with a wife and pets on his former Whispering Rattlesnakes Golf and Flubbers Club. They have unwelcome guests like cougars, bears, deer, and Bob's very high handicap.