The World's Largest 19th Hole
By: David Wood
"The 19th Hole is a blast!" said Steevie Mize (yes with three "e's") at "The World's Largest 19th Hole" - a nightly extravaganza at the Myrtle Beach Convention Center during the Golf.com World Amateur Championship (August 27 - 31).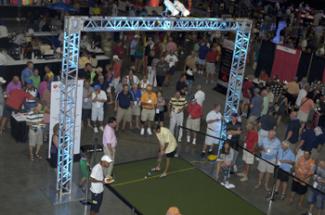 World Am's 19th Hole
Mize, a happy-go-lucky 3-handicapper from Raleigh, N.C., has played in a trio of World Amateur Championships. He also visits the Grand Strand each spring with his golf cronies from back home, but particularly enjoys this event as "it's fun to share the game of golf with new people." Well said.

After grappling with the Golf Gods on 60 area courses over 72 holes of tournament play, players and guests descend on the gigantic hall attached to a high-rise Sheraton Hotel in the Central Strand for an array of après-golf fun.
There are a ton of activities with equipment demos and hitting bays featuring the latest and greatest equipment; open bars with easy access to beverages both alcoholic and non-; drawings for prizes; overhead screens showing the daily scores of the 68 flights; and tasty food served from area restaurants.

Most dominant is the broad main stage with non-stop presentations and interviews taking place. Over four nights one can see Golf Channel analyst/funnyman Charlie Rymer; Blair O'Neal - former "Big Break" standout and host of "Myrtle Beach Golf Buzz"; golf-fitness instructor Marty Weil; course architect Ron Garl; "PGA Tour Confidential" with Sports Illustrated journalists Michael Bamberger, Alan Shipnuck and Gary Van Sickle; and national stand-up comedians like T.P. Mulrooney and Henry Cho.
Better yet, all of the above - including the 19th Hole food and drink - is included in the entry fee.

Another compelling aspect is the diversity of the folks on the floor; golfers from India, China, Japan, Australia, England, France, Germany, Italy, Sweden, South Africa and Canada are represented. I overheard an Indian gentlemen say to his compatriot, "We need something like this back home."

No need to go all the way to Delhi, it's all right here in Myrtle Beach.

For more information about the tournament, visit www.worldamgolf.com. For a full array of golf vacation packages at Myrtle Beach, www.golfholiday.com.
In addition to writing on golf and travel, author and noted speaker David Wood has made several appearances on "Late Night with David Letterman" as well as dozens of other television shows. His book - "Around the World in 80 Rounds" - was just released in paperback on www.Amazon.com. Currently he works in public relations with Buffalo Communications in Vienna, Va. His website is www.DavidWoodSpeaking.com.