The Yellow Rose of Winter
By: Jay Flemma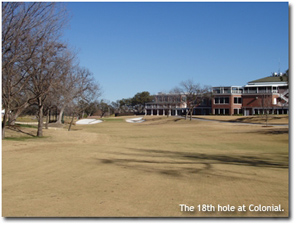 Editor's Note: Jay Flemma scores another eagle with this paean to Colonial Country Club, which he plays in winter when the course is "green like emerald islands bobbing in an ocean of tan Bermuda grass."

Though winter's chill should bring dismay
To all the garden's green array
And verdant cloisters fade to grey
When leafy towers fall away
Colonial! Colonial!
Her golden voice dispels the gloom,
Our Yellow Rose shall boldly bloom.

Through bleak December's icy breeze
And somber January's freeze,
Your hardy valor shines to me,
Like sunlight on a rippling sea
Colonial! Colonial!
Each mighty tree and sturdy bough,
A Crown of Glory on your brow.

At midnight, moonbeam phantoms seize
The shadows wrought by barren trees,
And banshee winds may roar and growl
A spectral voice's mournful howl
But at fair dawn's first pale ray
The ghosts and shadows melt away
To iridescent glimmering,
The burnished vale shimmering.
Colonial! Colonial!
Forever will our love be true,
Our buoyant hearts rejoice in you.
A golden flower you'll remain,
Till springtime grace you once again.

This poem originally appeared in Cybergolf on March 19, 2011.


Since launching his first golf writing website in 2004, http://www.jayflemma.thegolfspace.com, Jay Flemma's comparative analysis of golf designs and knowledge of golf course architecture and golf travel have garnered wide industry respect. In researching his book on America's great public golf courses (and whether they're worth the money), Jay, an associate editor of Cybergolf, has played over 220 nationally ranked public golf courses in 37 different states. Jay has played about 1,649,000 yards of golf - or roughly 938 miles. His pieces on travel and architecture appear in Golf Observer (www.golfobserver.com), Cybergolf and other print magazines. When not researching golf courses for design, value and excitement, Jay is an entertainment, copyright, Internet and trademark lawyer and an Entertainment and Internet Law professor in Manhattan. His clients have been nominated for Grammy and Emmy awards, won a Sundance Film Festival Best Director award, performed on stage and screen, and designed pop art for museums and collectors. Jay lives in Forest Hills, N.Y., and is fiercely loyal to his alma maters, Deerfield Academy in Massachusetts and Trinity College in Connecticut.