Three Courses Open at Mission Hills Resort - Hainan
Schmidt-Curley Design, based in Scottsdale, Ariz., has announced three new courses have opened for play at Mission Hills Resort in Hainan, China, the country's only tropical island the government says will become an International Tourism Resort by 2020.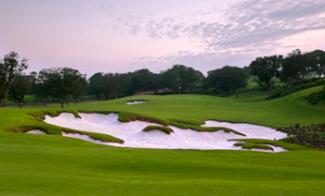 Blackstone Course at Mission-Hills
Set on tropical Hainan Island - referred to as the "Hawaii of the East" - and 15 minutes from Haikou Meilan International Airport and downtown, the courses may become the world's greatest collection of "volcanic" golf courses. The Blackstone Course has already been tabbed to host the 2010 Mission Hills Star Trophy and 2011 Omega Mission Hills World Cup.
Blackstone Course

Blackstone is a 350-acre core golf course that weaves through a landscape of mature trees, jungle vegetation, and expansive lakes and wetlands. To make construction possible, the site's dominating characteristic - a dense bed of lava rock - was capped to an average depth of over 1 meter with soil transported from 20 miles away.

"The volcanic theme is integral to the design," says Curley. "Wild, irregular bunker edges and transitional sand areas meld seamlessly into the lava rock framing many holes. Uncapped portions of the lava bed periodically cross the line of play, requiring forced carries and creating a dramatic visual contrast to the vibrant, green turf and sand. We also incorporated lava rock walls and ancient village ruins as a testament to the site's past."

Dramatic elevation change punctuates the site. To preserve the abundant lava rock and trees, great care was taken to discover as many natural holes as possible. Paspallum fairways sweep across the land and were routed to maximize surface drainage to limit drain inlets commonly found on the region's courses.

"We wanted it to appear as if liquid turf was poured from the sky and flowed along the terrain just as the lava did centuries ago," says Curley.

"From tee to green, players experience an immaculate blanket of turf - Blackstone does not feature any rough, even on bunker fingers and surrounds," says Curley. "The hard-line edges associated with most golf courses are nonexistent."

The course begins in the more heavily wooded portion of the property with a variety of holes and natural-amphitheater green settings. It then snakes across raised terrain, offering spectator vantage points for the closing holes. Closely arrayed greens and tees make the course easily walkable for players and spectators when it hosts major international tournaments.

Says Curley: "At over 7,600 yards and with several risk-reward opportunities on the inward nine, Blackstone will quickly prove to be one of the world's premier tournament courses. We created not only an outstanding tournament layout, but one planned with all the facilities and accoutrements needed to host the sport's biggest events."
Stone Outback Course

Inspired by the Australian Sandbelt's courses, Stone Outback is distinguished by large, high-flashed bunkers with lips rising above fairway and green surfaces. The gently rolling site is populated with Eucalyptus trees to further evoke its Australian influences.

"While some of the bunkers are formal and surrounded by turf, many transition without a clean edge to the native jungle vegetation bordering holes," says Curley. "This creates a unique and much more natural landscape."

Its wide playing corridors - with fairways featuring only surface drainage - encourage second-shot creativity into large, undulating greens. Square tee boxes add to the distinct look. Like the Blackstone and Stone Ruins courses, it sprawls over a huge expanse of land yet offers adjacent greens and tees to promote walking.
Stone Ruins Course

Stone Ruins pays homage to the classic American golf courses built at the turn of the 20th Century. It has a distinct, authentic feel - holes were routed to leave the densely forested site as undisturbed as possible - and is marked by features typically associated with courses such as National Golf Links, Chicago Golf Club and others. Abrupt mounding; deep pot bunkers; severe ridges; blind shots; varied, sometimes geometric bunkering; an array of green sizes and wicker-basket pins are highlights.

"The oldest course in China is a new course in Haikou," said Curley. "Stone Ruins provides a welcome relief from the many cookie-cutter layouts that dominate golf today, recalling an architecture period when experimentation and expression were much more openly embraced."
For more information about the firm's completed and current projects, visit www.schmidt-curley.com or call 480/483-1994.