Three Futures Tour Players are 'Locks' for LPGA in 2010
By: Dave Andrews
There are three events left this season on the Duramed Futures Tour, and three players are mathematical certainties to earn their way onto the LPGA Tour in 2010. Mina Harigae, Jean Reynolds, and Misun Cho will be playing on the big tour next season by virtue of their hard work, consistent play and earnings.
There are two LPGA spots still up for grabs in the all-important top-five list. The top-five finishers on the Futures Tour's season money list earn high priority playing status on the LPGA next year. The sixth through 10th finishers also gain LPGA membership, but their priority status will not qualify them to play in many events in 2010, a problem compounded by the elimination of many of the tournaments from next year's schedule.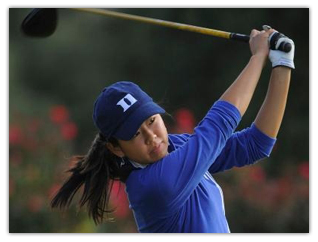 Mina Harigae
Rookie Mina Harigae of Monterey, Calif., solidified her lock on first Sunday with her third victory of the year. She won the Falls Auto Group Classic in London, Ky., raising her earnings to over $73,000. The 19-year-old left Duke's golf team during her freshman season to turn pro, a decision she won't regret now that she will be playing on the LPGA next year. She's also the 2007 Women's Amateur Public Links champion. With her third victory, Harigae becomes the first player to benefit from the new three-time Futures Tour winner category, giving her the chance to compete in non-limited-field LPGA events this season.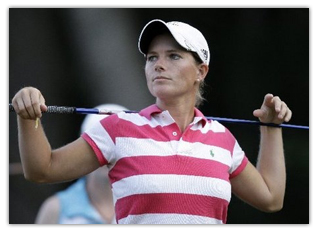 Jean Reynolds
The second and third players on the money list, Jean Reynolds and Misun Cho, have both come on strong in their second years on the Futures Tour. Reynolds (two victories; $67,696 in winnings) made headlines in the U.S. Women's Open earlier this summer after being a strong contender through three rounds. Small in stature, the 24-year-old from Newnan, Ga., is known for her unorthodox 10-finger grip and that she doesn't wear a golf glove. She was so small when she began playing as a youngster that her parents couldn't find gloves small enough to fit her hand. But Reynolds has adjusted just fine, later honing her game as a member of Georgia's golf team.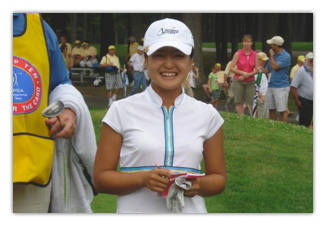 Misun Cho
Misun Cho, a South Korean native who played at Pepperdine University, had no top-10 finishes in her rookie season in 2008, finishing the year 36th on the money list and not being viewed as a strong contender at the start of the year. However, she's lowered per-round stroke average to 71.29 and garnered two victories and seven top-10 finishes through 14 events. Like Reynolds, Cho has not missed a cut this year, a consistency that has her third on the money list ($62,327) and virtually assured of moving on to the LPGA.
That leaves 10 or 15 players fighting it out for the final two spots. Currently, Whitney Wade from Glasgow, Ky. ($39,058) and Samantha Richdale from Kelowna, B.C. ($38,325) are fourth and fifth, respectively. The tour plays this week in Richmond, Va., before moving on to the Turkey Hill Classic in Harrisburg, Pa. Following a week off, the season will end on Labor Day weekend in Albany, N.Y. At the end of the ILOVENY Championship, everyone will know which five Futures Tour players will be teeing it up on the LPGA Tour in 2010.
Dave Andrews is a Harvard-educated former television news reporter. He's also an avid golfer who has become a fan of the Duramed Futures Tour. His home course in Concord, N.H., is annually the site of one of the tour's events. The inspiration for Dave's 2007 novel, "Pops and Sunshine," came from meeting many of the young aspiring women golfers on that tour. Each of them has a passion, dedication and determination that he finds remarkable. His novel is a fictionalization of the dream that these young women share. To order Dave's book, visit http://popsandsunshine.com.