Three Mistakes You Don't Have to Make
By: Nancy Berkley
Women golfers worry unnecessarily that they're going to do something wrong on the golf course and embarrass themselves. Here are three situations you may find yourself in and three mistakes that you don't have to make - or worry about.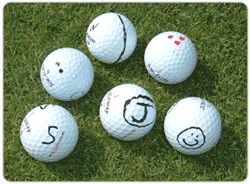 Avoid Mistake #1 - Know Your Ball

Jane arrives at a ball on the fairway and asks, "Is this your ball or my ball?" That's a mistake. Every golfer should be able to identify the ball they are playing with. On the first tee, Jane should have announced to her foursome the brand of ball she was playing with and her special identification marks on it. If she had just said, "I'm playing with a Callaway," that would not be enough because someone else in her foursome may also be using a Callaway ball.

Jane should have a special mark on her ball, such as her initials (written with a permanent marker) or dots or circles or even a logo from a golf resort or corporate event. Then Jane would have said: "I'm playing with a Callaway and it has a big 'J' on it." (In TV tournaments, there are sometimes close-ups of a player's golf ball and you can see their personal identification marks.) Some players rely on the number of the ball as well as the brand name - for example, a Callaway No. 3. The problem is that invariably the ball comes to rest with the number face-down in turf. That's why I like to mark my ball with something more noticeable and larger.
Jane also should have asked the other players in her group what ball they are using. That way, when Jane arrives at a ball on the fairway, she could have said, "Susan, here's your ball - the Pinnacle with your initial 'S' on it." Knowing who is playing with what ball speeds up play. There are no restrictions on what kinds of marks you can put on your ball for identification purposes. I have a friend that asks her children to draw smiley faces on her golf balls.
A word of warning: If you lose a ball on the course and have to take another from your bag, make sure you have identified the new ball. I like to have all the balls in my bag marked - I use my initial "N" or a black line around the circumference that helps me line up my putts.
Some Technical Rules Info

For those that watched Tiger in the British Open, remember when he hit a drive into a clump of very tall, thick grass? When the officials looked into the grass, they saw three golf balls - two were obviously lost during previous play by other golfers. Fortunately, Tiger had marked his Nike ball with his own mark and could identify which one of the three balls was his. If he had not been able to identify his ball, it would have been deemed "lost" and he would have had to go back to where he last hit the ball - in this case the tee - and hit again with both a distance and penalty stroke. Instead, he deemed his ball "unplayable" and was allowed to drop the ball within two club lengths from where it originally lay, but no closer to the hole - with one penalty stroke but without the distance penalty.
Lost balls are costly mistakes because they require a "stroke and distance" penalty. In my experience, the "lost ball" rule is the rule most frequently ignored. Golfers, in general, are optimists. They hit a ball into trouble and say, "I think I'll find that." And, then when they can't, they decide it will take too long to go back and re-hit the shot so they just drop a new ball on the edge of the woods and take one penalty. You, too, can do this when you are playing for fun, but be sure to know the rule. My suggestion: When you think your first ball may be lost, play a "provisional" or second ball. Tell your playing partners you're playing a "provisional," otherwise they may believe you think the ball is lost and you're re-teeing a new one. Make sure you the second ball has your marks on it. If you find your first ball, great! - play it. If you don't, play your provisional. By doing this, you won't slow play down by having to walk back to where you hit your last shot and hit another ball.
Mistake #2 - Know When It Is "OK" to Pick Up Your Ball

Susan is playing with three friends - a casual and relaxed round. Susan has a 36 handicap and shoots around 110 usually. Today is a bad golf day for her. She has hit her fourth shot (on a par-4) into the front green-side bunker. She hits her fifth shot out of the bunker into another bunker at the back of the green. Her playing partners have walked up to their balls on the green and marked them - and stepped aside for Susan to play her ball. Everyone knows that there is a foursome behind them on the fairway.
Susan dubs her sixth and seventh shot and is still in the bunker. (We have all been there!) Susan says, "I am determined to get this out," as she prepares for her eighth shot. Unless Susan is playing in a tournament and counting every stroke, continuing to hit the eighth shot is probably a mistake.

If Susan is keeping score, she should say that she is just going to estimate how many more strokes it will take her to get in the hole and give herself the lower of her estimated score or the maximum strokes allowed under the equitable stroke control of the USGA Handicap System (see below). Avoid being annoying and slow on the golf course. If you are not playing in a tournament and are having a bad golf hole, it's okay to pick up your ball especially if the course is busy and you're holding up play.

Golf purists might disagree with me, but it's important to remember that most golfers are playing for recreation and fun. So long as a golfer knows how to post legitimate scores for handicap purposes, it's okay to pick up your ball - toss it out into the fairway or green, drop it on the other side of water, or just put it in your pocket until the next tee. In fact, if you played only 13 holes of an 18-hole round, there is a method for computing your 18-hole score for handicap purposes. To learn more about scoring an unfinished hole or a hole you didn't play at all, see this article in the www.usga.org site. Click on http://www.usga.org/playing/handicaps/understanding_handicap/articles/snoopy_sec1_adjusting.html

Avoid Mistake #3 - Learn How to Spot Distance Markers & Know Your Club Distances

Kate and friends are playing on a course they have played a few times. They are using carts, which are increasingly common on golf courses today. Kate's drive and second shot were pretty good. She pulls her golf cart up about 10 yards from her ball, gets out of the cart and walks to her ball. "How far am I?" she asks. Her friend says, "I don't know, I was looking ahead to my ball and didn't look for distance markers?" Kate asks the other two friends, "How far do you think I am from the green?" A friend says, "See that red marker behind us in the fairway, that's 100 yards to the center of the green." Kate decides to pace out the distance and walks 20 strides (about a yard each) from her ball back to the marker and then back to her ball. "I'm about 80 yards to the pin," she says. "What club should I take?"

Kate is making a series of mistakes by not thinking ahead herself. She is probably a nuisance to her playing partners by continually asking them questions and slowing down pace of play for everyone on the course. When Kate began her round, she should have asked someone in the pro shop or the starter how distances are marked on the course.

Then, Kate should have been watching for distance markers as she was driving up to her ball. Once she spotted the 100-yard marker, she should have been thinking about her distance to the green. Most importantly, Kate should know about how far she hits her clubs. She should have picked the two most likely clubs she hits about 80 yards and carried them both with her to the ball - where she would have made her club choice. Be alert to distance markers on the course, think ahead and know your club distances. Resist asking too many questions and learn to make your own decisions.

More and more courses are using the "GPS" system on carts with a video screen that shows you the distance from your cart is from the flagstick. The GPS system also provides pictures of the holes and distances from various landmarks and hazards. If you are playing a course with a GPS system, ask the starter to show you how to use it - it's not always self-explanatory. Of course, an advantage of walking the course with a pull-cart or caddy, is that it is easier to spot markers as you walk and get a sense of the distances.

To drive home the importance of avoiding this third mistake, think about what Kate's actions look like to the players behind her. Under the first scenario: the cart stops, player walks to ball, stops (she's asking questions), walks back and forth as she paces distance, walks to cart, pulls club, walks back to ball, takes her practice swings, finally hits ball (hopefully it's a good shot).

Under the second and better scenario: Kate stops cart, pulls two clubs, walks to ball, takes a practice swing and hits. That scenario is several minutes faster than the first. Now multiply that by at least 50 fairway shots and the difference in pace of play is almost an hour!

If you No. 1 - Know your ball, No. 2 - Are prepared to just pick up your ball if you are having a bad hole, and No. 3 - Watch for distance markers on the course and know your own club distances, you will avoid making three common mistakes. Golf will be more fun and take less time. That's the goal: More women playing more golf and enjoying it more.

If you have a question about how to avoid mistakes or embarrassments on the golf course, send them to info@nancyberkley.com or use the FREE HELP LINE on http://www.nancyberkley.com/676305.html.

For More Information

For more information about women golfers and how to grow the game for women, see www.nancyberkley.com. Nancy offers seminars and workshops for women golfers explaining the written and "unwritten" rules of the game.

As President of Berkley Consulting, Nancy is a recognized industry expert on women's golf. Nancy consults with golf professionals and managers and helps them deliver a women-friendly golf experience. Berkley Consulting offers a full range of consulting services to the golf industry including staff training and marketing assistance. For more information regarding consulting services, see www.berkleyconsulting.com.
Nancy Berkley is an expert on women's golf. Her book, "Women Welcome Here! A Guide to Growing Women's Golf," published in 2003 by the National Golf Foundation, is the industry reference on how-to attract and retain women golfers. She updates her research and best practices on her website www.nancyberkley.com.

Nancy consults with facilities on how they can increase participation and revenues from women golfers and is a frequent speaker at industry events. Nancy also reviews courses for "The Golf Insider," an international golf and travel newsletter, and "Ladies Golf Journey," a golf publication for women. She's contributed articles to "Golf For Women" magazine and is the author of the 2004 PGA Magazine cover story about women golfers.

A respected resource in the golf industry, Nancy participates in Golf 20/20, the annual strategic invitation-only conference sponsored by the PGA Tour, the PGA, the LPGA, and the World Golf Foundation. At the November 2004 Conference, she moderated the panel discussions on player development with a focus on women golfers. She has addressed the National Golf Course Owner's Association at their National Conference as well as at numerous marketing seminars for the PGA and LPGA professionals. Nancy serves as a consultant to the Golden Links Advisory Board of Corporate Meetings & Incentives, a PRIMEDIA Business Publication. Nancy is an experienced golfer and has competed on the Metropolitan Women's Golf Association (N.J., N.Y., Conn.) interclub matches. She's served on the Board and Golf Committees of her golf clubs in Florida and New Jersey.

In 1998, Nancy founded Berkley Consulting and The Woman's Only Guide® to Golf to share her long-time passion for golf and to help grow the game. Prior to working in the golf industry, Nancy was an attorney for a Wall Street firm and then held a number of senior executive positions with Prudential Financial, including Assistant General Counsel and Vice President of Corporate Marketing & Business Integration. Nancy began her professional career as a high school teacher.

Nancy holds a bachelor's degree in political science from the University of Minnesota; a master's degree in teaching from Harvard University Graduate School of Education; and a law degree from Rutgers University School of Law, where she was a member of the Law Review. She is a graduate of the Program for Management Development at Harvard Business School.

Nancy describes herself as a bogey golfer and plays on her home courses in Florida and New Jersey. To contact her, write, call or email Nancy at: Nancy Berkley, Berkley Consulting, 242 Eagleton Estates Blvd, Palm Beach Gardens, FL 561-776-7243 or at info@nancyberkley.com.