Tiger Rules at Honda Classic Pro Am
By: David Wood
"Tiger is the best. I wouldn't have come down here if he wasn't in the field," said New York City resident Matt Stumpf as he patiently waited with several hundred excited spectators - sometimes four and five deep - along a barricade for a mere glimpse of the 14-time major champion.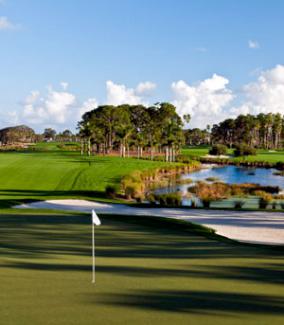 2nd Green at Champion Course
Woods would soon be walking the route to PGA National Resort & Spa's clubhouse following the completion of his Wednesday morning round in the "Kenny G Gold Pro Am" at the Honda Classic.

After a press conference behind the 18th green of The Champion Course, Tiger moved steadily along the line signing autographs for the throng. The frenzied crowd almost toppled a barrier as he wielded his Sharpie.

A chorus of screams reached a level of mayhem. "Tiger, please sign this!" "Tiger, over here!" "Tiger, can we get a photo?" If he hadn't kept motoring along he'd still be out there signing away.
Tigermania is as strong as ever. The members of Woods' pro-am group were excited as well. "Today was probably the best experience of my life," said George Devlin from Kansas City as he put his golf glove in his bag after the round.

Bob Lindsay of Peoria, Ill., said "Tiger was wonderful to play with. We talked about our families and kids. It was as comfortable as playing with my foursome at home."

In addition to Woods, Wednesday's strong international field featured a host of the world's best players. World No. 1 and defending champion Rory McIllroy, who now resides locally like several other Tour players - including Woods, is excited to be defending his title. "This is the first tournament I won last year and it's a tournament that first got me to No. 1 in the world."

He added, "It's a course I've always loved playing."

The Honda has become a star-studded event. In the afternoon portion of the pro-am, hundreds of spectators followed a celebrity foursome of sax great Kenny G, Hall of Famer Raymond Floyd, Baltimore Ravens safety Ed Reed, and broadcaster and former football great Ahmad Rashad.
Few locales are better equipped than PGA National for an event of this enormity. In addition to being the venue of the Honda since 2007, the Champion Course has hosted the 1983 Ryder Cup, 1987 PGA Championship, and the Senior PGA Championship.

Despite recent area rains, the Jack Nicklaus-redesign is in prime condition. "We have the course exactly the way the Tour likes it," said Lukus Harvey, director of agronomy at PGA National. "The greens are rolling at 11 on the Stimpmeter, so it should make for an exciting week."

For more information on PGA National Resort & Spa and the Honda Classic, visit www.pgaresort.com.
In addition to writing on golf and travel, author and noted speaker David Wood has made several appearances on "Late Night with David Letterman" as well as dozens of other television shows. His book - "Around the World in 80 Rounds" - was just released in paperback on www.Amazon.com. Currently he works in public relations with Buffalo Communications in Vienna, Va. His website is www.DavidWoodSpeaking.com.