Tiger Says he's Back, PGA Leaderboard at Halfway Mark Concurs
By: Jay Flemma
[Editor's Note: Cybergolf's Jay Flemma and Marino Parascenzo are in South Carolina for this week's PGA Championship on the Ocean Course at Kiawah Island. Here's Jay's third report.]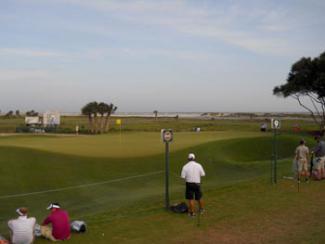 The Ocean Course's Brutal 9th
On a day that saw 30 mile-per-hour winds, sideways rain and the highest scoring average in PGA Championship single-round history, Vijay Singh and Tiger Woods surged to 4-under and a share of the lead with rounds of 3-under 69 and 1-under 71, respectively. Both stand at 4-under (140) for the tournament, tied with Carl Petterson who followed his opening 66 with a dismal 74. England's Ian Poulter satnds one shot back at 3-under while Northern Ireland's Rory McIlroy and Welshman Jamie Donaldson are at 2-under.

"This was the hardest day on the course I've ever had to play in," confided an exhausted defending champion Keegan Bradley, who called his 5-over 77 a solid round. "I could have blown up at any time out there. It's blowing like a British Open. 7-13 are as hard a stretch of golf as there is in the world."

Indeed, the wind blew the field scoring average to a bloated 78.1. Only four players out of 156 shot under par and Singh's was the only round in the 60s. He went out early before the wind kicked up, then - as always - went back to the range for another extended practice session while the afternoon players watched their scores blow across the Atlantic.
"Nobody is used to winds like this," observed an obviously relieved Singh. "I'm just trying hit the fairways and get anywhere on the green where you can two putt from. If you're lucky enough, the par 5s, you can take advantage of the par 5s here. Two of them are downwind."

Singh did exactly that - birdieing two par-5s (7 and 16) and adding three more birdies which were balanced against two bogeys at the par-4 10th and the long par-3 14th.

"I don't know what Dye was thinking when he made 14. He must have been asleep or something," Singh joked laconically. "But it's one of the hardest par 3s I think anywhere. I don't know if anyone is going to be happy playing that hole today. I hit a good shot and made bogey," he lamented.

The rest of the day belonged to Woods, and deservedly so. Usually known for folding in wind like a gunmetal grey card table chair, Woods carved, stung and slashed his way through the gale to three birdies and two bogeys in a round far more mercurial than the scorecard indicates.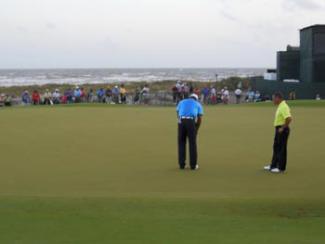 Tiger Practices Putting after
2nd Round in PGA Championship
Woods rode a sizzling hot putter, a brilliant wind game plan, and sparkling recovery shots to the top of the leaderboard. At times he was a mesmerist the way he bent the ball to his will. Put your coffee cup down before reading these stats or you'll likely spit up all over your laptop: eight of nine up and downs converted on the day, 26 putts for a dazzling 36 hole total of 48 (1st in putting in the field); 23 one putts over the first two rounds; and a tie for the lead despite hitting only 19 fairways and 19 greens. Do that in a Texas money game and they shoot you on general principle. The only real mistake Woods made was a three-putt bogey at the last after it looked like he'd save par from a hospitality tent.

It could have been even better for Woods. At the brutishly long par-4 ninth, the second hardest hole on the golf course, Woods came one turn of the golf ball from a spectacular pitch-in a la 16 at the 2005 Masters when his shot from a grassy hollow deep enough to house a family of four hung on the lip of the cup, smirking impudently at him while seemingly defying gravity.

In golf jargon we call that a "Cuba" - it just needed another revolution.

The normally surly Tiger, who in the past might instead have engaged in pained histrionics, instead was sweetness and light all day (go figure!), in this case plumb-bobbing the tap-in, triggering a gale of laughter from the fans.
"Holy Cow," he gasped after the round. "We are starting balls so far off-line, to have them come back in. There's so much drift to this wind. It was just a tough day," he said.

But perhaps his most telling comment was not the specifics of the day but the meta-question asked by one journalist about when and how Tiger would consider himself truly "back."

"I'm back playing a full schedule this year," he said, answering the question more literally than metaphorically, but still giving a thorough and thoughtful response. "I've not played a full schedule in a very long time. I've been told I would never win again, so I'll just play it out and I know that once I get into the rhythm of playing, playing tournaments and being able to practice and work on the things that Sean (Foley) wants me to work on, things will get better, and they have. And I'm starting to see some nice consistency and I'm very pleased by that."
It's an interesting question. The media and most ardent fans will probably not proclaim him truly "back" until he wins a major or two, while Tigerphiles point to his 2012 PGA Tour wins to support their argument that he is back. Some might say he will won't be completely "back" until he begins dominating again to the tune of winning many tournaments and multiple majors by huge margins as he did in his prime, but one thing is certain: For the third consecutive time in a major championship Tiger Woods is at or near the lead heading into weekend play. He handled the maelstrom yesterday better than he has handled wind ever before in a major. All the assembled media agreed and lauded him for that. When it comes to a combination of talent, brains, and preparation, Tiger is indeed the best.

But more importantly for golf, if Woods continues to carry himself as he did yesterday - with more grace, class and sincere charm - both on the course and off he'll win back even those fans and sponsors that have not yet come back to him, and his reputation might be almost as "back" to 2008 standards as his game. It's good for golf when he's winning, but it's better still when he's winning without slamming clubs, lobbing curses and telling Alex Miceli what a beauty he is.
Since launching his first golf writing website in 2004, http://jayflemma.thegolfspace.com, Jay Flemma 's comparative analysis of golf designs and knowledge of golf course architecture and golf travel have garnered wide industry respect. In researching his book on America's great public golf courses (and whether they're worth the money), Jay, an associate editor of Cybergolf, has played over 420 nationally ranked public golf courses in 40 different states, and covered seven U.S. Opens and six PGA Championships, along with one trip to the Masters. A four-time award-winning sportswriter, Jay was called the best sports poet alive by both Sports Illustrated and NBC Sports writers and broadcasters. Jay has played about 3 million yards of golf - or close to 2,000 miles. His pieces on travel and architecture appear in Golf Observer (www.golfobserver.com), Cybergolf, PGA.com, Golf Magazine and other print magazines. When not researching golf courses for design, value and excitement, Jay is an entertainment, copyright, Internet and trademark lawyer and an Entertainment and Internet Law professor in Manhattan. His clients have been nominated for Grammy and Emmy awards, won a Sundance Film Festival Best Director award, performed on stage and screen, and designed pop art for museums and collectors. Jay lives in Forest Hills, N.Y., and is fiercely loyal to his alma maters, Deerfield Academy in Massachusetts and Trinity College in Connecticut.