Tiger Takes Lead in Australian Masters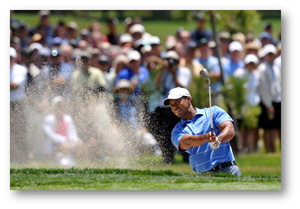 Tiger Woods shot a 6-under 66 to share the opening-round lead in the Australian Masters with South African Branden Grace and Australian James Nitties. The event is being held at Kingston Heath in Melbourne.
Woods, who received a $3 million appearance fee for the event, attracted huge crowds in his first Down Under appearance in 11 years. The gallery stood three deep on both sides of every fairway, and marshals allowed them to encircle the front of every green. Crowds this size are usually seen only in major championships.
Woods is hoping to notch his 93rd international title in the Australian Masters, and his first round got that desire off to an excellent start. "I felt pretty good today. I hit the ball pretty decent," he said. "More than anything, I had really good speed on the greens, but I didn't really make a lot of putts because I didn't hit my irons that close."
Woods said the course was ripe for low scoring. "One, the wind wasn't really blowing. Two, the greens were soft, so we could be pretty aggressive and hit it into the greens," he said. "We can't believe how soft the greens were today," he said. "I know they're trying to protect them with the heat and wind expected, but we were pretty surprised. Into the wind balls were backing up, so that's certainly very different around this golf course."
The 21-year-old Grace carded eight birdies and two bogeys en route to his 66. "I played really solidly out today and my caddie kept me really calm which was a huge help," he said. "I was 7 under with two holes to go and had a bogey on 17 and I was unlucky on 18 because my shot was inches from the hole."
Nitties enjoyed a clean scorecard with four birdies and an eagle. The 27-year-old, coming off his first year on the PGA Tour where he earned $931,000, enough to keep his tour card, is hoping he can play alongside Woods this weekend. "Just to actually contend against him is a good goal for me," Nitties said.
Doug Holloway of New Zealand and Australian Cameron Percy shot 67s and were a shot back.