Tiger Tour Reveals New Zealand's Attractions, with Personal Touch
The golfing legacy of hedge fund legend Julian Robertson may never match that of "The Tiger Fund," but the American financier is determined to deliver comparable value to golf holiday-makers who've got the stripes.
Cape Kidnappers
The Tiger Tour, an 8-night/9-day tour of the New Zealand resorts Robertson and his family have developed since 2000, will launch in March at the end of the summer season Down Under. Retailing at $33,350 NZD per couple, this itinerary - named for the Tiger Fund that made Robertson's name - includes everything but airfare to and from New Zealand. Bookings are available directly through participating resorts.

Golf is a Tiger Tour centerpiece - Cape Kidnappers GC and Kauri Cliffs GC are the two highest-ranked resort courses in the entire Asia-Pacific region, but the March 2012 itinerary also includes the best New Zealand has to offer, from the glacier fields of Milford Sound in the very south, to a 90-mile beach in the sub-tropical north.

Also involved are luxury accommodations. The Farm at Cape Kidnappers (www.capekidnappers.com), The Lodge at Kauri Cliffs (www.kauricliffs.com) and Matakauri Lodge are among the top hotel properties in the world. However, it's the other activities (helicopter trips, ocean sailing, horseback riding, art and winery tours), coupled with the ecological grandeur of New Zealand, that make The Tiger Tour a one-of-a-kind experience.
Some might even call it a bargain. "It is true that the per-couple cost, which is approximately U.S. $26,000, would be significantly higher if you priced out all that we've included in The Tiger Tour," said Ryan Brandeburg, director of golf at both Cape Kidnappers and Kauri Cliffs.

"There's no doubt it's expensive. It may well be the most expensive golfing holiday on offer anywhere in the world. But as with The Tiger Fund, it's about delivering an optimum return on investment. For the golf holiday-maker of means, someone with a sense of adventure and vision, someone who appreciates the finer things with service levels to match, The Tiger Tour delivers a return that is unrivaled."

Robertson started Tiger Management Corp., also known as The Tiger Fund in 1980, with $8 million (U.S.) in capital. By 1998, its holdings had climbed to $22 billion. After closing his Tiger Fund in 2000, Robertson used his own capital, experience and infrastructure to support and finance up-and-coming hedge-fund managers. By September 2009, Robertson had helped launch 38 new hedge funds in return for a stake in their fund-management companies. Apart from these "Tiger Seeds," a considerable number of analysts and managers Robertson employed and mentored at Tiger Management have gone their own way and are now running some of the best-known hedge fund firms, known as "Tiger Cubs."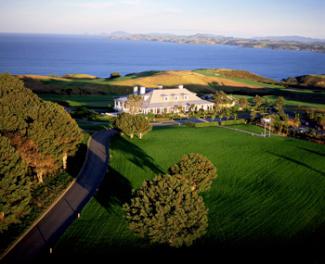 Kauri Cliffs
Robertson and his family first ventured to New Zealand in 1978 and have since adopted the island nation as a second home. Their fascination reached a new level of ardor with the 2000 opening of Kauri Cliffs GC in the Bay of Islands, near the tip of the North Island. The Lodge at Kauri Cliffs debuted soon thereafter, followed by the Tom Doak-designed Cape Kidnappers GC in 2004 in the wine region outside Napier. The Farm at Cape Kidnappers opened two years later, while Matakauri Lodge was unveiled in the South Island resort Mecca of Queenstown in 2010.

"This tour is my attempt to bring others the very best of New Zealand by unlocking some experiences that might normally take spending a lot of time here to ever uncover," Robertson said. "It is a unique and personal tour and one that I feel excited to share, as it is full of my own 'inside' experience and knowledge gleaned over many years here."

The Tiger Tour includes much that is well known and been repeatedly feted by the world travel press:
• The Lodge at Kauri Cliffs was rated the 6th best hotel in the world, according to the 2011 Condé Nast Traveler readers' poll, and the No. 1 Lodge in Australia and all Pacific Nations on the magazine's 2012 Gold List.

• In 2010, The Farm at Cape Kidnappers was named to Travel+Leisure's "World's Top 50 Hotels"; it, too, earned Golf List status from CN Traveler for 2012.

• Not 12 months post opening, Tatler Magazine had named Matakauri Lodge to its list of the top-100 hotels in the world.

• The Golf Magazine World Top 100 features both Kauri Cliffs (No. 80) and Cape Kidnappers (No. 33). No two resort tracks in Asia-Pacific rank higher.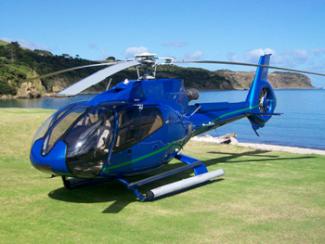 Robertson's EC-130 Helicopter
Yet The Tiger Tour does reveal much of the Robertson family's personal touch. Robertson's son Jay personally oversees all three lodges in the resort group. The lodge decor at Kauri Cliffs and Cape Kidnappers both bear the imprint of Robertson's late wife Josie.

The family's EC-130 helicopter provides dramatic bird's-eye tours of the New Zealand landscape, while also conveniently linking resort guests to Auckland International Airport.

At Cape Kidnappers, the Robertson family has assembled one of the largest nature preserves in New Zealand, enabling and protecting a thriving community of endangered species, including kiwi birds. The kiwis on-site at Cape Kidnappers are the focus of one particularly popular guided walking tour for guests of The Farm - another Tiger Tour feature. The Cape also happens to be home to the largest mainland gannet colony in the world.
"The natural environments the Robertson family and our staff work so hard to foster are integral to The Tiger Tour and everything we do at all three resort locations," said Brandeburg. "They are as important, in our view, as the luxury accommodations and golf experiences, which are obviously admired but also adhere to the same high environmental standards.

"It's our view that New Zealand itself represents, to visitors, exactly this sort of natural experience. I don't want to get all post-modern, but it's part of the New Zealand 'brand.' And so we feel our efforts and The Tiger Tour specifically are entirely consistent with, if only a small part of, the country's commitment to placing beauty and sustainability directly beside luxury."