Tiger Wins Australian Masters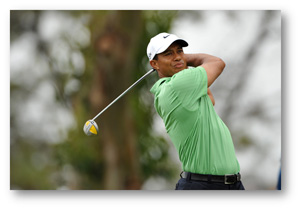 Even though he received $3 million before he arrived in Melbourne, Australia, Tiger Woods was not just going to make a token appearance in the Australian Masters.
No, the game's top-rated player values wins more than dollars, and that belief system was borne out at the Kingston Heath course, where Woods finished with a 4-under 68 to win the 72-hole tournament by two strokes over Greg Chalmers.
Tiger's trip to Australia was his first in 11 years and he put on quite a show in the final round en route to notching the 93rd title - and seventh of the year - over his fantastic career. Recovering from a disappointing even-par round Saturday that moved him into a three-way tie for the 54-hole lead, Woods took the top spot all by himself after a birdie on the opening hole - one of three in his first six holes - and never looked back.
In the final round Woods carded five birdies and a bogey while establishing a new personal record for "continental wins."
"I have never won down here, so now I've won on every continent, which is nice, except for Antarctica," Woods said, before jokingly adding, "I haven't played in the Antarctic four-play yet, but to have won on every continent is something I've wanted to do and now I've done it."
The Australian government, which subsidized half of Woods' appearance fee, estimates its return on investment to be about $20 million as the game's top-rated player attracted crowds estimated in excess of 100,000 over the four days of the European Tour co-sanctioned event.
He finished at 14-under 274, edging Chalmers by two shots after the Australian closed with a 70. France's Francois Delamontagne (69) and American Jason Dufner (70) ended up tied for third at 10-under 278.
A win in the Australian Masters earns a golden jacket; Woods became the third American to take one of those back to the U.S. after Gene Littler (1980) and his good friend Mark O'Meara (1986).
"I just played very consistently today," Woods said. "I wasn't trying to be overly aggressive, I was just trying to plot my way along and make birdies when I had the opportunity. I hit some really good iron shots and that was the whole key to the day. I didn't have a lot of long putts to make. For the week I made just four bogeys (and 18 birdies), I think that's pretty good."
He also tipped his cap to Melbourne's fabled sand-belt golf courses. "All the guys have raved about this golf course and I understand why," he said. "I really enjoy playing on sand-belt courses because it brings back shot-making and we don't see enough of that. All the guys who have come down here have always enjoyed it. This is a kind of golf that we don't get a chance to play."

He may return to defend his title in 2010. "I would certainly love to come back," Woods said. "I haven't looked at next year's tournament schedule yet, I will do that next month and get an idea of what I need to do for the entire year and I'll come up with a game plan."

Tiger will take a few weeks off before playing in his final event of the year at the Chevron World Challenge at Thousand Oaks, Calif., December 3-6.