Tillie's Time-tested Designs Shine at Fort Sam Houston Golf Club
By: Steve Habel
There is history and fun aplenty found on the two golf courses at Fort Sam Houston in San Antonio, thanks to the facility's nod to the grand game as the host site for the Texas Open in the 1950s and '60s and a pair of solid, enduring designs.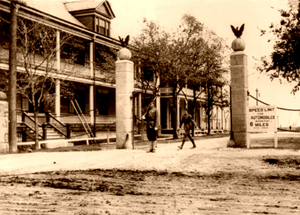 Entrance to Fort Sam Houston (circa 1912)
The 18-hole tracks known as La Loma and Salado Del Rio have been helped by a recent series of renovations and much-needed attention to detail. The courses are always a challenge, mostly due to the routings by noted "Golden Age" golf architect A.W. Tillinghast and subsequent fine-tunings by the Kevin Tucker Design Group.

Fort Sam Houston GC is still the only military track to host a PGA Tour event. The course played in those tournaments, done by Tillinghast in 1937, was split into two separate routings during a 1976 redesign that added another 18 holes. The most recent changes included a lengthening of both courses and a reworking of the tees and greens.

Eleven of the original Tillinghast-designed holes (Nos. 1-10 and 18) now serve as the backbone of the La Loma course; the other seven are on Salado Del Rio and comprise hole Nos. 1 and 13 through 18.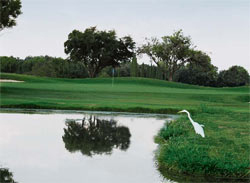 Salado del Rio Course at Fort Sam Houston
The Tillinghast-designed holes are mostly straight and long, with rolling fairways emboldened by numerous knolls and mounds. Their putting surfaces, which roll true but can be difficult to read due to subtle breaks, are invariably protected by oval-shaped sand bunkers.

The best of La Loma's Tillinghast holes might be the 419-yard, par-4 sixth, which sweeps around a tree along the right and races downhill past a series of bunkers in the landing area. The green is protected front-left by a lone bunker.

The newer holes on La Loma run through a tree-filled but low-lying area that has more movement and changes in elevation. Four of the holes from the 1976 addition make up a final stretch that will test all skill levels.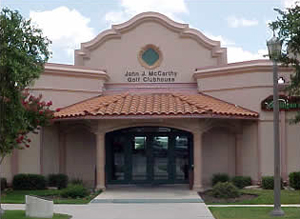 Clubhouse at Fort Sam Houston
That segment begins with the 405-yard, par-4 14th, which moves downhill to a landing area that narrows and ends at a creek. The slightly uphill approach is made more difficult by a front-right pin location on the wavy green. No. 15 is a grip-it-and-rip-it offering that turns left to right off the tee. The approach here is over a large pond that must be carried to reach a raised putting surface.

La Loma's last two holes could be the toughest final pair in the Alamo City. No. 17 is a 473-yard par-4 that rises toward a distant green. The closer, a 445-yard par-4, shoots slightly uphill as well before ending at a green protected by a deep bunker front-right. The putting surface is huge and is shared with the 18th hole on the Salado Del Rio course.

La Loma plays to a par of 71 and at 6,819 yards from the tips, where it carries a 73.0 rating and a 126 Slope.

Salado Del Rio's main feature is thick wetlands along the course's edges that occasionally encroach into play. Most of the fairways are lined with mature trees. Adding to the experience are holes along Salado Creek that enhance scenery and shot-making options.
On this course the Tillinghast-designed holes are standouts, namely the final six. The 211-yard, par-3 13th runs downhill to a green that slopes front to back, and the 554-yard, par-5 15th moves back uphill and concludes at a green protected by three bunkers.

Grab enough club to get over the ridge at the deceptively tough uphill closer or you will find yourself with a blind shot to an elevated green squeezed by a bunker front-left. The par-72 Salado Del Rio stretches 6,857 yards, where it receives a 72.6 course rating and a 126 Slope.

Fort Sam Houston Golf Club has also hosted the All-Army Championships. The facility contains a practice chipping green, a lighted driving range, private cart storage and a wonderful cafeteria and restaurant.

For more information, visit http://www.fortsamhoustonmwr.com/vsm/page.asp?pid=111.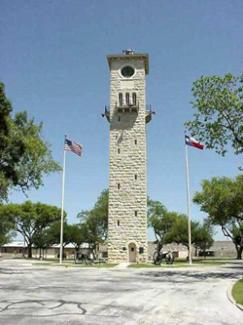 The Quadrangle at Fort Sam Houston
About Fort Sam Houston

It's an honor and a privilege to play the golf courses at Fort Sam Houston. The facility's significant contributions to the United States were recognized in 1975 when the post was designated as a National Historic Landmark. Opened in 1876 and one of the Army's oldest installations, Fort Sam Houston also boasts the largest collection of historic structures - more than 900 buildings.

The installation is dynamic and growing, taking on new missions such as the home of the Army Medical Command headquarters, in addition to the command HQ for the Fifth U.S. Army, U.S. Army South, the San Antonio Military Entrance and Processing Station and Brooke Army Medical Center, the largest and most important military medical training facility in the world.
Steve Habel is one of Cybergolf's world correspondents, contributing news stories, features, equipment and book reviews and personality profiles from his base in Central Texas. He is also works as a contributing editor for Horns Illustrated magazine, a publication focusing on University of Texas sports, covers the Longhorns for CBS Sports, is regional editor for Texas Golfer magazine and files stories for Golf Oklahoma magazine, Texas Links magazines and Golfers Guide. Habel's main blog (www.shotoverthegreen.blogspot.com) features news on golf and the Longhorns, and another (www.checkinginandplayingthrough.blogspot.com)chronicles his many travels, on which he has played more than 350 golf courses since 2009. Habel is a member of the Golf Writers Association of America and the Texas Golf Writers Association.