Timberlake's Mirimichi Closes for Renovations
By: Steve Habel
Thanks to input from native son and popular singer and actor Justin Timberlake, the track formerly known as Big Creek Golf Course in the Woodstock community between Memphis and Millington, Tenn., was reborn like the proverbial phoenix in July 2009 as Mirimichi Golf Club.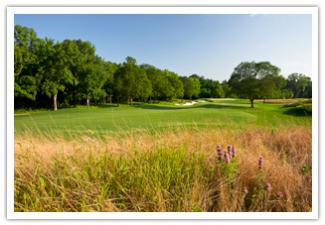 Mirimichi's 17th Hole (photo by Aidan Bradley)
Now, after six months of heavy play and gathering feedback about the new layout from players, golf professionals and industry experts, the Grammy-Award-winning artist and his family will shutter Mirimichi until July as they try to fit three years of course improvements into the next six months. The course is set to reopen July 17 in time for its first anniversary.

"We initially planned to make these improvements over the next three years and stay open," said Timberlake, Mirimichi's owner. "But I felt the Memphis community deserves the best now and shouldn't have to wait through three years of gradual improvements."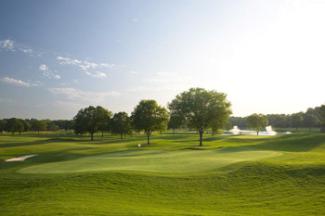 Mirimichi's 18th Green (photo by Aidan Bradley)
Timberlake currently hosts the Justin Timberlake Shriners Hospitals for Children Open in Las Vegas, part of the PGA Tour's Fall Series. He and his family bought and spent an estimated $16 million renovating the 18 holes and grounds at the former Big Creek, the track where Timberlake was taught to play golf as a child by his stepfather.

With a trio of stated goals to "create an amazing sanctuary for the community, create an eco-friendly golf course and to have a public course that can be among the same names as Torrey Pines and Bethpage Black," Mirimichi opened to much fanfare on July 25, 2009, as the first course in the U.S. to be designated as a certified Audubon International Classic Sanctuary.

As part of the Classic Program, Mirimichi implemented sustainable resource-management principles that incorporate wildlife conservation, habitat rehabilitation and enhancement, water conservation and water quality protection. The certification requires a yearly audit to ensure that Mirimichi continues to implement these natural resource management principles. All course employees are thoroughly trained in environmental stewardship.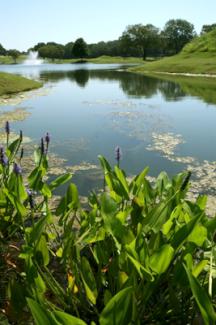 Wetlands Near Mirimichi's 7th Hole
Some of the enhancements to improve the experience at Mirimichi will include tweaks to drainage, bunkers and greens as well as extensive additions to wetlands, wildflowers and native grasses to showcase the course's aesthetic beauty, all in keeping with Mirimichi's commitment to ecological sustainability.

"There are many things that go into creating a championship-caliber course and overall golf experience," said Rich Peterson, Mirimichi's general manager. "The consistency of the bunkers, the strategic playability and length of the holes, the speed of the greens and the course aesthetics are just a few of them. We will have a major championship-caliber golf course on all of these levels by our first anniversary in July."

With this latest stage of multi-million-dollar renovations, Timberlake and the staff at Mirimichi are seeking to eventually bring one of golf's majors to the course, with a stated target date of 2020.

Feedback on the new course was gathered from golf pros and experts from the USGA, the PGA and the Tennessee Golf Association (TGA). The reaction, while extremely positive, illustrated several areas at the course that need improvement if it is to become a recognized golf destination and the host of a major championship.
"This is a continuation of the investment by our ownership group in creating a world-class public course that will be comparable to the best courses in the country," Peterson said.
The course is currently young and needs maturing, but is already very good. Featuring deep-pit bunkers, elevated greens, seven lakes, and waterfalls and creeks that twist and turn, there are plenty of challenges to be found on Mirimichi's 7,400-plus yards. The track, designed by Kentucky's Talent Golf and Development team of Mike MacElhose and Randy Wilson, makes you think, forces you to react and requires you to be at your best.

Talent Golf used the careful placement of tees, natural topography, length, width, wind direction, hazard placement, and contouring to create a unique track that provides golfers with a true test of their golfing abilities, while enhancing the beauty of their surroundings. More than 80 bunkers and 1,200 azaleas were added to the course.
Specific improvements will include the lessening of slopes of some greens so golfers can better control a putt's speed and break; making the bunkers firmer by changing the sand and improving the perimeters; upgrading the collars of greens to create variety for pitch shots.
Mirimichi has recruited some of the top talent to help make the improvements, course officials said. Those on board include Chris Hartwiger, senior agronomist for the USGA; Morris Brown, CEO of Champion Turf Farm, who created the Champion Bermuda grass used for greens by more than 400 courses; and Joe Sanders, whose Sanders Golf Inc. has renovated courses that host major championships, including the famed Pinehurst No. 2 in North Carolina.

Golfers won't just be treated to aesthetic enhancements at Mirimichi's first anniversary celebration. The multi-million-dollar Callaway Performance Center will be unveiled at the anniversary celebration. The facility will offer golf lessons and customized club-fitting using the same Callaway Performance Analysis System used by professional golfers. The center will be one of only nine in the country.

Also on tap is Little Mirimichi, a nine-hole, par-35 layout. Customers also will enjoy the course's other enhancements, including a new 18-hole putting course and a short-game practice complex.
For additional information about the course, visit http://mirimichi.com.
Steve Habel is one of Cybergolf's national correspondents, contributing news stories, features, equipment and book reviews and personality profiles from his base in Central Texas. He is also the managing editor for Business District magazine in Austin and works as a contributing editor for Horns Illustrated magazine, a publication focusing on University of Texas sports. He also writes a blog (www.shotoverthegreen.blogspot.com), which features news on golf and the Longhorns.