Time for a Change?
By: Tony Dear
Many golfers, and therefore some of the major manufacturers, are still largely undecided about multi-material drivers. A handful of successful recent launches, however, including that of the Ping Rapture, may do for composite what the Great Big Bertha did for titanium.
Now that titanium has succeeded in removing all traces of steel from golf manufacturers' driver inventories, and the vast majority of golfers have at last made the switch, there comes another type of driver to which you'll need to give serious consideration when making your next purchase.
Composite clubs are nothing new, of course. In the early 1990s a number of Japanese manufacturers, led by Yonex, attempted to create larger clubheads than steel would allow by using carbon, ceramics and other non-metallic materials. The first carbon crusade didn't last long, however, as Callaway, a small company making speciality clubs by wrapping hickory round-steel shafts, suddenly appeared from nowhere with its stainless steel, 190cc (a good 15-20cc larger than persimmon and early metal heads) Big Bertha, which not only saw the company's sales more than double in 1991 but also ignited golf's technological revolution.
In February 2002, seven years after introducing its first titanium driver – the Great Big Bertha – Callaway re-launched the campaign for carbon with the Compression-Cured Carbon Composite C4. Despite six years of research, however, a massive 55 grams of discretionary weight distributed around the clubhead's perimeter to increase forgiveness, and the largest clubhead in Callaway's history – 360cc, the club bombed in the marketplace.
Undaunted, and by now big enough to sustain such a major setback, Callaway tried again 18 months later with the ERC Fusion, which boasted a titanium face welded to a composite crown. Hailed as the most technologically advanced club ever made, Callaway's hopes were naturally high but, surprisingly, it fared only marginally better than its predecessor. At 350cc, the Fusion was 10cc smaller than the C4, 20cc smaller than the Great Big Bertha and almost 100cc smaller than some of the largest titanium drivers available at the time. "We were a little too late to the game on the race to higher volumes," says Jeff Colton, Callaway's senior vice-president of research and development. "Limiting that clubhead to 350cc was a mistake."
Meanwhile, Mizuno had unveiled its own version, the MP-001, which earned very positive reviews but failed to convince the industry that everything was about to change.
"The first composites just didn't offer customers enough," says Kerry Kabase, a sales director at Edwin Watts Golf, one of America's leading golf retailers. "They were decent enough clubs, but they didn't really justify the extra expense."
That extra expense (the C4 started life on the shelves at a whopping $540 while the ERC Fusion set you back $625) was the result of an extremely complex production process and one of the major reasons why TaylorMade, among others, preferred to remain all-titanium.
"Building a composite driver involves a five-axis cutting machine, curing, molding, finishing and so on. It's very expensive," says Todd Beach, director of metalwood development at TaylorMade whose driver catalog currently features eight titanium drivers in the US and six in the UK. "The r7 425 features Moveable Weight Technology and is the same price as many of today's composite drivers which don't."

For the time being, Beach believes TaylorMade is better off perfecting titanium drivers, for the U.S. and European markets at least. The company's composite CTi XR-05 is available in Japan, but Beach believes its performance benefits are so negligible the slightly more prudent buying public on either side of the Atlantic simply wouldn't go for it. "We have decided to focus on maximizing the design capabilities of the r7," he says.

"Over the last four years we have reduced the thickness of the face from 1mm to 0.6mm allowing us to move the weight around the head and optimize the golfer's launch angle and ball speed. There wouldn't be much point, therefore, in incurring greater costs by adding composite. And in some cases, composites don't perform as well as an all-titanium club anyway."

Other firms following the all-titanium path that believe the performance gains do not justify the additional costs include Titleist whose 905 range of drivers features 6-4 titanium bodies, beta-titanium face inserts and aluminum hosel tubes, and Nike which still offers Tiger Woods' old driver, the Ignite, along with his new one, the SasQuatch.

In an interview with an American magazine two years ago, Nike's Director of Product Creation, Tom Stites, vindicated his firm's decision not to enter the composite market by saying titanium was probably the best thing to ever happen to golf clubs. "To put graphite with titanium, you have to reinforce the joint with extra titanium," he added. "So your real net gain is a lot less than you might have hoped for. It's really a matter of taking two steps forward and one step back. Some of us chose to go one step forward instead."

The bottom line for Beach, Stites and Jeff Meyer, Director of Metalwood Design and Development at Titleist, is that up to now the improvements an average golfer has experienced when hitting a composite have been minimal to say the least. If they promised 50 extra yards and five more fairways, it's likely all of them would consider the costs worthwhile, but by lowering a club's center of gravity and thus increasing launch angle by one degree, and reducing spin by maybe 400 revolutions a minute – what composites are designed to do – the average golfer is likely to hit his driver a fairly inconsequential four to five yards farther, according to tests carried out by independent equipment analysts. And seeing as most golfers' launch angle varies considerably from one swing to the next, an increase of one degree is not going to result in consistently longer or straighter drives.

Then there's the all-important issue of sound. The flat, rather lifeless thud of a composite doesn't excite the majority of golfers in the same way as titanium does. "People prefer the explosive crack of titanium because it sounds more powerful," says Stites.

In an effort to improve the sound a composite makes, several manufacturers have been pumping millions of research dollars into acoustics. "We had been looking at multi-material clubs since 2000 and specifically the problem of dead sound," says Nate Radcliffe, manager of Cleveland's Concept and Research Group. "We introduced the Launcher Comp in November 2004 only after we felt we had overcome the problem by modifying the thickness of the composite crown to make the club sound more metallic."

The relative success of the Launcher Comp (and the Cobra 454 which appeared shortly before) was due in part to its classic pear-shape and, says Radcliffe, the fact that it was popular with all types of player, from pros to 24-handicappers. "But the satisfying sound of impact was perhaps the biggest factor," he adds.

With a good deal of buzz surrounding Vijay Singh and David Toms' use of the Launcher Comp, a number of other firms unveiled similar designs in the months following its launch. Adams introduced its RPM 430Q and Callaway, convinced carbon still had a future, brought out the highly successful FT-3 proving tenacity does indeed pay off. Used by Michael Campbell, Phil Mickelson and Annika Sorenstam to win major championships in 2005, the FT-3 is perhaps Callaway's finest moment but it owes its very existence to the ill-fated C4. "If we had not built the C4," says Colton, "we would not have had the platform to build the FT-3."

Cobra updated the 454 with the HS9 which appeared in May of this year, and in September another major player, Ping, joined the party. It remains to be seen if its new Rapture Driver will have quite the same effect on the industry as titanium did, but it certainly attracted a great deal of interest in the run up to its launch. First seen on Tour at the John Deere Classic in July, the Rapture is already a favorite with a number of Ping players, including Angel Cabrera and Bubba Watson, who currently leads the PGA Tour driving distance stats with an average poke of 320.9 yards.

"We didn't want to enter the market just for the sake of it," says Marty Jertson, a design engineer at Ping. "We wanted to properly optimize the design for the technology available. We had the initial concept three years ago, but the club has been in development for the last 18 months to two years."

By using the most effective amount of composite and positioning it correctly, Jertson believes he and his colleagues have created a driver with a very appealing sound. "We hit the frequency and amplitude profile that we wanted to," he says. "The acoustic footprint of the club is the best of any composite driver ever."

What's more, Jertson says, the club exceeds performance expectations so much the higher costs of production and, consequently, retail price ($429), are totally justified. "This is definitely the most complex driver we've ever made," he says. "By inserting lightweight composite into the web-shaped crown using a bladder mould we freed up 18g of weight which enabled us to position the centre of gravity where it produces a high launch, high initial ball speed and low spin. The result is longer drives"

If the Rapture sets tills ringing like some insiders believe it might, Nike, TaylorMade and Titleist will no doubt accelerate their programs and unleash some composites of their own. "They might not want to leave it too long though," says Kerry Kabase. "Composites have really come on recently. Firms are discovering the best ways to move weight around the clubhead in order to produce better launch conditions, and the sound is so much better. At the moment, I'd say one in four of the drivers we sell is a composite. But I think that figure might be one in two before long."

This article originally appeared in appeared in Golf Pages.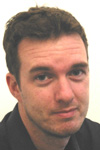 Tony Dear has been writing about golf for 11 years. A former assistant club pro from Sussex, England, Tony started out as a freelancer in 1992 before taking a staff writer's job at Fore!, a magazine based in Peterborough. As the magazine's chief instruction writer, it was Tony's job to compose instructional articles aimed at a youngish readership whose letters to the editor suggested they often got confused by technical jargon and theory. Tony brought his simple approach to teaching golf to the magazine, helping boost sales by 10,000 issues. As a result, he was nominated within the company and nationally for Young Writer of the Year awards.

From there, Tony moved 20 yards across the Emap UK office to join Today's Golfer. There, he was soon promoted to a senior editorial position, focusing on equipment, and became a significant part of a team that saw sales figures double within the magazine's first 12 months.

After three years at Emap UK, Tony was dragged kicking and screaming across the Atlantic by his American wife ("not really, I love it over here") and, after short spells in Phoenix and Denver, wound up in Seattle in May 2003. He recently moved to Bellingham in the far northwest corner of the far Northwest of the U.S. and became a father to a son on whom he has already staked £5 for the 2029 Open Championship. At present, he is freelancing for a number of print and online publications back in England including Today's Golfer, Golf World, Bogey, The Open Championship Magazine and Casino.com. He is also a contributing editor for Denver-based Colorado AvidGolfer.

Recent features include a look at Colorado's self proclaimed 'links' courses, an interview with Suzy Whaley, with whom he played nine holes ("and got soundly thrashed") and a 64-page instruction supplement for Today's Golfer.

Tony has authored three books in the last five years and been nominated for several specialist and young writers awards. "Although I've never actually won one," he admits. He is a member of the Northwest Golf Media Association and the Golf Travel Writers Association based in London.