Time Machine Effect Brings Long Island National into the 21st Century
By: Jay Flemma
If you've ever wondered what a golf course would look like if it a scientist exposed it to an aging ray, look no further than Long Island National, because what was once a quintessential example of mid-1990s design and shaping is now a prime illustration of golf architecture in the 21st century. And the results are a dramatic improvement, underscoring the success the Second Age of Golf Course Architecture has made in affecting the zeitgeist of the ardent American golfer.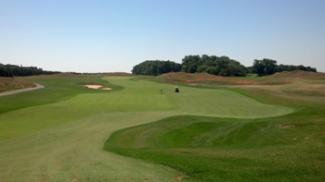 The New Fairway on the Fourth Hole
Gives Golfers more Room
Whoever said you can't teach an old dog new tricks was dead wrong: Robert Trent Jones, Jr., made the quantum leap from penal golf designer to strategic and from parkland style to true links. His evolution can be affirmatively traced. His first links design was in 1987 at Spanish Bay, which had links elements, but also had penal hazards and shot values as well. The transformation to true links was completed with Chambers Bay in 2007. Now Jones has caught the same wave of creativity as Tom Doak, Gil Hanse and many of the new crop of minimalist designers throwing golf architecture back to the good old days of Ye Olde Sod.

Long Island National in Riverhead, N.Y., used to be the mid-point: It had heathland elements such as tall roughs, open windswept fairways, curvy greens and tall roughs.

"It's inland, and on those courses in the UK, they had to have undulating contouring in the fairways and intriguing contours on the greens," explained Jones. "You have to think before you hit the ball. That's what we did at Long Island National, too."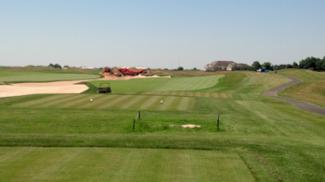 Jones says the New Bunker between Nos. 2 & 3
is Inspired by Pine Valley
But with artificial-looking shaping, ponds on holes 10-13, and some tiny targets to hit off the tee, it was still stuck in the late 1990s, despite also having excellent angles, a superb attribute that went largely unnoticed by players and critics alike because everyone was distracted by both the physical appearance of the course and the troubles encountered by its previous owners.

But Jones, new owner Donald Zucker, and their construction team have recently made some changes to the course that bring L.I. National forward architecturally by about 15 years.

"The routing and the greens are the same, but we've added a few bunkers here and there, and we've smoothed out and widened the fairways," explained Jones, who has made several trips from his California base to oversee the work. "These appear mostly cosmetic, but it's much more then how the golf course looks, it's also how it now plays - easier for the amateurs (they'll lose less golf balls), but just as difficult for the expert golfer."

The changes are best seen at holes two through four. Where before huge hills covered in shaggy rough, or overgrown forests of fescue lining the fairway ate golf balls, now there is either fairway (at No. 4), or a large waste bunker (between two and three).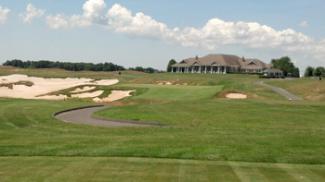 More Bunkers & Less Rough Means Fewer
Lost Balls & more Playability
"You can find your ball and hit it again, and that's an enormous improvement," said golfer Leo Ressa, who calls himself the first new member of the newly-private club. "And you don't have to club down off the tee on the par-5 fourth hole."

He also praised other changes around the golf course, like substituting bunkers for rough and scrublands. "All the changes we always thought they should make back when it is a public course, they have made."

In doing so, the course has gone from being an example of Jones's transition period to being closer to his recent work at the links end of the spectrum. It was once a late-'90s Jones, now it's a 21st century Jones, as though it traveled in time to the future, a future with much stronger golf-architectural principles and maintenance practices.

"It's easier to maintain and more fun to play - less grass, more sand. The bunker between two and three is an idea I got from Pine Valley," Jones observed proudly. "The course has been updated, and now it plays more like the newly restored Poppy Hills and like some of the holes at Chambers Bay."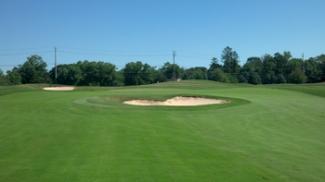 The Center Line & Illusion Bunker on No. 1
There is plenty to like at Long Island National - greens that tilt from one side to another (like the second, sloping sharply right to left); center-line bunkers (such as that at the first); and wondrous Lines of Charm - where the direct line off the tee is fraught with peril. This sets up excellent diagonal angles of attack. As such, fairways sweep horizontally around bunkers and other hazards. The terrain is excellent for golf, with outstanding movement in the fairways and greens, a pivotal requirement for a truly great golf course. If the is a drawback, there is too much water at holes 10-13 in the form of man-made ponds.

Nevertheless, the early changes seem to be well-received from all sides. "I'm glad the course is in the hands of a worthy patron who wants to give golfers the best experience he can," said Jones. "The course is important to my legacy because it's my only course in New York State."
Since launching his first golf writing website in 2004, http://jayflemma.thegolfspace.com, Jay Flemma 's comparative analysis of golf designs and knowledge of golf course architecture and golf travel have garnered wide industry respect. In researching his book on America's great public golf courses (and whether they're worth the money), Jay has played over 420 nationally ranked public golf courses in 40 different states, and covered seven U.S. Opens and six PGA Championships, along with one trip to the Masters. A four-time award-winning sportswriter, Jay was called the best sports poet alive by both Sports Illustrated and NBC Sports writers and broadcasters. Jay has played about 3 million yards of golf - or close to 2,000 miles. His pieces on travel and architecture appear in Golf Observer (www.golfobserver.com), Cybergolf, PGA.com, Golf Magazine and other print magazines. When not researching golf courses for design, value and excitement, Jay is an entertainment, copyright, Internet and trademark lawyer and an Entertainment and Internet Law professor in Manhattan. His clients have been nominated for Grammy and Emmy awards, won a Sundance Film Festival Best Director award, performed on stage and screen, and designed pop art for museums and collectors. Jay lives in Forest Hills, N.Y., and is fiercely loyal to his alma maters, Deerfield Academy in Massachusetts and Trinity College in Connecticut.