Time Stands Still, Joe Saladino Wins the 102nd Travis Invitational at Garden City
By: Jay Flemma
Hands stopped at five minutes to midnight, the inexorable march of Big Ben was halted at the 102nd Walter J. Travis Invitational as Long Island's Joe Saladino defeated 2010 Travis champion "Big Ben" Hayes 2 & 0 in the tournament final at fabled Garden City Golf Club. Saladino took a 1-up lead with a 35-foot birdie putt at the par-3 second hole and never trailed, claiming his first Travis championship and erasing the memories of a final-round loss in 2008. Both Saladino and Hayes are 1-1 in championship matches at the Travis and 7-1 in championship bracket play overall.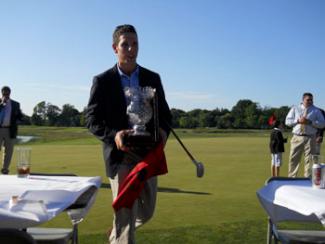 Joe Saladino & His New Schenectady Putter
"It's the greatest win of my life. I've won a lot of events here in the area, but this is the biggest," confided the long-time Metropolitan Golf Association star. "There is so much history in this tournament and at Garden City, and it's such a great competition, this is definitely it, my biggest win ever." Saladino then sat back, smiled broadly, and took a long swig of one of Bob the bartender's vodka Southsiders while the table around him cheered.

"I wanted a win, a win, and a drink - a victory drink from the cup! And this sweetest Southsider I've ever tasted," explained a grateful Saladino, who used that mantra this year as a riff on the mantra from his 2008 run which was "A win, a win, and a yes," meaning he wanted to win the Travis semifinal and final, and have his then-girlfriend Sarah accept his marriage proposal. He came up one short in the win column, but still won in the biggest way when Sarah, who is now seven months preggers with the family's first child, a boy, said yes. "Now I can go home and tell her I got my Travis!" he finished energetically.

Winning the Travis Invitational is, indeed, an apotheosis to an amateur golfer - they become immortal, their history preserved by arguably the greatest stewards in golf. For 113 years the members of Garden City Golf Club in New York have cherished and promoted the history of the game with reverence, and now Saladino, a local star and fan favorite since he was a teen, ascends into the rarified air of a Travis champion, his name engraved on the same walls as Travis himself and over a century's worth of well-decorated amateur champions.

To do it Saladino had to almost stop time itself, as Big Ben's record in Travis championship matches rose to 7-0 after Hayes defeated top-seeded Ed "Scissorhands" Gibstein 1-up in the morning semi-final. A former Nationwide Tour contestant and University of Southern California star, Hayes earned his nickname by playing with clockwork precision during the match-play phase, slowly but inevitably constricting opponents with a combination of gargantuan drives and a sublime short game. Shot after shot, clockwork precision. Tick, tick, tick . . . ask not for whom the bells tolls, opponents, it tolls for thee.
In the final, however, their roles were reversed. Hayes was never able to put pressure on Saladino, who got ahead, stayed ahead, and put enough stress on Hayes to keep him a bay, the same way he did with T.J. Brudzinski in the morning semifinal. winning 3 & 2.

Hayes's problems started when he began missing fairways to the right, putting himself in dicey lies, awkward stances and terrible angles into Garden City's small, cunningly defended greens. In the rough-covered mounds one minute, off a dirt cart path the next, from the trees another time, he kept looking, for all the world, like he was going to lose the hole and fall hopelessly behind.

But Big Ben kept making clutch par putts to salvage halves. Time and again he would pour one in from 12, 15, even 20 feet to tie Saladino and keep the deficit to only 1- or 2-down. Other guys would have shot 85 and lost 5 & 4 from the places Big Ben was playing from, but Saladino's lead never got higher than 2-up, and although Hayes was never able to square the match, he just kept hanging around. And that's the last thing a golfer wants to do at Garden City - leave a guy hanging around late, because there is nothing but swing holes out there, and momentum swings from shot to shot. Golfers steal matches late all the time at Garden City.

Take the 10th hole, for example. Saladino Goodyear blimped his tee ball to with 90 yards of the green. Big Ben drove deep right into the rough with a ghastly angle to a green that slopes sharply away from the player to a pin cut front-center. "Good luck" territory.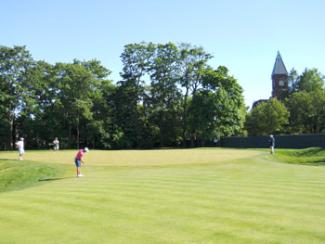 Saladino Plays to 17 Green as Big Ben Looks On
But Big Ben somehow put it to five feet left of the green while Saladino's seemingly perfect approach rolled out forever, leaving him 60 feet. He lagged to two feet. Then Ben flubbed the chip, leaving it 20 feet short.

So guess what happens? Hayes rolls in the 20-footer, Saladino misses the shorty, and Hayes goes to the 11th tee just one down . . . where he promptly drove into the woods again, and the cycle started all over once more. It was like that all day.

In the end, Saladino out-clockworked Big Ben; he was able to nurse the lead the entire round. "14 was another example of that - perhaps the crucial turning point," added Griffin McQuilling, Saladino's caddie and reigning junior club champion at Garden City Golf Club.

"It was big," agreed Saladino. "It gave me the enough breathing room to hold off the momentum swings I knew were still coming."

Both players agree that at a mere 343 yards, the players normally view it as a birdie hole, "but miss the green and you're begging for a par," Saladino stated. Then both players drove into the same fairway bunker. But Hayes muscled the ball to another greenside pot bunker (the worst place to miss), while Saladino hit the back collar of rough. Both players made indifferent chips, Saladino to 12 feet, Ben to 22.

And of course, Ben rolled his in. (Here we go again!) "But Joe just dug deep, and poured it in right on top of him. It was so clutch," said McQuilling. "That was the shot of the match."
It certainly was big, and Saladino needed it because Big Ben wasn't done. Still 2-down as they came to the 16th, Hayes drove into another fairway bunker, while Saladino rocketed his tee shot deep into the middle of the fairway. Playing to a green guarded by water left, sand right, pin tucked flush-left, Ben's approach landed 80 yards short in more rough-covered mounds. Saladino hit the green and had an easy two-putt from 25 feet. Your instincts tell you it's "Game, Set, Match - Saladino." Hayes played a creditable pitch, to 22 feet again, but it looked like a two-putt par would do it for Saladino.

Of course, Big Ben just rolled the putt in again. "I told him it was a great up and down, and inside I was muttering curse words," quipped Saladino. It only got tighter for Saladino as Hayes won the 17th with a birdie from off a cart path. His 215-yard hybrid shot to 15 feet was a laser beam.

In the end, Big Ben fell one comeback short, and his three-putt bogey from 40 feet at the last led to the final 2-up result. But even in a loss, Big Ben's round was marvelous, every bit as entertaining to watch as Saladino's fairways and greens. It was two gladiators, one Greco-Roman, one Trojan, locked in an epic battle.

"It was one of the best Travis finals I've ever seen," confided one member, looking resplendent in his Garden City green jacket, and he's right. It was also a great moment of redemption for Saladino, as well as a great "local boy done good" story, and the fact that he beat a former Travis champion makes it all the sweeter. He also raises his own competitive match-play record since 2010 to a brilliant 29-1.

Interestingly, the 14th was the most crucial hole time and again over the weekend. Although short, the hole's light-bulb-shaped green is surrounded by trouble. The hole is sneaky hard.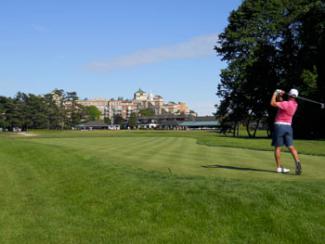 Joe Saladino Stops Big Ben with His Approach to 18
"We kept making bogey with wedge on our hands," lamented Ed "Scissorhands" Gibstein, who also put himself behind the 8-ball late with a 14th-hole bogey in the morning semifinal against Hayes. It dropped him to 2-down. Like Hayes in the final, Gibstein lost 1-up on 18. Indeed, at some point during Sunday's play the hole proved the downfall of all four semifinalists except Saladino. All lost that particular match as well.

Tournament chairman Pat Fogarty had an interesting explanation. "The course did a great job of testing distance control. You have to have the appropriate angle to get a good putt. You can be aggressive below the hole, but must defensive from above it," he explained. "You have to give yourselves the best leaves to win matches at Garden City."

Fogarty is right, but some of the credit must go to both Mother Nature for the fantastic spring that allowed wunderkind golf course superintendent David Pugh to get the fast-and-firm conditions that dictated that Garden City's fiendishly intricate greens would defend par admirably against the best amateurs in the world.

So as the wun set over idyllic Garden City, Saladino, defending champion Nick Gilliam and one black-clad journalist gathered on the 18th green with former Travis runner-up Steve White for an impromptu putting contest with Saladino's trophy, a replica of the Schenectady putter Travis himself used to win the 1904 British Amateur. (The black-clad journo won . . . well one round, at least.)

Saladino gets his Travis, joining Gilliam and Big Ben and Walter Travis, and many other names, and now his legacy - an indisputable amateur golf masterpiece, just like the Travis invitational itself - will live on, promoted and revered by the guardians of a sacred sporting trust. Years pass, but to the members of Garden City, all times are one, and Saladino's story will be told long into the camaraderie-filled nights through the decades.

Perhaps one day in the not too distant future Saladino can take his yet unborn son to the club, and let him hear the story from the members themselves. It will be as cherished by them as much as by Saladino. In the end, that's why we all kept coming back for 102 years, isn't it? Because here, time stands still.
Final Results of the 102nd Walter J. Travis Invitational

(seedings in parenthesis)

Walter J. Travis Championship
(2) Joe Saladino over (5) Ben Hayes 2-up

Devereux Emmet Cup
(6) Kevin Marsh over (8) Nick Gilliam

Charles Blair Macdonald Cup
(5) John McClure over (7) Scott Mackesy

Robert Trent Jones Cup
(1) Kevin Hammer over (7) Steve White

William Howard Taft Cup
(7) Greg Stebbins over (8) Billy Kreitsek

Dwight D. Eisenhower Cup (Seniors)
(3) Gary Daniels over (8) Jay Blumenfeld

News, Notes & Quotes

Battle of the Dopplegangers

"Oh no!" moaned Mike Kelley when he saw his name next to Ryan Chin on the pairing sheet for the first round of the match play. "What's wrong?" I asked.

"We play the same game, from the same place, with the same clubs, and he's gonna hang around all day!" Kelley said. Sure enough, they were within five yards of each other all day. Kelley got a measure of vindication, avenging a loss last year with a 1-up victory.

What was Chin's downfall? Travis's coffin! Like Walter Travis in the 1908 U.S. Amateur, Chin left the match in that bunker.

Poetry Corner

Hey Henry, Rene, and Bobby! We have a new couplet for the poem:

Bobby slings the booze and vino
Just don't ask for cappuccino!
Our Green and Gothic Home!

Geographical Diversity

The six winners from the various flights all hail from different states - a true testament to the national - even international - strength of the field.

St. Johns Celebrates

Within hours of his victory, St. John's University reported the win, noting that, "the two-time MGA player of the year" as one of the great modern players who wore the red and white. Saladino joins, "all-time wins leader Andrew Svoboda [who] currently sits in fourth on the Nationwide Tour money list, and alumnus Keegan Bradley [who] already has 10 top-25 finishes on the PGA Tour this year."

One St. John's graduate celebrating particularly fervently is pro shop staff member Jesse Fitzgerald. He was Saladino's roommate at St. John's for three years. Go Red Storm.

"Everybody do the Saladino"

"Saladino?" asked one of my golf writer buddies when I told him about my weekend. "Sounds like a new dance craze - 'Everybody do the Saladino!' "

Well they are - at Huntington Country Club at least.
Since launching his first golf writing website in 2004, http://jayflemma.thegolfspace.com, Jay Flemma 's comparative analysis of golf designs and knowledge of golf course architecture and golf travel have garnered wide industry respect. In researching his book on America's great public golf courses (and whether they're worth the money), Jay, an associate editor of Cybergolf, has played over 420 nationally ranked public golf courses in 40 different states, and covered seven U.S. Opens and six PGA Championships, along with one trip to the Masters. A four-time award-winning sportswriter, Jay was called the best sports poet alive by both Sports Illustrated and NBC Sports writers and broadcasters. Jay has played about 3 million yards of golf - or close to 2,000 miles. His pieces on travel and architecture appear in Golf Observer (www.golfobserver.com), Cybergolf, PGA.com, Golf Magazine and other print magazines. When not researching golf courses for design, value and excitement, Jay is an entertainment, copyright, Internet and trademark lawyer and an Entertainment and Internet Law professor in Manhattan. His clients have been nominated for Grammy and Emmy awards, won a Sundance Film Festival Best Director award, performed on stage and screen, and designed pop art for museums and collectors. Jay lives in Forest Hills, N.Y., and is fiercely loyal to his alma maters, Deerfield Academy in Massachusetts and Trinity College in Connecticut.