Tired of the Tiger Drama? Try the LPGA in 2010
By: Dave Andrews
Nobody knows right now how the Tiger Woods saga will play out in 2010, probably not even Tiger himself. Who can tell when he will tee off in competition again on the PGA Tour? He may not even play in the upcoming season.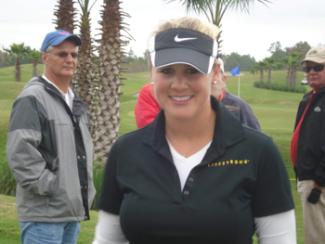 Amanda Blumenherst
Let me suggest that 2010 would be the perfect year to start following the LPGA Tour.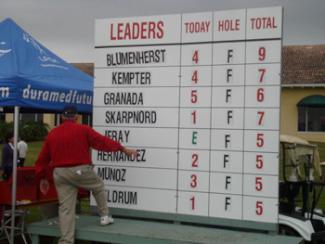 Final LPGA Q School Leaderboard.jpg
I know, the LPGA has been struggling itself lately. It has lost more than a few tournaments from its schedule over the past couple of seasons, and the dearth of American winners in 2009 has made it difficult for some fans to stay interested in the women's pro game here in the U.S. However, brighter times are ahead for the LPGA and I predict some exciting performances in 2010 from a bunch of new young players that you will love to follow week in and week out.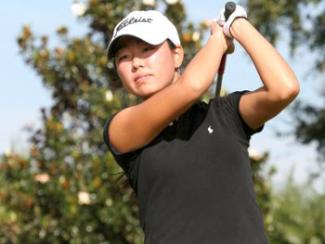 Mina Harigae
I had the chance to attend the LPGA Q School tournament earlier this month in Daytona Beach (I even caddied for one of the players) and can tell you that Amanda Blumenherst is definitely one new rookie who merits notice. Blumenherst won the five-day Q School event with a solid 9-under-par performance. She is the "real deal," and I would be surprised if she does not win on the LPGA Tour next year.
Blumenherst has done what many current LPGA stars have not done. She spent a full four years in college, graduating with honors from Duke where she was an All-American and a three-time NCAA Player of the Year. She is also a past U.S. Women's Amateur champion. Watching her play and handle herself with reporters after her Q School victory it was apparent she has the mental maturity to go along with the physical talent necessary to compete at the highest level in women's professional golf. The Scottsdale, Ariz., native is also as nice and friendly a person as you will find on a golf course. Spectators at events and viewers on TV will thoroughly enjoy watching her play.
American golf fans should prepare themselves for some exciting and hard-fought battles in 2010 between Blumenherst and Michelle Wie. With her first LPGA victory this fall, Wie has finally "come into her own" as a professional golfer and will most likely be near or at the top of the leaderboard in many LPGA events in the upcoming season. Wie's victory came none too soon for the tour, which is hoping to capitalize on her popularity among golf fans. A rivalry between Blumenherst and Wie would be wonderful for the LPGA. Wie is already a household name, while Blumenherst is well-known to those following women's golf, but she could take on superstar status and become another household name if she plays up to her capabilities.
There are several other youngsters coming out of Q School and the Duramed Futures Tour who could also make their marks on the LPGA in 2010. In fact, the talent level on the tour has probably never been higher. Some other LPGA rookies to keep your eye on in 2010: Mina Harigae from Monterey, Calif., Jean Reynolds from Newnan, Ga., and Misun Cho from South Korea. They earned their LPGA cards by finishing in the top three on the season money list on the Futures Tour, with each notching multiple victories in 2009. Reynolds came into the national spotlight last summer when she contended for the victory at the U.S. Women's Open.
Among the other new LPGA rookies who earned their cards at Q School this month and could contend in 2010 are:
Mariajo Uribe, Colombia
Marianne Skarpnord, Norway
Maria Hernandez, Spain
Gwladys Nocera, France
Lucy Kim, South Korea
Pernilla Lindberg, Sweden
Beatriz Recari, Spain
Lisa Meldrum, Canada
Azahara Munoz, Spain

Incoming LPGA Commissioner Michael Whan has his work cut out for him as he tries to restore events that were lost over the past few years and build up the tour's schedule for seasons to come. The LPGA is definitely not in the driver's seat in its current relationships with sponsors and event organizers. The number of events has dropped from 32 in 2008 to an expected 24 in 2010. The tour will have to be as accommodating as it can be when it comes to purse sizes and scheduling. It will also have to do everything it can to build its fan base.

The LPGA has a new 10-year TV deal with the Golf Channel that begins next year. The expanded coverage of its events will make it easier for fans to follow the players and watch the action. Judging from the numbers of new, talented players who will be teeing off in their rookie season, fans are going to have many reasons to start attending LPGA events and follow the tour on television.
Dave Andrews is a Harvard-educated former television news reporter. He's also an avid golfer who has become a fan of the Duramed Futures Tour. His home course in Concord, N.H., is annually the site of one of the tour's events. The inspiration for Dave's 2007 novel, "Pops and Sunshine," came from meeting many of the young aspiring women golfers on that tour. Each of them has a passion, dedication and determination that he finds remarkable. His novel is a fictionalization of the dream that these young women share. To order Dave's book, visit http://popsandsunshine.com.