Tis the Season and Golf Gifts never need a Reason!
By: Elisa Gaudet
The holidays are here and, like every year, we wonder what to buy for that very special person. There must be something extra fun for the one who has everything under the sun. It does not matter whether it is big or small, expensive or nothing at all, as long as it is a golf gift – it is sure to give that special someone a lift.
Leaving the product review to the product specialists, here are a few great golf gift ideas for men and women. Any car enthusiast would enjoy, a Porsche golf bag, club covers and shoe bag (www.3.us.porsche.com/shop). Rumor has it that Hummer has come out with a golf cart? The seen but hard-to-find fashion cart is the Burberry golf cart. Even without the cart, you can still make a style statement with Burberry golf bag, jacket and golf umbrella (http://www.burberryusaonline.com/).
Handmade Italian Walter Genuine Shoes are always the fashion footwear of choice for those who want to step out in style (www.ladygolf.com). For the latest in function and style, the TAIL TECH golf line for women is very fashionable and they use amazing materials (www.tailinc.com). GG Blue uses beautiful selection of Italian fabrics for their shirts and skirts (www.ggblue.com). Fine jewelry makes a perfect gift and the custom designs by Daniela Swaebe are sure to turn heads (www.danielaswaebe.com). There are a few golf pieces that are spectacular.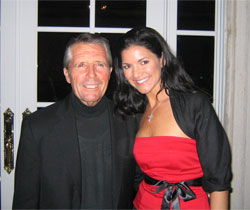 Golf art, books and videos always make a great gift. There are numerous videos and DVDs – from golf instruction to entertainment, including "Jack Nicklaus Golf My Way: The Full Swing," "Jim McLean's 8-Step Swing," or "X-Factor II." And who wouldn't love a two-day golf school with Jim McLean in sunny Florida or at Gary Player's Golf Academy? Looking for deeper meaning, "The Golfer's Guide to the Meaning of Life" by Gary Player is another good choice (www.garyplayer.com). "Caddyshack" is an old-school movie favorite as timeless as the game itself. The new CD "Have a Nice Day" by Bon Jovi is always a great gift. Tico Torres, drummer for Bon Jovi, is an avid golfer often seen on Florida courses.
A case of Australian Reserve Shiraz or South African Bordeaux wine from your favorite golfers Greg Norman and Ernie Els is sure to enliven any holiday party (www.shark.com/gnestates and www.ernieels.com/ernie_els_content.asp?content=ernie_els_wine).

Cool practical gifts like the cigar holder in the shape of a mini golf bag helps protect your stogies from crushing. It also contains a cutter and lighter (www.bcng.com). A box of Dunhill or Montecristo cigars is always appreciated.
Golf Exercise is IN. The tour pros have certainly noticed as they've lowered their waist sizes as well as their scores through exercise and stretching. One of the hottest crazes is yoga. No wonder. It helps flexibility, strength, concentration and balance. Paul Toliuszis, a scratch golfer and yoga instructor, makes it easy. Really! (www.yogaforegolf.com).
Have a great Holiday and an even better New Year. Looking forward to hearing from you. Peace and love . . . Elisa
| | |
| --- | --- |
| | Elisa Gaudet brings a wealth of entertainment and golf experience to Cybergolf. Elisa has spent the past several years in the golf industry in the U.S., Latin America and Spain. She worked for the PGA Tour and the Tour de las Americas before founding Executive Golf International, a golf marketing company that works with clients to develop strategies using golf as the medium. Often referred to as the Maria Bartiromo (a business analyst for CNBC) of golf, Elisa says: "Golf, as a marketing tool, has been around for years. It's amazing how many new ways companies can align their brand with the golf market to reach their target audience. Our goal is to create alliances and establish cross-border relations." Elisa also worked in the entertainment industry for over 10 years, including five in Los Angeles as a model and actress. She can be seen at many celebrity golf events and often gets the inside scoop from PGA Tour players. For more information about Elisa, visit her websites at www.onthelip.com  or Executive Golf International www.execgolfintl.com. |