To Ireland and Back - Day Four
By: Blaine Newnham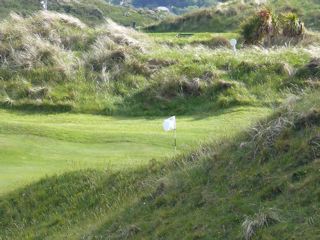 High Dunes Enshroud a Green at the Island Club
Editor's Note: Cybergolf's Blaine Newnham is in Ireland this week and will be sending daily dispatches. Here's Blaine's fourth installment from the Emerald Isle.
Location, location, location. Just a few minutes from Dublin airport is one of the most acclaimed links golf courses in the world, Portmarnock, a regal, almost calm, outpost in an estuary of choppy waves and swirling winds.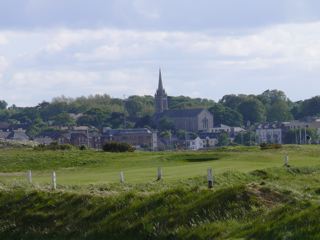 Civilization is Near the Island Club
Portmarnock, host of the Walker Cup, stands on its own. What intrigued me as well was the very nearby Island Club, originally played in 1890 but still a great find for most Americans as it doesn't appear on many got-to-play lists.

We played 36 holes that day, pushing trolleys (pull carts), pulling rain gear on and off, and thoroughly enjoying the taxing nature of it. In between rounds, there was time for a sandwich and a Guinness. When it was over, we were captivated strangely by the Island Club, where the sand dunes are as high as they are at Carne in the northwest of Ireland, a course than can stretch out to nearly 7,000 yards, and plays a couple of par-3s into the wind that from any set of tees are nearly unreachable.

Whereas Portmarnock is straightforward and strategic, impeccable, imperial, the Island Club is funky, rumpled fairways, blind shots, a bell to tell following groups that you were moving on, and a great club house in the restaurant.

The place lacks pretension. We could see it from our hotel across the water in Malahide, but it took 20 minutes of driving, much on narrow roads, to get to there. Arriving at the course, you drive past a pasture that serves as a driving range. Most interestingly, you have to go to the far end of the range to hit balls, because otherwise you would be hitting downwind. And, surely, that wouldn't do.

The pro shop is slightly bigger than a walk-in closet, and everyone, of course, walks the course. It is a members course, but like all the members courses in Ireland, including the most prestigious, like neighboring Portmarnock, they are open to the public.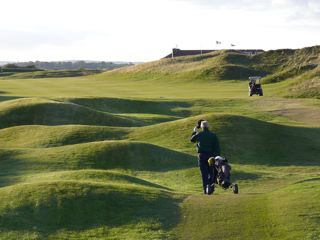 The Rolling Links of the Island Club
Not exactly every muni golfer who walks by. They are willing to open the course for a good part of the day for visitors, but the visitors pay dearly. The green fees at the Island Club, while less than Portmarnock, were still around $200.

It all speaks to the draw - especially for affluent foreigners - to the classic links courses. Imagine, that the venerable Island Club could charge more for a round of golf than the Jack Nicklaus-designed, upcoming-home-of-the-Solheim Cup ($150), Killeen Castle.

I can imagine it because I absolutely loved the adventure of playing at the Island Club. There must be 10 parkland (normal golf courses) to one links course in the Dublin area, plenty of places to play and for reasonable rates. But as far as I'm concerned, the reason to play golf here is to play links golf, to see your ball bounce 75 yards down a brown-green fairway, even if it might be enticed into a sod-faced bunker, to see your well-played chip shot slide off the back of a green into waste-high weeds, you know, wild, random links golf.

The idea that Dublin and the east of Ireland is a place to play golf that rivals the fabled Southwest of Ballybunion, Lahinch, Doonbeg, Trahlee and Waterville, drew nary an audible squawk from us. And, besides, there was so much more to do, here in the East: take a train to downtown Dublin from Malahide, a trendy beachside community, to visit gardens and museums, and fall back on a pub. Or three or four.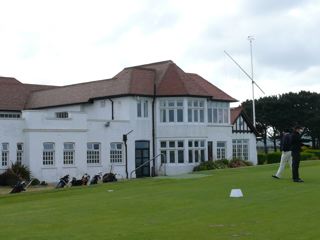 The Clubhouse at Portmarnock.
Now it was time to head north, toward Royal Portrush and Royal County Down. Which, believe it or not, is only two hours or so from Dublin. Along the way, as is our bent, we will play County Louth, known affectionately as Baltray, and Ardglass, hard by the Irish Sea.

Life is good. Even writing this from the back seat in a van bouncing along on narrow Irish country roads.

For more information about golf and travel in Ireland, visit www.discoverireland.com.

Blaine Newnham has covered golf for 50 years. He still cherishes the memory of following Ben Hogan for 18 holes during the first round of the 1966 U.S. Open at the Olympic Club in San Francisco. He worked then for the Oakland Tribune, where he covered the Oakland Raiders during the first three seasons of head coach John Madden. Blaine moved on to Eugene, Ore., in 1971 as sports editor and columnist, covering the 1972 Olympic Games in Munich. He covered five Olympics all together - Mexico City, Munich, Los Angeles, Seoul, and Athens - before retiring in early 2005 from the Seattle Times. He covered his first Masters in 1987 when Larry Mize chipped in to beat Greg Norman, and his last in 2005 when Tiger Woods chip dramatically teetered on the lip at No. 16 and rolled in. He saw Woods' four straight major wins in 2000 and 2001, and Payne Stewart's birdie putt to win the U.S. Open at Pinehurst. In 2005, Blaine received the Northwest Golf Media Association's Distinguished Service Award. He and his wife, Joanna, live in Indianola, Wash., where the Dungeness crabs outnumber the people.