To Ireland and Back - Day Three
By: Blaine Newnham
Editor's Note: Cybergolf's Blaine Newnham is in Ireland this week and will be sending daily dispatches. Here's Blaine's third installment from the Emerald Isle.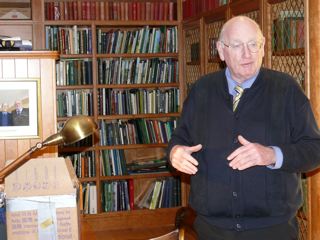 Pat Ruddy in his Impressive Library.
Finally, what we came for. Links golf in Ireland, and there was no better place to begin our quest than Pat Ruddy's European Club, the absolutely underappreciated course situated an hour south of Dublin.

What's so special about the European Club? The best fairways I have ever seen on a links course are there because the rough is so tangled and the bunkers so deep than you need be rewarded finding the short grass.

There are holes alongside the Irish Sea, holes deeply etched into man-sized dunes, and plank-sided bunkers to be respected, if not feared. No links course may be tougher off the tee. The European Club is 20, but looks 200 years old.

Your round doesn't need enhancement. The course has been ranked among the top 25 in the world, but should you get a few moments - or hours - with Ruddy, then consider it among the most memorable of any golf outing.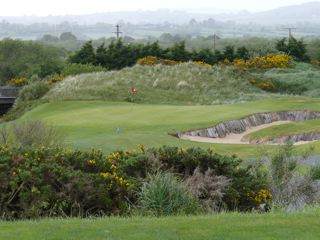 The European Club.
Ruddy was a journalist - a golf writer - who wanted to build a course for himself, a modern links course for better players, but also a place that wasn't particularly pretentious. "I wanted a place where I could drop down 20 balls and hit them at my leisure," he said. "I built the course for me."

Because he never got ahead of himself, never went into debt, Ruddy has withstood the collapse of the Irish economy. He doesn't look back on turning down an offer of $41 million Euros for his course a few years ago.

"I'd have invested it, lost most of it, and not had a golf course," he said. "They were talking about bringing in Tom Fazio to design some new holes. They were talking about changing my legacy before I was gone."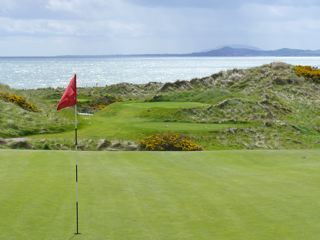 The Irish Sea Borders the European Club.
Ruddy and his wife live above the modest clubhouse. Although the European Club charges $250 a round in the peak season, there aren't tour buses in front of the clubhouse. For one thing, be forewarned this is a very difficult golf course. There are also no caddies, and on some days not very many players.

"Look," said Ruddy, "If I get 20 players a day (at $250 a round), I can do more than $1 million worth of business and make a fortune because my expenses (primarily course maintenance) are only 700,000 (Euros) a year. I don't need any more money than that."
Ruddy, who also designed the new course at Ballyliffin in the northwest part of the country, doesn't apologize for the difficulty of his course. As he says, "We make no apology for the fact that the thoughtless and inept player may suffer on our links. It was not created for such players."

Ruddy took a helicopter ride along his country's coast to find land suitable for golf. He'd made money selling real estate, writing about golf, and designing courses. He plunged it all into his dream course.

At Killeen Castle, the Jack Nicklaus course that will hold the Solheim Cup in September, they spent millions of Euros to improve drainage. "Anyone who would spend $8 million to build a golf course is off a tree," he said. "Anyone who would spend $8 million to fix it is off two trees."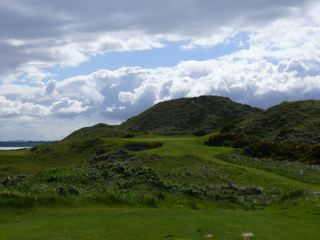 Trouble Awaits those who Stray
from the European Club's Fairways.
Like Mike Keiser at Bandon Dunes, Ruddy looked long and hard for land that would drain, land that was like the links courses of old. He also wanted, like Keiser, to build a golf course that was peaceful, that left you alone in your joy or misery.

Upstairs in the clubhouse, Ruddy has hundreds of golf books in a library that might be unsurpassed. He is in his 70s, I think. He refused to tell me his age. He was a scratch player for years, but with a couple of replaced hips and the erosion of age, is now a 12 handicapper.

"And not very happy about it," he said. "I decided I hadn't had a lesson in 50 years, and so I took a few. I'm convinced power starts with the sternum."

He showed us his new move at the ball. He's always thinking about golf, always looking for the answer, even if you own the course.

We got there at noon for our tee time, and he had already hit three buckets. Just another day for Pat Ruddy.
For more information about golf and travel in Ireland, visit www.discoverireland.com.
Blaine Newnham has covered golf for 50 years. He still cherishes the memory of following Ben Hogan for 18 holes during the first round of the 1966 U.S. Open at the Olympic Club in San Francisco. He worked then for the Oakland Tribune, where he covered the Oakland Raiders during the first three seasons of head coach John Madden. Blaine moved on to Eugene, Ore., in 1971 as sports editor and columnist, covering the 1972 Olympic Games in Munich. He covered five Olympics all together - Mexico City, Munich, Los Angeles, Seoul, and Athens - before retiring in early 2005 from the Seattle Times. He covered his first Masters in 1987 when Larry Mize chipped in to beat Greg Norman, and his last in 2005 when Tiger Woods chip dramatically teetered on the lip at No. 16 and rolled in. He saw Woods' four straight major wins in 2000 and 2001, and Payne Stewart's birdie putt to win the U.S. Open at Pinehurst. In 2005, Blaine received the Northwest Golf Media Association's Distinguished Service Award. He and his wife, Joanna, live in Indianola, Wash., where the Dungeness crabs outnumber the people.