To Ireland & Back - Day One
By: Blaine Newnham
Editor's Note: Cybergolf's Blaine Newnham is in Ireland this week and will be sending daily dispatches. Here's Blaine's first installment from the Emerald Isle.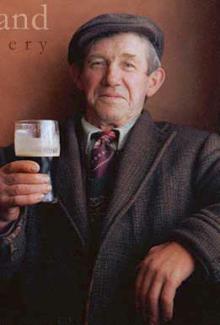 Eoin O'Riordan by Aidan Bradley
When to go, where to go, what to wear. As we took off from Seattle-Tacoma airport, the planning was done. We were going to Ireland to play golf, and be a bit of a tourist as well. Wives were invited, shopping permitted, even encouraged.

The decision this time - I'd played golf in Ireland twice before - was to more closely define the trip: to cut down the driving and be closer to pubs and people rather than sheep and gorse. And still remember it was first a golf trip.

It had been 20 years since my first trip to Ireland. Those were the days. We golfed on both coasts and played the best of the best, from Ballybunion to Royal County Down. It was a time there were no buggies, few Americans, and green fees - tops - were $35.

A lot has happened in the past 20 years in Ireland, economically from bust to boom to a bit of a bust again. Politically, I'm assuming there will be no armed and tense British soldiers at the border when we venture into Northern Ireland, as there were on our first visit.
The "Troubles," as they were called, were not to be denied, or dismissed.

My second trip was to play the out-of-the-way courses on the North Atlantic, up in Sligo and Donegal. We did everything from Carne to Connemara. This was 1999, the euro wasn't worth much more than the dollar and those courses were superb, if more or less unknown.

On both trips were in May and early June. In 20 rounds, it had rained for exactly nine holes - the front nine on the old course at Ballyliffin. It was windy, yes, but not wet, and more sunshine than we get in Seattle that time of year. So May it was for Trip No. 3.
This time it would be the courses around Dublin: old Portmarnock, European Club, Island Club, and Killeen Castle where the Solheim Cup will be played in September. Then up to County Louth on the way to Northern Ireland for Royal Portrush, Portstewart, Ardglass and Royal County Down.

On one day we play 36 holes. The second 18 - at Portstewart - has a 4:30 tee time. I sometimes forget we'll be as far north as Edmonton, Alberta, and the longest day is slightly more than a month away.

As we leave Seattle, it's misty in Dublin, with 10-mile-per-hour winds. Hey, it's misty in Seattle. We have dressed accordingly. Hope the bodies hold up as well as the clothes.

Nine courses in seven days. Walking not riding, hitting the ball low not high, Bandon Dunes with a few castles and pubs thrown in.

I can't wait.
Blaine Newnham has covered golf for 50 years. He still cherishes the memory of following Ben Hogan for 18 holes during the first round of the 1966 U.S. Open at the Olympic Club in San Francisco. He worked then for the Oakland Tribune, where he covered the Oakland Raiders during the first three seasons of head coach John Madden. Blaine moved on to Eugene, Ore., in 1971 as sports editor and columnist, covering the 1972 Olympic Games in Munich. He covered five Olympics all together - Mexico City, Munich, Los Angeles, Seoul, and Athens - before retiring in early 2005 from the Seattle Times. He covered his first Masters in 1987 when Larry Mize chipped in to beat Greg Norman, and his last in 2005 when Tiger Woods chip dramatically teetered on the lip at No. 16 and rolled in. He saw Woods' four straight major wins in 2000 and 2001, and Payne Stewart's birdie putt to win the U.S. Open at Pinehurst. In 2005, Blaine received the Northwest Golf Media Association's Distinguished Service Award. He and his wife, Joanna, live in Indianola, Wash., where the Dungeness crabs outnumber the people.