Top-10 Golf & Gridiron Trips for Autumn
Every August, as the summer heat starts to fade away and the evening air turns crisp, the anticipation of another football season begins to mount. But just because football is upon us, it doesn't mean your golf clubs should start collecting dust.

In fact, fall not only provides optimal golf weather but many courses and resorts begin offering non-peak green fees and stay-and-play deals that allow you to save your hard-earned cash for other essential endeavors, such as your fantasy football waiver wire.

Take a look at NFL and college football schedules and you'll uncover an abundance of opportunities to turn your football road trip into a golf and gridiron weekend for the ages, thanks to offerings of courses in the vicinity of these stadiums.

Here are 10 Golf and Gridiron trips to consider: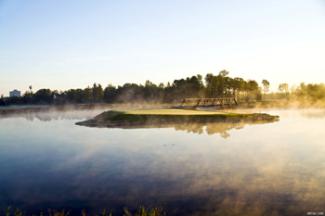 Early Morning Mist Envelops the 15th Hole at Sweetgrass
Sunday, September 9
San Francisco 49ers at Green Bay Packers
Sweetgrass Golf Club, Upper Peninsula, Mich.

A trip to historic Lambeau Field should be on every sport fans' "bucket list." So it's simply a bonus to be there on NFL Opening Day when the Packers look for revenge after getting upset by the Niners in one of the most exciting postseason games in league history. Extend your stay by driving north of Lombardi Avenue to Sweetgrass Golf Club in neighboring Michigan's UP, which annually hosts the LPGA Symetra Tour event. Green fees at one of Michigan's top public-access courses start at $75. If you're looking for more golf and savings, try the popular Perfect 4-Some package for $265, which includes rounds at Sweetgrass, nearby Greywalls and TimberStone, and a two-night stay at the Island Resort & Casino. For more information, visit www.SweetGrassGolfClub.com.

Thursday, September 20
Boise State vs. BYU
Sun Valley Resort, Sun Valley, Idaho

Boise State has become a perennial Bowl Championship Series contender and this is your chance to see Bronco Stadium's famed blue turf live and in person in a nationally televised ESPN game against rival BYU. The Thursday night game gives fans an extra day to play, leading into weekend games. Take a ride east to historic Sun Valley to see the fall unfold along the Wood River, and take advantage of the best rates of the year, starting at only $140 per person per night for a round and a room on the Aspen Glow package. For more information, see www.SunValley.com/golf.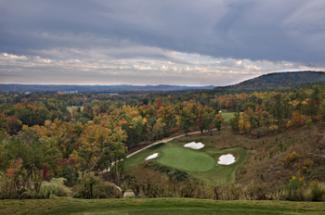 The Par-3 Fifth Hole at FarmLinks
Saturday, September 22
LSU at Auburn
FarmLinks Golf Club at Pursell Farms, Sylacauga, Ala.

The last six national champions have come from the SEC, including these two power programs whose rivalry dates back to 1901. So, it's safe to assume this year's "Tiger Bowl" will have SEC title and, most likely, major BCS implications. Whether it's before or after you spend the afternoon at Jordan-Hare Stadium with 90,000 War Eagle-screaming fans, it's worth making the one-hour trek to tranquil Pursell Farms. In addition to being the world's only research and demonstration facility for superintendents from all over the world, FarmLinks Golf Club has been ranked the No. 1 public-access course in Alabama and, at rates starting at $100, you'll receive unlimited golf, use of the practice facility, a Southern-style lunch, and all-you-can-eat-and-drink snacks and non-alcoholic beverages. Your luxury cottage or cabin comes complete with a big-screen TV and full kitchen where you can watch the remaining weekend football action in style. For more information, visit www.FarmLinks.org.

Saturday, September 29
Florida State at University of South Florida
Black Diamond Ranch, Lecanto, Fla.

South Florida is no longer a pushover, as seen by its six bowl bids in the last seven years. The rise of the Bulls has given this in-state rivalry some teeth, and their home stadium in Tampa is just over an hour from one of Florida's superb golf communities. The "Black Diamond Experience" grants unprecedented access to one of the U.S.'s premier private clubs. Kick off the vacation at a trio of Fazio layouts - Quarry, Ranch and Highlands - and then head to Raymond James Stadium to watch South Florida try and dash any hopes of an FSU national championship by repeating its upset of the Seminoles from three years ago. For more information, visit www.blackdiamondranch.com.
Saturday, October 13 and Sunday, October 14
University of Washington vs. Southern Cal (Saturday, Oct. 13)
Seattle Seahawks vs. New England Patriots (Sunday, Oct. 14)
Salish Cliffs Golf Club, Shelton, Wash.

Let's play two! A pair of teams with major "star power" invades CenturyLink Field, making this a fine football doubleheader. First, college football's preseason No. 1, the Southern Cal Trojans and Heisman Trophy QB candidate Matt Barkley, take on the University of Washington, which is playing its home games this season in downtown Seattle as its home stadium is renovated. Less than 24 hours later, Tom Brady and the defending AFC Champion New England Patriots face the Seahawks on the very same field. Since opening its fairways last fall, the Gene Bates-designed Salish Cliffs Golf Club has been piling up accolades from national golf publications and is one of the many amenities offered at Little Creek Casino Resort, which in the past six months has also unveiled the Skookum Spirit Cigar Lounge and Seven Inlets Spa. For more information, visit www.Salish-Cliffs.com.

Saturday, October 27
Tennessee at South Carolina
The Grand Strand of Myrtle Beach, S.C.

It's a battle between the South Carolina Gamecocks and archrival Tennessee in Columbia that could be pivotal for the SEC title. Myrtle Beach already holds the crown of "Best U.S. Golf Destination" with more than 100 courses. The Grand Stand is only two hours from Williams-Brice Stadium and offers scores of stay-and-play packages at www.GolfHoliday.com. Combine a big-time pigskin showdown and the ancient Scottish game right here in the good ole USA. The Myrtle Beach area offers 60 miles of beaches and a number of activities for your own "Fall Classic." For more information, visit www.GolfHoliday.com.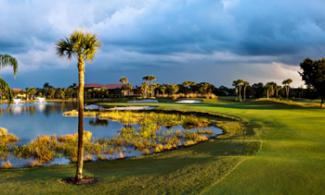 The 18th Hole on the Palmer Course at PGA National
Thursday, November 1
Virginia Tech at Miami
PGA National Resort & Spa, Palm Beach Gardens, Fla.

With "The U" playing the mighty Hokies of Virginia Tech on ESPN Thursday Night Football in Miami, PGA National Resort & Spa in nearby Palm Beach Gardens will be having a "kick-off" that day as well. The home of the PGA Tour's Honda Classic will debut its brand new "Fazio Course," joining the mighty Champion (with its Jack Nicklaus-designed "Bear Trap") and three additional layouts, including the excellent Palmer Course created by "The King." Hokies, Hurricanes, Nicklaus, Fazio and Palmer all in one fall weekend. For more information, see www.pgaresort.com.

Monday, November 5
Philadelphia Eagles at New Orleans Saints
The Bridges Golf Club at Hollywood Casino, Bay St. Louis, Miss.

It's Drew Brees vs. Michael Vick in a Monday Night Football match-up of two Super Bowl contenders. After your night on Bourbon Street, make the hour-long jaunt down I-10 to Bay St. Louis in Mississippi, home to Hollywood Casino and The Bridges Golf Club, Arnold Palmer's lone layout in the Magnolia State. Get the most out of your trip and make the short and scenic ride to the Mississippi Gulf Coast, where you'll find acclaimed courses like Fallen Oak, The Preserve, Grand Bear and Shell Landing and lodging options at Beau Rivage, Hard Rock Casino Resort Biloxi and the newly renovated Palace Casino Resort. For more information, visit www.visitmississippi.org/golf.aspx.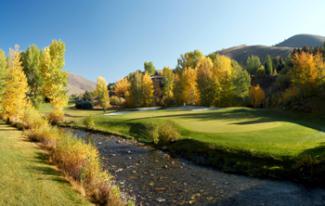 The Fourth Green on Trail Creek at Sun Valley Resort
Saturday, November 10
Arkansas at South Carolina
Mystical Golf, Myrtle Beach, S.C.

Mystical Golf, with its Witch, Man-O-War and Wizard golf courses in Myrtle Beach, is known as the ultimate "golf buddy" destination. You can watch the Steve Spurrier-led Gamecocks against the high-powered Razorbacks, then zip over to the Grand Strand for Mystical's "Fall Special" that offers sunup-to-sundown golf, deluxe condo accommodations and other extras. The package starts $106 per person, per day (quad occupancy, taxes included). For more information, visit www.mysticalgolf.com.

Saturday, November 24
Florida State vs. Florida
SouthWood Golf Club, Tallahassee, Fla.

You can also head to Tallahassee for the annual Seminoles-Gators showdown, one of the best rivalries in college football. Not only are state-bragging rights on the line, but both teams are typically in position for major bowl bids - or even a national championship - when they square off each November. Located just 10 miles from Doak Campbell Stadium, SouthWood Golf Club offers a Weekend Stay and Play package that combines championship golf and the best of college football. Recently ranked in the top 25 in the state by Golf Magazine, SouthWood is the ACC-match course for the Seminole men's and women's golf teams. For more information, see www.southwoodgolf.com.