Top-10 Slogans for Phil Mickelson's New 'Phrankenclub'
By: Jay Flemma
Phil Mickelson loves to tinker. First it was two drivers, then it was no driver, then it was no 3-wood, then it was 80-degree wedge (or something like that).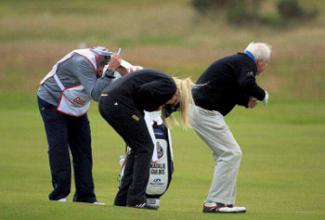 DUCK! Phil has a New Club Again!
Now it's "Phrankenclub," a cross between a driver and 3-wood, which is supposed to hit the ball out of sight but not into the rough or trees. Phil was a pedestrian eight of 14 in fairways hit in the opening round. Let's come up for some slogans for Phil and the marketing folks over at Callaway!
Top 10 Slogans for Phil's Phrankenclub

10. Does this mean Amy is "Bride of Phrankenclub"?

9. Phreakin' club!

8. Because dumb jokes about werewolves and zombies are so last year.

7. Plays lousy, but goes great with those alligator shoes and belt.

6. Oh, but it looks good on YOU, though . . . as Al Czervik said to Judge Smails.

5. Because people would laugh at you if you said you carry a 2-wood.

4. Because Phil just loves half-baked useless contraptions.

3. If you think this is bad, don't ask about the chemistry set Phil had as a kid!

2. It's not really for golf . . . it's for the theatre premiere of the remake of "Abbott and Costello Meet the Monsters."

1. Oh well, at least it beats a three-hour ride on the media bus to Kiawah Island.
Since launching his first golf writing website in 2004, http://jayflemma.thegolfspace.com, Jay Flemma 's comparative analysis of golf designs and knowledge of golf course architecture and golf travel have garnered wide industry respect. In researching his book on America's great public golf courses (and whether they're worth the money), Jay, an associate editor of Cybergolf, has played over 420 nationally ranked public golf courses in 40 different states, and covered seven U.S. Opens and six PGA Championships, along with one trip to the Masters. A four-time award-winning sportswriter, Jay was called the best sports poet alive by both Sports Illustrated and NBC Sports writers and broadcasters. Jay has played about 3 million yards of golf - or close to 2,000 miles. His pieces on travel and architecture appear in Golf Observer (www.golfobserver.com), Cybergolf, PGA.com, Golf Magazine and other print magazines. When not researching golf courses for design, value and excitement, Jay is an entertainment, copyright, Internet and trademark lawyer and an Entertainment and Internet Law professor in Manhattan. His clients have been nominated for Grammy and Emmy awards, won a Sundance Film Festival Best Director award, performed on stage and screen, and designed pop art for museums and collectors. Jay lives in Forest Hills, N.Y., and is fiercely loyal to his alma maters, Deerfield Academy in Massachusetts and Trinity College in Connecticut.