Top Shelf Par-3, Three Great 18s, Tiger & More at Turning Stone
By: John Torsiello
It was a gorgeous summer day when me and three buddies pulled into Turning Stone Resort and Casino, a sprawling facility located in the rolling farmland and meadows of south-central New York State, about a half-hour's drive east from Syracuse.
Turning Stone has a casino, spa, 10 restaurants, a nightclub and retail stores. But we were there for the golf, which the resort has plenty of. Thanks to the foresight of Oneida Nation leader Ray Halbritter, a golf aficionado, Turning Stone has become a premier destination from April to late fall.

The resort features three world-class 18-hole courses, an impeccably maintained par-3 layout, a regulation nine-hole track and an expansive practice facility and learning center.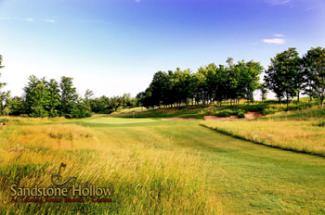 Sandstone Hollow
Sandstone Hollow

Karen Moraghan of Hunter Public Relations, which represents the resort, said we just had to try Sandstone Hollow, the par-3 layout designed by Rick Smith, who used to teach Phil Mickelson how to keep his swing on plane and the man who crafted Shenendoah Golf Course, my personal favorite of the three 18-holers at Turning Stone. "They maintain the par-3 course like they do the 18-hole courses," Karen said. I'm glad we took her up on the offer.

Similar to its big sisters, Sandstone Hollow is routed through native grasses, woodlands and over and around wetlands. Far from being a place where beginners can get in a little golf while away from the gaming tables and slots, this little charmer is a real test of one's short-game ability. Ranging in length from 118 to over 230 yards, the holes demand you hit pretty much every iron in the bag. Oh yeah, it's also real pretty, which is a hallmark of all the courses at Turning Stone.

"When the pros come here they rave about Sandstone Hollow," an attendant told us before we began play. "I've been told it's one of the top-three short courses in the country." We weren't going to argue after we played it. Indeed, USA Golf Event Magazine rated Sandstone Hollow the "Top Short Course in America" in 2010.

As mentioned above, the course is meticulously maintained, somewhat of a rarity among par-3s. It was a pleasant way to tack on another nine after we played the very tough Kaluhyat Golf Course in the morning. My buddy, Vin, and I picked up a rare victory over the Dana Mosher/Mark Eucalitto team at Sandstone, capped off by Vin's 9-iron to 4 feet and subsequent birdie putt on the 144-yard ninth. After the win we felt like joining the little gem as members. A membership costs only $400 a year; no wonder it's a favorite of the locals.
The 18-Hole Courses at Turning Stone

The stars of the golf show at Turning Stone are it three 18-hole tracks, all of which fit into any top 10 New York public course list you can make up. Shenendoah is a sweet links-style venue designed by Smith and is my favorite among here because of a routing that passes through open meadows and over and around marshes. When the fescue grows high and the wild flowers are in full bloom - as they were on our visit - this place is simply a feast for the eyes. Play it late in the afternoon when the slanting rays of the sun turn the tall grass various hues of purple and gold, and it's difficult to keep your mind on golf.

Kaluhyat, a Robert Trent Jones work, is more of a woodland-style layout with some open holes. Warning: It's very tough. We all hit the ball well and limped in with scores in the high-80s and low-90s. The fairways are fairly open, but there's trouble everywhere and a number of forced carries. The green surrounds bristle with sand traps, tall grass and waste areas that gobble up event slightly errant shots with relish. The beauty of the place made up for its difficulty, however, and the conditions were superb. A tip: Play Kaluhyat from the whites or even the golds on your first attempt. Even the pros say it's one tough cookie, one that will taste better if you have irons instead of fairway woods into the par-4s.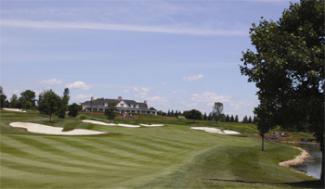 The 18th at Atunyote (Photo by Mark Eucalitto)
On the final day, we played Atunyote, a Tom Fazio design. Atunyote may be one of Fazio's best creations and was the site of the PGA Tour's Turning Stone Resort Championship for several years. Fazio incorporated a 13-acre lake, stream, small waterfalls, rock formations and wetlands into the forested layout. White-sand bunkers clearly frame each hole - both off the tee and around the greens - and aesthetically enhance a round.

Atunyote can be stretched to 7,315 yards from the tips, but there are four other sets to meet the playing abilities of visitors. The ninth and 18th holes are great ways to finish the front and back halves at Atunyote. No. 9 is a 469-yard par-4 that calls for a well-struck tee shot followed by a long-iron or fairway metal to an elevated green.
No. 18 is a par-5 that plays almost 600 yards from the way-back blocks. Bunkers guard the left side of the landing area and the lay-up must be played to another landing area guarded by bunkers left and water right. The approach is to an elevated, sloping green.

Shenendoah and Kaluhyat share a stately clubhouse, while Atunyote has its own facility. We were so impressed with the little, and not so little, things that Turning Stone does to set its golf courses apart from other daily-fee layouts, such as extensive landscaping and a dedication to preserving the natural areas that don't need any beautifying tips from man. It really tickles the senses and relaxes the spirit, especially after making double-bogey. The resort also owns Pleasant Knolls, a daily-fee nine-hole course located off-property.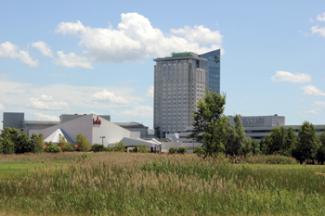 Turning Stone Resort & Casino
(Photo by Mark Eucalitto)
The Resort & Casino

In addition to the casino, the resort offers guestrooms and The Lodge - which has first-class suites; a 19-story hotel (where we stayed and got a great view of the surrounding countryside); and a 5,000-seat event center, where the rock groups Styx and REO Speedwagon along with crazy guitarist Ted Nugent were playing when we stayed. Members of REO and Styx were playing behind us at Atunyote. (I didn't ask them what they shot but we heard they are big golf nuts.) There's also a new spa to melt and drift away the bogeys for an hour or so.

Notah Begay's Get Together

Tiger is coming! The fifth annual NB3 Foundation Challenge will be played on August 29 at Atunyote and bring Tiger Woods to town to help his buddy Notah Begay raise money for his foundation. The one-day "Challenge" will bring together stars of the PGA and LPGA tours to raise awareness and build support for the health and wellness of Native American youth.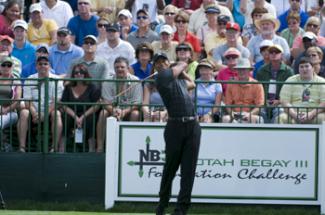 Tiger Woods (Photo Courtesy of Turning Stone Resort)
Among the stars rounding out the 12-player field besides Woods will be Cristie Kerr, Gary Woodland, Y.E. Yang, Charlie Wi, Danny Lee, Lexi Thompson and Se Ri Pak. An East-meets-West format will pair the field in a mixed-team, best-ball tournament, pitting U.S. and Asian players against each other, with a $450,000 winner's purse at stake.

All proceeds go directly to the Notah Begay III Foundation; the event has raised more than $3 million in the past three years. The foundation continues to support the development of sustainable, evidence-based and model programs, research, advocacy and strategic grant-making in Native American communities.

If you are in the area check out the tournament. Tickets may be purchased by contacting the Turning Stone Box Office at 315/361-7469 or visiting the Box Office, which is open daily from 10 a.m. to 8 p.m. Tickets are only $50 for adults.
Golf & Tennis Practice Facilities

At the end of our visit we checked out the golf and tennis domes located near the casino. Both are only a few years old and the golf dome was voted one of the "Top 10 Golf Domes" in America by Golf Range Magazine in 2010. The Golf Training Center at Turning Stone is considered a premier training facility for year-round golf in central New York.

The golf dome is a two-tiered structure with 40 hitting stations and two virtual simulators. There's also a large golf shop that was running some super-specials when we visited. The tennis dome has four courts and a pro shop.

For more information, visit www.Turning-Stone.com.
John Torsiello is an editor/writer living in Connecticut. He has written extensively about all aspects of the golf industry for a number of national and regional publications. He is a regular contributor to "Golf Course Industry," "Lawn and Landscape," "Golfing" and "Fairway Living" magazines as well as various online publications. He has strong, ongoing relationships with industry professionals and has worked closely with course owners, architects, developers, course superintendents and general managers around the country. He has won a number of awards for his writing, including first place from the Turf and Ornamental Communicators Association for a piece that appeared in "Golf Course Industry" magazine.