Tour Players Enjoy Sea Pines
By: David Wood
It doesn't take long when chatting with PGA Tour players to find out how much they enjoy coming to Sea Pines Resort on Hilton Head Island for the RBC Heritage.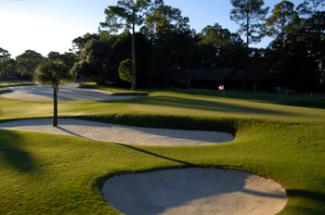 The 16th Hole at Harbour Town Golf Links
Matt Kuchar said it best when asked why players see the venue as one of their favorite stops on Tour. "Everyone seems to stay within the confines of Sea Pines. I don't know of any other place (on Tour) where people don't leave the general resort area."

Kuchar added, "And I think here it's such a fun family place." He also commented on the accessibility of after-golf activities. "And if you want to have some evening fun, the marina and the harbor is just such a great social area - it's unique to have everything so close."

The players also rave about Harbour Town, which was recently named the No. 2 favorite course on Tour in a Golf World poll. Remarks defending champion Brandt Snedeker, "I said it was one of my favorite courses before winning here last year, and obviously after winning it is. It's cool to go on a golf course that's really old school."

Palmetto State native Tommy "Two Gloves" Gainey is also a huge fan of the Pete Dye masterpiece. "I love it. Many people might say Augusta is best, but to me this is No. 1. The atmosphere is fantastic."
Another fun aspect of Wednesdays on Tour is the pro-am where amateurs rub elbows with the best players in golf. While putting on the practice green under the brilliant-blue Lowcountry sky before his morning tee time with Rory Sabbatini, Rich Mione of Wilmington, N.C., said, "I'm a bit nervous, but with my 18-handicap I hope I can help my group. It's going to be a fun day."

Lew Dickey from Atlanta - a 5-handicapper hitting crisp practice chips - said, "I'm nervous because it's not what we do for a living. When I heard at the pairing party last night that Harbour Town was No. 2 among Tour players, it made me even more excited to play the course."
Even the maestro himself, Pete Dye, who played in the pro-am with Zach Johnson and Tour commissioner Tim Finchem, was excited about teeing it up on his famous 18. "It's fun to see one of my courses in such great shape," Dye noted.

Actually the whole endeavor is in great shape as Sea Pines is indeed a world unto itself. Once you enter its gates the hustle and bustle of the outside world fades away. The area is filled with families riding bicycles along the miles of bike paths canopied with oaks draped in Spanish moss. The 605-acre property is also ideal for horseback riding or wandering the many trails teeming with wildflowers, wetlands and more than 130 species of birds.
Sea Pines provides dining options for all tastes and occasions. And if you want to golf - even during the tournament, visitors can watch the pros in the morning and then play at another Pete Dye Sea Pines' gem - Heron Point - or the Ocean Course. Heron Point was recently named No. 10 in Golfweek's 2012 list of "Best Courses You Can Play" in South Carolina. Last year, it was named one of America's "Top 50 Courses for Women" by Golf Digest.

Kuchar sums it all up perfectly: "You never really need to leave Sea Pines."

For more information about the resort, visit www.seapines.com, and for details about golf packages visit www.seapinesgolf.com.