TPC Sawgrass Still a Big Attraction in the Sunshine State
By: Joel Zuckerman
Though they were in loafers, without golf clubs, Dave and Sandy Carmichael stood on the tee at the famed 17th hole of the Stadium Course at TPC Sawgrass on a crystal clear January afternoon. "So this is the spot," said an impressed looking Dave, a retired police officer from Long Island. "It doesn't really look that intimidating. But I'm kind of glad I don't have to try and land a ball on the island green, either!"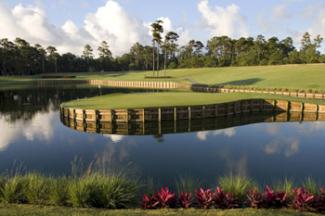 The famed 17th at TPC Sawgrass
The Carmichaels describe themselves as recreational golfers who play about two or three times a month. They were taking part in what would be an unusual odyssey at most golf courses, but is standard procedure at the famed Sawgrass facility, outside of Jacksonville, Fla. They were touring, not playing, the famed Pete Dye design, home of the ultra-prestigious Players Championship and a "must-play" (or in the case of the Carmichaels, and many hundreds of others just like them, at least a "must-see") on any serious golfers list.
The famed golf course gets a surprising number of visitors who for any number of reasons - lack of time, lack of disposable income for green fees, lack of perceived ability - feel they are better served looking about, and not necessarily playing. These visitations have increased in the last few years, since the unveiling of the massively elaborate 77,000-square-foot clubhouse, which is capped with more than 300 tons of Spanish tile and, according to the course website (www.tpc.com/sawgrass), is the equivalent weight of a pair of Boeing 747s.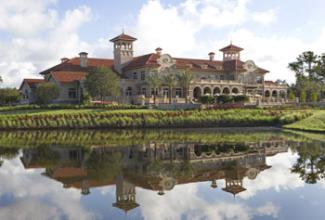 TPC Sawgrass Clubhouse
"The focus of our guests is predominantly the 17th hole, it's like they have tunnel vision," begins head Professional matt Borocz, not differentiating between those who play and those who just tour. "Our job is to bring our visitors a magical experience, a PGA Tour-type experience, to everyone who arrives. We try and make memories for people above and beyond the golf course, primarily through great customer service, and showing them that we care."
About 300 employees are charged with making the TPC Sawgrass facility hum, facilitating the 85,000-90,000 rounds that get played annually on both the Stadium and Dye's Valley courses. They run the gamut from bag boys to cart girls, starters, rangers, caddies and professional staff. But also integral to the proceedings are a cadre of individuals who don't even draw a paycheck: the 60-odd members of the Storytellers, volunteers who tell the Sawgrass story.
"They are available every day from 9 to 5, giving tours of the clubhouse, telling stories about past Players Championships, touring our guests around 16, 17 and 18, and tell them about famous shots and finishes. We will get visitors coming from as far away as Orlando just to get a tour, and not even play the course," states Borocz, an Ohio native who has been in the top spot for nearly three years.
One of the challenges the staff faces is teaching guests that just because the facility resides in Florida, it doesn't mean things will always be lush and green. Nor will green speeds likely equal the waxed-floor slickness of the Players Week in May. Simply put, mid-winter Jacksonville is an entirely different animal than mid-winter Miami, and certain expectations need to be kept in check. On the same topic, it's a fine line in slowly bringing the course towards peak condition and concurrently allowing steady public play. There will be areas roped off to divert foot traffic patterns, certain tees will be off-limits, mesh netting may blanket the periphery of some greens, and other protective measures are enforced to insure ideal conditions when the world's best players convene in May. "We do our best to balance the needs of our guests and the demands of the PGA Tour," admits Borocz. "And it's not always easy."
What is easy is to revel in the glorious golf history, the mementos and memorabilia, which adorn the walls, hallways and meeting rooms of one of the most impressive, certainly among the largest, clubhouses in all of golf.
Three dining rooms are scattered throughout the rambling edifice, which actually encompasses more than 100,000 square feet, including all porches, decks and lower level space. "19" is the main dining room, the standard bar and grill setting. "Traditions" is more for fine dining, and "Champions" features photos and memorabilia from the current Players champion. At this writing, Henrik Stenson has donated family photos, flags, scorecards, etc, which will be changed out this spring, assuming the Swede doesn't defend his title in 2010.

The libraries, conference rooms, meeting rooms, nooks and crannies are the stuff of a golf fan's dreams. Colorful Bart Forbes paintings depict famous moments in Players' history. Photos of champions, Presidents Cup team photos, a collection of clubs used by each Players' champion, a display of PGA Tour-sanctioned money clips - which serve as a players' IDs, badges from 20-plus years of tournaments, original sketches of the Pete Dye routing, Dye's cost estimates for the project, "before" photos of the swampy morass that was the site in its original condition. In short, a treasure trove of images, artwork and memorabilia that serves as a thick slice of the best of PGA Tour life in the last 25 or so years.

Sightseeing is well and good, but for many diehards, going to TPC Sawgrass with no intention of playing is like going to The Met with earplugs or the Playboy Mansion with your girlfriend - it kind of defeats the purpose of the trip. For those who haven't visited the property in awhile, if ever previously, know that some significant changes were made to the golf course a few years back, the main impetus for the alteration being drainage.

The PGA Tour noted that during the Players Championship, the course played five shots harder during dry years than soggy ones. Water, wastelands, and ungainly mounding may abound throughout the property, but when the fairways are sodden it's still a dartboard for the game's best. So during an eight-month, $60 million renovation in 2006, the fairways were scalped and a 6-inch layer of fresh sand - the equivalent of 16 football fields per fairway - was installed beneath the grass, the better to percolate and dry quickly after downpours. Now it's a firmer, faster golf course, where off-line shots bound more quickly toward thick rough, uneven lies, encroaching water, and other unpleasantness.

A new irrigation system was also installed, greenside bunkers were deepened, and 120 supplemental yards were judiciously added to bring back the same shot values that existed back in the early 1980s, when the course debuted. For example, the par-3 eighth hole was a long-iron back in the day, but as equipment and fitness levels improved it became a mid-iron. Now, at an expanded 230-plus yards it's a long-iron or hybrid club once again. The watery 18th, daunting to begin with, is now a gargantuan 480-yard finisher.

When the course reopened after the renovation, forecaddies became mandatory, and walking caddies became available for those who chose them. This much-welcomed addition now means that a resort or walk-up guest not only can play this much-admired Tour venue, but enjoy the walking experience in the same manner the Tour pros do. But posting scores like the Tour elite? Sorry, two out of three will have to do.
Joel Zuckerman, called "One of the Southeast's most respected and sought-after golf writers" by Golfer's Guide Magazine, is an award-winning travel writer based in Savannah, Ga., and Park City, Utah. He has written five books, including the epic "Pete Dye Golf Courses" in 2008. Joel's course reviews, player profiles, essays and features have appeared in more that 100 publications internationally, including Sports Illustrated, Golf, Continental Magazine, Travel & Leisure Golf, Sky Magazine, Golf Connoisseur, Golfweek, Estates West, Millionaire and Golf International. For more of Joel, visit www.vagabondgolfer.com.