TPL to Oversee Remodel of Two Historic Courses in England
Thomson Perrett & Lobb, the international golf course architecture practice founded by five-time Open champion Peter Thomson with partners Ross Perrett and Tim Lobb, has been appointed to consult on and oversee design work on two historic courses close to London - the Berkshire Golf Club, one of the UK's top-100 courses, and the Richmond Golf Club in Surrey.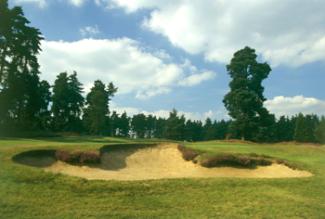 15th Hole at Berkshire Red Course
The Berkshire, which features two of the finest, traditional heathland courses, has appointed TPL to analyze the playing strategy on both courses and return its 69 bunkers to a more traditional look, while using modern construction techniques and specifications to ensure longevity.
Lobb said of this project: "We are looking at incorporating the heathland elements, including heather, native grasses and rougher edges into the bunker complexes, to give them an authentic look but with a slightly more modern feel. They will be constructed to the highest technical specification to ensure good playability, maintenance and longevity."
TPL will refer to historic data and photography as it looks to integrate bunkers into the strategy of golfers as they plot their way around the course.
Lt. Col. John Hunt, secretary of Berkshire Golf Club said: "The goal is to refurbish all of our bunkers improving the way they play, their drainage and their shape, returning them to the heather-topped look that the original designer, Herbert Fowler, created. TPL has produced some early pictorial work illustrating how the bunkers will look, which is of the highest quality."
An in-depth analysis and consultation with the club will take place for the remainder of this year, with work likely to start in 2011.
Meanwhile, at the Richmond Golf Club, Surrey, TPL will oversee a complete review of the Tom Dunn-designed course, which opened in 1891, with special attention to bunkering, including the renovation and reshaping of existing bunkers and the addition of new, strategic hazards.
Work will be completed in two stages, from September 2010 and then again from September 2011, over the winter months. Of this project, Lobb said: "The Richmond Golf Club is a gem of a golf course and I believe this upgrade will enhance what is already a very special and enjoyable golfing experience."
For more information about Thomson Perrett & Lobb, visit www.tpl.eu.com.