Traipsing Down the Audubon Golf Trail
By: Jeff Shelley
It's not too often a native of the Pacific Northwest gets to golf in Louisiana, but that's what happened to me in early May 2004. I and several writer cohorts from elsewhere in the U.S. were invited to play four courses along the Audubon Golf Trail. The state of Louisiana oversees this newest of golf networks in the Southeast.
The stops included Alexandria's OakWing Golf Club in the central part of the state, Tamahka Trails Golf Club in Marksville, Carter Plantation Golf Club in Springfield, and the spanking-new TPC of Louisiana just outside of New Orleans in Avondale. Here's a glimpse of what golf's like in the Pelican State to this Seattleite.
OakWing Golf Club

One of the reasons I was enamored with the Louisiana invitation was a chance to return to Alexandria. My only previous visit to Louisiana was in the early 1970s, when I came through this city en route to Fort Polk, a major Army installation 50 miles away. At that time, Fort Polk (known then as "Tiger Town," or to those of us stationed there, "Fort Puke") was the primary training grounds for infantrymen headed to Viet Nam. As a 20-year-old draftee, that's where my introduction to Louisiana - and basic training - occurred. Needless to say, I was hoping to replace that 33-year-old memory with a more pleasant experience.

I wasn't disappointed. OakWing is an expanded version of a perfunctory nine-hole track at England Air Force Base. This once-thriving U.S. installation was turned over to the England Authority and the state, which redeveloped it into shops, eateries, offices and the like. Former base housing also went civilian, tract homes purchased and upgraded by Alexandrians into a nice neighborhoods for raising kids.

One of the shining stars of the redevelopment is the Parc England Hotel, located a stone's throw from the golf course. The boutique hotel is owned by Fred Rosenfeld, a Californian who's been in Louisiana since when I was stationed at Fort Polk. Talking about his current home, the former baseball player and sports entrepreneur (he consulted on the Centroplex facility in Baton Rouge) said, "Louisiana is a small state and a place where you can meet lots of people quickly."

Fred's pretty good at meeting people and marshaling support. In cooperation with Alexandria officials, he helped rejuvenate the 1904-built Bentley Hotel in downtown. Rosenfeld then started from scratch on the 48-room Parc England. He also took over the former officer's club at the base, converting the cavernous 16,000-square-foot structure into the Bistro on the Bayou. This high-end, 500-seat restaurant features premium items (such as fresh-daily Gulf of Mexico fish), entertainment and spaces for banquets and weddings.

We played OakWing on the heels of a district-level high school golf tournament which teed off that morning. Though parents swarmed the brick clubhouse and gathered alongside many fairways, we managed to avoid the hubbub surrounding the Jim Lipe-designed layout. The track sprawls across flattish ground (an endemic quality to this state, some of which lies below sea level), with strategic water hazards definitely of concern.

This being my first round since the long flight from Seattle, I walked like the bag-toting high-schoolers and enjoyed the stroll. After venturing into fairway peripheries, I was warned about cottonmouth snakes (responding not so facetiously, "Why are they called that - because their mouths are dry?"). Besides old jet planes displayed at the course's entrance, a landmark of OakWing's course is a veterans' cemetery with aboveground crypts (another Louisiana hallmark) by the sixth green.

While consuming a few beers, we had a blast on the back nine. Around No. 12 there's a foreboding conical tower that looks like something used to predict World War III. As three of us argued about the tower's function, the fourth, Carey Hoffman of the Cincinnati Enquirer, said it was a weather satellite. When we chimed, "How do you know?", Carey said he was once featured in the New York Times as a "Doppler Radar Groupie," adding that he knows nearly everything about weather predictions and Doppler Radar. Well, the rest of us took that news and ran with it pretty much the rest of the trip.

We had a good time at OakWing. Nice course, and one with a sense of its place on a former military installation and the most affordable green fees on the Audubon Golf Trail.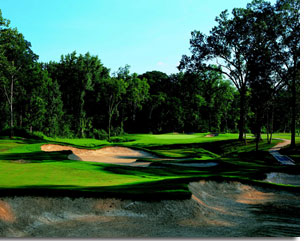 Tamahka Trails Golf Club

This Steve Smyers' design is part of the Paragon Casino Resort. Both enterprises are developments of the Tunica-Biloxi Tribe of Louisiana. Unlike some Native American groups that operate apart from local governments, the Tunica-Biloxi Tribe is very active in its community. The tribe has a payroll of 1,700 employees, and provides $2.5-$3 million annually (5 to 6% of its gross income) to the local tax rolls. It also donates $150,000 every year to area non-profits and to the Avoyelles Parish and city of Marksville.

On the evening before our round at Tamahka Trails we visited the sprawling Paragon Casino Resort, a going concern with over 2,100 slot machines, 50 gaming tables, a deluxe hotel, four restaurants, entertainment, a zillion rooms, and all the other accoutrements of big gambling centers.

The golf course here has more huge bunkers than this writer has ever seen. I've played or toured over 1,000 golf courses around the world, and none have the sandy expanses of Tamahka Trails. Some fairway bunkers are well over 150 feet long long and 50 feet across, with the only means of escape a short sideways plop shot back to the fairway. On the par-3 6th two of us found our tee shots plugged in the steeply faced bunker in front of the green. It was a miracle neither of us fell backward after swinging. Besides nettling golfers, these bunkers must be a pain to maintain.

Once past the bunker bitch, Tamahka Trails is a pretty cool course, with nice touches such as chainsaw-carved sculptures - including a realistic-looking alligator and turtle - in surprising places. The 230-acre course also has considerable variety, more so than the other four stops on the trip, with open links-ish holes complimenting narrow up-and-down routes through woodlands.

Keeping with the wildlife theme, when our foursome finished the toughest hole on the course, the right-bending, 433-yard 7th, and headed to the next tee we saw a couple of cowboys walking toward us. Almost nonchalantly, they asked, "Ya'all see a cow?" Turns out a calf - later caught - had escaped their clutches and decided to check out the golf course.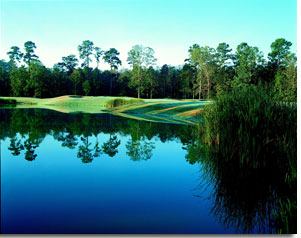 Carter Plantation

Named after a once-operating plantation that originated in 1856, this new 750-acre development boasts an excellent golf course designed by PGA Tour player and native Louisianan, David Toms, and architect Glenn Hickey. Toms visited the site 20 times during development, watching as overgrown woodlands and feral bayou gradually coalesced into a wonderful 7,049-yard golf course.

The layout is mature and exceedingly playable, despite its opening in late April 2004, mere weeks before our arrival. The fairways are generally wide, and the hazards within view in most instances. No whining about trickiness here - what ye reap ye sow at Carter Plantation.

A unique feature - and one new to me - are the "moustaches" on the lips of some bunkers. On one of the lips the grass is allowed to grow long and is then browned by a herbicide. And, by Golf Gods (more on that later), they really resemble moustaches. Other nice touches abound at this golf course, one of the classiest daily-fee tracks I've played in a long time.

Here's my tip for playing Carter Plantation: take your licks and a free drop when off the fairway. Quite possibly, when off the beaten track your ball will be sitting temptingly in "Louisiana mud," a concrete-like substance that dislikes clubheads and golf balls. I decided to hit off the primordial stuff after pulling a tee shot on the tight 9th hole. Sadly, after two futile swipes, I picked up my ball, caked with a dried and impregnable plasticized agent. After carding a snowman and unable to clean the ball, I came very close to tossing the no-longer-new, $4 Pro-V into the drink.

We had the dining experiences of our trip at Carter Plantation, thanks to head chef Philip Callahan, lured away from English Turn by the Sharps, the family who's developing this place near the rural town of Springfield. Callahan, a golfer, takes full advantage of fresh local goodies - in our case crawfish, fish and strawberries - for intoxicatingly tasty fare. Forewarned about Louisiana's vaunted cuisine, we found it at Phil's place over three meals.

Close behind as a signature attribute of Carter Plantation is its wonderful overnight accommodations: expansive, well-conceived units housed within big residences along a quiet street. Golfing groups of varying sizes have several options when staying here, including multi-bedroom units with full kitchens.

After digesting one of the best meals of my life, a four-course dinner by Callahan, several of us gathered on the dimly-lit practice green for a putting contest. The night was still and the air a perfect temperature. We cavorted till 10:30, exchanging dollar bills, unbothered by staff or other guests. Though it will eventually contain several hundred homes, Carter Plantation will continue to address the important needs of peripatetic golfers.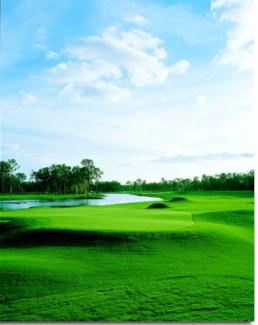 TPC of Louisiana

From Springfield, we wove southward to New Orleans. The Big Easy. The Crescent City. Before heading out to Bourbon Street and some mid-week bacchanalia, we stopped for a crawfish feed and briefing from state travel officials and the operators of the TPC of Louisiana. At my table was our host for the evening, Paul Buckley, executive vice president of the New Orleans Hilton, a place with panoramic views of the Mississippi River.

Still with his native Boston accent, Paul was eager to talk about his "Golfing Gods." These two figurines called "TiMing and TemPo" are manufactured by his company, Putterential Unlimited. Paul came up with the idea after rummaging through the estate of his grandfather, who was one of New England's best amateur players and someone who kept copious notes on all things golf.

In a black notebook were repeated references to the "golf gods," both referenced as "TiMing and TemPo." At the bottom of a pocket on his grandfather's old golf bag, Paul found what his grandfather was writing about: two mysterious wooden figures about 4 inches tall, each whittled out of Spanish cedar and tied together with a thin leather string. Both resembled Buddhist monks. Each held a golf club, and each had their names inscribed on the base. TiMing was broader through the shoulders and wore a long robe, while TemPo was wide through his midsection.
Aha, thought Paul. Here are the Golf Gods personified. Thus set in motion a product Paul hopes will be bought by golfers around the world: a mythical twosome that will pare strokes for us hackers. When we returned to our rooms that evening, there were our very own Golf Gods - in the form of Christmas tree ornaments.

As we drove into New Orleans following the crawfish boil, a tasty affair where table manners go out the window with the shells of these lobster-like treats, our driver John, who'd been with us the whole way, recited New Orleans lore as we drove past the city's myriad historical landmarks. Coming into the city with us was a new passenger, Stuart Johnson, a high-level staffer with the Louisiana Office of State Parks. Stuart had never heard such a fine overview of the city as that presented by John, a retired cable car operator in New Orleans.

That night, we headed into Bourbon Street (and I do mean "into" - it feels like you're descending into a decadent swarm when entering). If you're into hooch and raunch, you can't go wrong here. Some of our group had a bit too many Hurricanes that night, not returning to their rooms until well past 3:00 in the morning. The 7:50 a.m. tee time at the TPC of Louisiana was a hurtful thing for some.

Though open only a few weeks, this latest link in the Audubon Golf Trail and the nationwide chain of Tournament Players Course facilities was in dandy shape. Costing $30 million to build, the course will hopefully fill a golfing void for New Orleans, traditionally among the top-five convention destinations in the U.S. The city has been denied several times of late though - most notably by the NFL and its tax coffer-enriching Super Bowl. So state officials are hoping this bayou-turned-golf-course will sway pro football's powers-that-be to return and hold more Roman Numeral championships in this fair town.
The TPC of Louisiana will host the next Compaq Classic, moving from English Turn in 2005. The facility, boasting a classic clubhouse, huge practice facility and attentive service everywhere you go, was co-financed by the PGA Tour, the state and a retirement fund. Using a cart is mandatory, though players can also walk with their clubs in the biggest "joey" carts I've ever seen. Looking like a Segway for golfers, the cart requires constant hands-on control, as there's no remote mechanism. (One of our group - hung over from the previous night's debauchery -pushed the wrong button and knocked over a golf bag to loud guffaws.)
I still believe the bunkers at Tamahka Trails are the biggest and rifest I've ever seen. But the white-sand areas at the TPC at Louisiana are a close second. Pete Dye fashioned long, massive and flat bunkers for nearly every hole. These aren't transition areas, they're bunkers with, due to their infancy, soft grit that often results in fried-egg lies. Watery graves are also prevalent, as are pine straw on peripheries, and love bugs, innocuous mating-in-midair insects that get into everything during their airborne tangos.
My guess is there's only about 20 feet of elevation change throughout this 230-acre track, which plays upwards of 7,500 yards from the tips (the pro shop requires proper credentials for those wishing to play from there). The greens average a smallish 5,000 square feet in size, so finding the targets here can be dicey. Most of the par-4s and par-5s in the first two-thirds of the course sport bunkers left of fairways, with the final three holes bunkered right.

I'm hoping the officials who promoted the construction of this course will realize their wishes for bringing the Super Bowl and other big events to the Big Easy. New Orleans is truly a great American city. And Louisiana is a great state. I'm satisfied that my previous experience has been replaced by a much happier set of memories.