Treacherous Bear Trap awaits at the Honda Classic
By: David Wood
The "Bear Trap" is ready to pounce during this week's Honda Classic. The sport's best will have to somehow remain unscathed through hole Nos. 15, 16 and 17 - golf's ultimate version of the "tempestuous teens."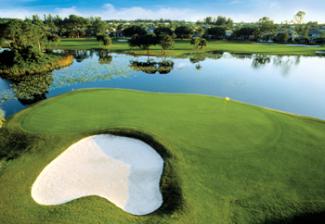 15th Green at The Champion
And that's not an easy feat. Since the PGA Tour event moved to the Champion Course at PGA National in 2007, the Bear Trap has been responsible for 24 percent of all tournament bogeys, 56 percent of double-bogeys and an incredible 74 percent of triple-bogeys. How's that for a fine "how do you do?"

In his pre-tournament press conference, Sergio Garcia contended competitors face a fine line between playing the Bear Trap well, or not. "If you're on and you hit three good shots and make one birdie and two pars or even two birdies, you're making up a lot of ground," said Garcia.

"But being just a little bit off, you can make - without hitting terrible shots - you can make a double, a par and a bogey, and you leave those three holes shooting 3-over."

After a his warm-up session on the range before Wednesday's pro-am, the affable North Carolinian Will MacKenzie said of the Bear Trap, "If you play them even-par for the week, you feel like you're gaining on the field. But there's definitely more at stake because they come at such a critical part of the round."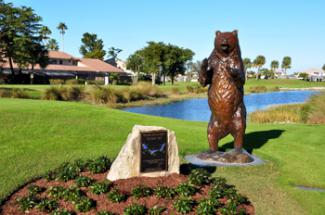 The Vaunted Bear Trap
The diabolical stretch starts with the seemingly benign 15th - a par-3 of 179 yards. Its green is flanked on three sides by a lake that's home to several graceful herons. But the beauty can't be a distraction, as frequently gusty winds knock even well-struck shots into the watery habitat.

Sixteen is a 434-yard par-4 containing a canal and a vast fairway bunker that prevent any thoughts of a shortcut. The approach needs to fight prevailing headwinds to find a slanted green guarded by cavernous bunkers which gobble up anything not hit right on the nose.

The toughest of the lot is the par-3 17th. Its green complex rises up out of a pond and features steep, ball-repelling banks. From the 205-yard tournament tee, players are faced with the task of trying to land their ball on a dining room table just big enough for a party of six. Anywhere on the putting surface brings a sigh of relief. Anywhere else brings double-bogey.
Australian Robert Allenby, known as one of the best ball-strikers on the planet, says, "On Sunday, when the pin is in the back right on No. 17, this is the hardest hole we play on Tour."

The mighty Bear Trap will be licking its chops and is waiting for you, too.

PGA National offers the "Champion Golf Package." The stay-and-play starts at $379 through April 30 (per person, double occupancy) and features luxury accommodations with a private balcony or terrace; full daily breakfast at the Palm Terrace; one daily round on The Champion Course (with mandatory forecaddie from December-April); unlimited range balls and complimentary golf bag storage.
For more information about PGA National Resort & Spa, visit www.pgaresort.com or call 561/627-2000.