Treyburn Country Club Reopens Following Remodel
Following a nearly yearlong renovation, Treyburn Country Club in Durham, N.C., will host a grand reopening ceremony on Saturday, March 31 to celebrate its refurbished Tom Fazio-designed course and expanded practice facility.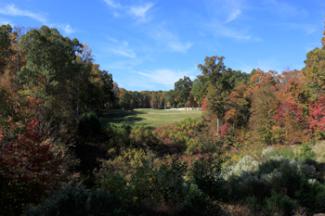 Fall Folliage at Treyburn CC
The work on Treyburn's course began in June 2011 and the club will waste no time showing off the layout. Treyburn will host the 6th Annual North Carolina High School Invitational on Monday, April 2, as well as the 52nd North Carolina Amateur on June 14-17.

The extensive renovation allowed the club's owner, McConnell Golf, to complete other projects that not only enhance the layout but restore Treyburn's reputation as one of the best golf courses in North Carolina. The first and most vital aspect of the project was to replace the decades-old, Penncross bentgrass greens with a newer, more heat-tolerant 96-2 bent - very similar to Crenshaw bent - which provides a much better putting surface in the summer.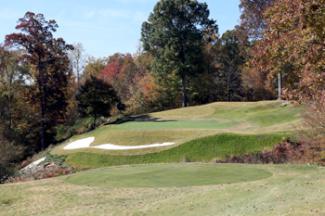 A Remodeled Treyburn Hole
In addition to reseeding the greens, architect Kris Spence and his team rebuilt each green to their original specs, while also providing better drainage for each complex. The severe slopes on several greens were softened to provide more pin locations.

Tree-removal around several greens will provide more sunlight in the morning hours and allow better airflow, resulting in healthier greens and providing better views on holes such as Nos. 7, 13 and 14.
Another key element was the addition of better irrigation around the greens. The new irrigation heads allow the Treyburn maintenance team, led by superintendent Mark Snell, to better regulate the amount of water on the surfaces and approaches. A new pump station also assists in these controls.
Every bunker at Treyburn was upgraded with new drainage and the best white sand available, and several bunkers were added for strategic purposes. In some areas, the bunkers were redesigned or moved to increase their relevance and provide better visual shaping of the holes.
Treyburn's two-decade-old practice facility also received a facelift. The top two tiers of the driving range hitting areas were leveled and expanded by 40 percent, and new flagpoles were installed to provide a cleaner look for the six target greens. The practice green was completely redesigned with an additional 1,000 square feet of surface, and a practice bunker was redesigned to allow for both green-side bunker shots and long-iron shots to the middle of the practice range. Expanded chipping and pitching areas were designed to assist players with their short game.
"All the renovation work we do allows continuity of excellence between generations of membership," said McConnell director of golf operations Brian Kittler. "Our members are accustomed to outstanding golf clubs and they want the next generation to inherit an equally outstanding facility. John McConnell takes really good properties, puts in a lot of money and makes them great. He gets them to a whole new level."
Golf Digest voted Treyburn a "Best New Course" when it opened in the late 1980s. Raleigh native McConnell and his company, McConnell Golf, purchased Treyburn in December 2006 and is one of eight courses owned by the company. Others in the Triangle include Raleigh Country Club and TPC at Wakefield Plantation in Raleigh.
Over the years Treyburn has hosted several prestigious events, including the PGA Tour's Qualifying School (2006-08), the Carolinas Amateur (1993), North Carolina State Open (1997), Carolinas PGA Section Championship (2001), Tarheel Tour Treyburn Open (2005-06), two AJGA events (2006-07) and a USGA Junior Girls qualifier (2007).
For more information about McConnell Golf, visit www.mcconnellgolf.com.