Trio of Courses on North Carolina's Golf Coast Give Players a Taste of Brunswick Islands
By: Steve Habel
The region of the Carolinas known as the "Golf Coast" is where North and South Carolina meet the Atlantic Ocean. Here, the Brunswick Islands and their mainland coastal towns have a roster of more than 30 top-rated courses designed by some notable architects - fellas like Rees Jones, Dan Maples, Willard Byrd, Tim Cate and Fred Couples, among others.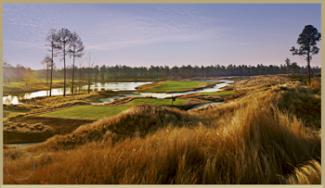 Cape Fear National Golf Club
The Brunswick Islands, with beaches that face south so combers can catch both sunrise and sunset, stretch from the Cape Fear River to the South Carolina border, offering up a year-round climate for outdoor activities, no-frills access to beaches and a varied economic base, all part of a winning equation that makes Brunswick County a great place to live, visit and play golf.

Six barrier island towns - Sunset Beach, Ocean Isle Beach, Holden Beach, Oak Island, Caswell Beach and Bald Head Island - offer up secluded, sandy expanses for family vacations and act as great kick-off spots for golf in just about any direction. Water, marshland, maritime forests and even the Intracoastal Waterway create stunning backdrops for the sport. The ever-present wind off the ocean adds spice while helping make each track unique.

With easy ingress and egress from the bustling city of Wilmington, N.C., and a "just-discovered" feel that separates the area from Myrtle Beach - its tourist-haven brother just an hour or so across the South Carolina border, Brunswick County has a little dash of the things that golfers cherish.

Three of the courses we played during a tour of the area in spring 2013 - Carolina National Golf Club in Bolivia, Cape Fear National in Leland and Farmstead Golf Links in Calabash - give players a good sampling of what the "Golf Coast" has to offer.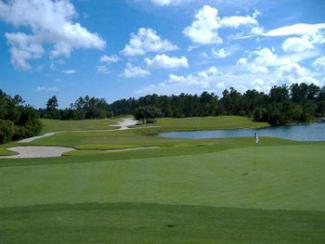 Carolina National Golf Club
Same Designation, Different Challenges

Although two of the courses we played carry a "national" designation, Carolina National Golf Club and Cape Fear National are not part of the same management group. The two venues offer different challenges, but both require spot-on execution and accuracy because of their consistency.

Carolina National, a 27-hole facility designed by World Golf Hall of Famer Fred Couples and his architect-partner Gene Bates, boasts three distinct nines (Egret, Heron and Ibis), all carved out of Lowcountry marshlands and routed along the Lockwood Folly River. Six holes on the Egret and Heron nines are bordered by the stream, making for a watery reminder for sound course management or suffer the consequences.

The course (which opened in 1999) is a true test, with the lengthiest of the two nine-hole combinations totaling 7,017 yards, where they're rated 74.2 and have a Slope of 142.

Heron is the most scenic of the trio, particularly its par-3 fifth, which features a green almost completely engirded by the river. The longest nine at Carolina National, the Heron has three par-4s in excess of 400 yards and the par-5 ninth measures 587.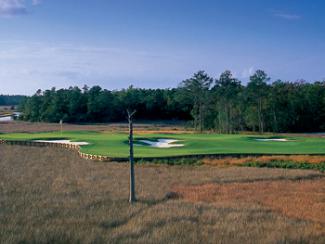 The 5th Greeen on the Heron Nine
at Carolina National Golf Course
The Egret is a driver's course - rewarding those who can pound the ball off the tee, while accuracy is key at Ibis, which isn't quite as long but asks players to find the proper segment of its small putting surfaces.

Carolina National's longer holes tend to have bigger greens, and Couples and Bates provided a smaller putting surface on the shorter ones. Because of the multiple combinations of the three nine-hole sides, the facility offers an endless variety of playing experiences.

Carolina National GC has been recognized by Golf Digest as one of the finest facilities on the eastern seaboard.

Cape Fear National is the centerpiece of the burgeoning Brunswick Forest community as well one heck of a tough daily-fee course.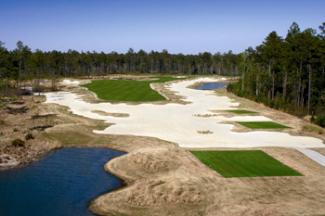 The 16th Hole at Cape Fear National
Fashioned by architect Tim Cate, the par-72 covers 7,217 yards over tees, fairways and primary rough grassed with Tifway 419 Bermuda. Golfers know they'll be tested by its 74.5 rating and 143 Slope from the tips. But there are four other sets of tees, making Cape Fear National fun for golfers of all skills.

Cate moved more than 1.5 million cubic yards of dirt to sculpt the coastal Carolinas' newest course, which opened in 2009. Here, the golfer will find numerous elevated tees, dramatic berms and fairways that ramble through forests and wetlands.

Even though it was built atop a vast marsh, the course plays firm and fast. There are plenty of wetlands and lateral ponds along with more than 1,500 feet of bridges to carry players across environmentally sensitive areas. Limestone was dug up and piled into walls to create attractive vertical relief and a stark contrast to marshes and sand.
Lots of Variety at Cape Fear National
Perhaps Cape Fear National's most invigorating area is three holes with tee-to-green waste bunkers situated along the right of the fairway. But there are 47 more bunkers scattered about along with plenty of forced carries, both off tees and into greens.

The course also has a rarity - both nines end with a par-3, the best of which is the ninth - an all-or-nothing carry over a lake bordered by a rocky edge that protects the left two-thirds of the green.

On some holes at Cape Fear National, the fairways appear almost unreachable, while others seem to so narrow as to be impossible to hit. Remember, though, there is considerably more landing area than it appears, and the distances are much shorter than the expanses of scrub and sand and rock and water imply.

Cape Fear National was recognized by both Golf and Golfweek magazines as one of the "Top Best New Courses" for 2010.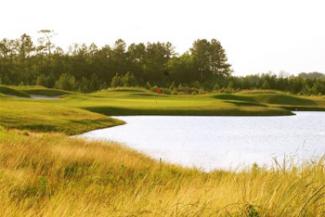 Farmstead Golf Links
Going Deep (You'll Have To) at Farmstead

Speaking of rarities, the sporty Farmstead Golf Links is awash in them. First of all, the Willard Byrd/Dave Johnson-crafted course sits astride two states; its acreage extends into both North and South Carolina. If golfers want a beer or another adult beverage from the cart girl, they'll have to buy them on the holes in North Carolina as the course doesn't have a license to sell such refreshments in South Carolina.

Then there's the final hole at Farmstead - a 767-yarder par-6, that's right, a par-6. The tee is in South Carolina but the larger leg of the fairway and the green surrounds are north of the border, crossing somewhere near the 400-yard plate beside the lake that guards the left side of the hole. The 18th was selected by Golf Digest as among its "Top 18 Most Fun Holes in America."

There's a lot more to Farmstead GL than quirkiness. Playing as a par 72 and at a total of 7,242 yards from the back tees, the course boasts a rating of 74.5 and a Slope of 135.

Aerial View of 18th and 9th Greens at Farmstead Golf Links
There are three par-3s on the back nine (to help balance out the par-6) and they are among the most challenging in these parts. The 12th is one of the most unique one-shotters a golfer will likely ever play because, with eight different tee boxes, it's never the same hole for more than a day.

The 223-yard sixth requires a 3-wood or driver off the tee on days when there's a facing wind, but can completely change with a backing breeze.

The layout rolls over the natural contours of the land to provide impressive views of the area's native grasses and sparkling lakes. With five tees and mostly wide-open, rolling fairways, this place is quite suitable for all golfers.
For more on Carolina National, visit www.carolinanationalgolf.com; for additional info on Cape Fear National, see www.capefearnational.com. Visit www.farmsteadgolflinks.com for further details on Farmstead Golf Links.
Steve Habel is a freelance writer contributing Cybergolf news stories, features, equipment and book reviews and personality profiles from his base in Central Texas. He also works as a contributing editor for Horns Illustrated magazine, a publication focusing on University of Texas sports, and is a contributing writer for Golfers' Guide and Golf Oklahoma magazine, Texas Links magazines and Golfers Guide. Habel's main blog (www.shotoverthegreen.blogspot.com) features news on golf and the Longhorns, and another (www.checkinginandplayingthrough.blogspot.com) chronicles his many travels, including playing more than 600 golf courses since 2008. Habel is a member of the Golf Writers Association of America and the Texas Golf Writers Association.