Triple Double! Smith & Crockett Defy Darkness & Storms to Defend Title at Anderson Memorial at Winged Foot
By: Jay Flemma
The U.S. Postal Service should look to Winged Foot for inspiration because neither rain, nor sleet, nor dark of night would keep the club from completing the final round of the 76th Anderson Memorial, America's premier four-ball golf tournament. Outracing two thunderstorms and the inexorable march of nightfall, Parker Smith and Dan Crockett of the Country Club (Tenn.) successfully defended their title at Winged Foot by defeating John Kemp and Mark Wharton of John O'Gaunt Club (England) in 19 holes over the East course in a rematch of last year's final. It was also the third consecutive win for Smith, who won the 2010 title with a different partner, a feat no other golfer has accomplished in the 76 years of the tournament.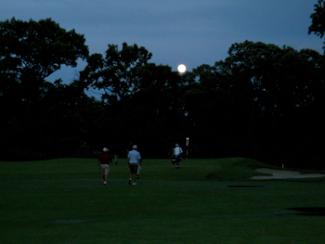 Delayed twice by lightning, the final round took over seven hours to complete. Two different storms out of the pages of the "Last Judgment" hurtled through Mamaroneck, N.Y.; lightning crashed and thunder rolled with Olympian fury. But once they passed, golf lovers saw two separate double-bowed rainbows flower majestically over storied, venerable Winged Foot, before Mother Nature left the stage to a gigantic full moon that dominated the night sky over the final green as the last birdie putt fell to end a long, but thrilling day of golf, a day in which the winners never led the championship match until the final shot was played.

It was everything a truly great golf tournament was supposed to be. Cruel and mighty Winged Foot, known as much for bitter heartbreak as it is for its incomparable grandeur, playing her part wondrously. The tragic poetry of defeat and the ecstasy of sudden victory waiting to be played out at a club that has seen a century of such drama unfold. Winged Foot's clubhouse, standing sentinel in stony silence, merely waiting to see which way the Golf Gods would turn, and all day long no one knew whose side they were on.

On the one hand were Smith and Crockett, the laid-back, drawling pair from Tennessee, aw-shucksing, Copenhagen-dipping, and Southern-charming their way through a gauntlet of well-decorated champions, including two winners of the Travis Invitational and two past champions of the Anderson, beating back all the greatest names world-wide in mid-amateur golf. Despite their top seed, they had the stoniest path to the final match. And yet there they were - just relaxing during the rain delays, easing back in comfortable chairs, chillin' to use the common phrase. You'd have thought they didn't have a pulse unless someone struck up the band for "Rocky Top"! Cue the lyrics:

I've had years of cramped up city life Trapped like a dog in a pen
All I know is it's a pity life
Can't be simple again

"That nap was just what I needed!" confided Crockett as he prepared to head back out after the first rain delay.

On the other hand you had the stalwart English gents, Kemp and Wharton, bravely carrying an entire nation of golfers on their backs and hoping to celebrate the Queen's jubilee by bringing home laurels of victory won on life's field. Indeed, before the final match began the Queen's anniversary celebrations had bumped Golf Channel from the grill room television, and one of the lads shed a tear as voices from all across England - over a million strong in glorious unison - swept over the Atlantic in praise to their beloved Elizabeth II.

Make her victorious
Happy and Glorious
Long to reign o'er us
God save the Queen!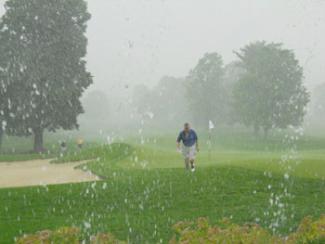 And so the final began. Bird's custard, piccalilli and P.G. Tips tea (it's made with the tips of the leaves but still tastes like boiled roots), trying to avenge their 2011 loss against the Smoky Mountain boys and the rebel yells of their friends that made the journey north to watch.

"Last year we made some mistakes. We bogeyed eight, nine and 10 on the West course," explained Kemp before the final. "We know that if we want to win, we have to play no-mistake golf. We won't beat ourselves."

And they didn't. Wearing glances of Amazonian fierceness on the course all day long, they played a swashbuckling final, taking a 2-up lead after two holes and holding the champions at bay almost the entire day. The lead dwindled to 1-up at the fourth when Smith smashed a 275-yard 3-wood onto the par-5 green in two for a two-putt birdie, and the lead stayed there for a remarkably long time, nine grueling, tension-filled holes, until a bogey by Smith and Crockett at the radiant gem that is the tiny, but dangerous par-3 13th hole, as prim as a cameo in a precious lacquer box, a gift fit for any potentate.

But match-play golf is like chess. Once you get ahead, you must keep the pressure on and cinch the match in the clutch. Leads count for nothing if they are not converted into victories. You just can't leave an opponent hanging around, especially in a final match. And though Kemp and Wharton put pressure on the defending champions all day, their putters betrayed them to their doom.

"They outplayed us tee to green. They had a phenomenal ball-striking day, and if they had made a putt or two late, it might have made all the difference," noted Crockett.

On seven consecutive holes, from 10 through 16, Kemp and Wharton missed short or mid-length putts that would have increased the lead and made the it insurmountable as the match waned in the gloaming.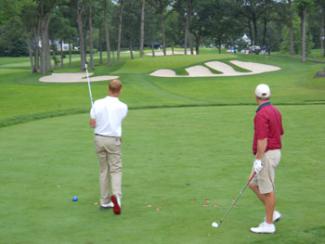 "We hit the ball great all day, but we made nothing. We had our chances, but we let them stay in it," lamented a gracious Kemp, who could teach Tiger Woods a thing or two about sportsmanship and valor.

But a bogey at the 16th left the match tied, setting the stage for Smith's late heroics. The long day's journey melted into night, darkness fell and an enormous full moon set fire to the sky, illuminating the match with an eerie glow as the players marched down the first fairway. Finally, Smith hit a pitching wedge from 115 yards to 5 feet and rolled in the birdie putt to cinch the match in the clutch.

"We never led all day. They got ahead of us, and we had to battle for every shot," stated Smith. "I slashed the driver all over the rough today, but my partner kept it in play. He was tremendous, especially late in the match. The shot he hit on 18 was the best I've ever seen in my life," he said, referring to a 200-yard 5-iron at the home hole out of Winged Foot's thick rough to a pin tucked flush-right with the match in the balance.

"We had to be so patient because John and Mark played great. They have won a number of British mid-amateur championships and played in British Opens, and they battled us tough last year and all day today. It was such a great match over this wonderful golf course. This is what golf is all about," agreed Crockett. "And to do this here, at Winged Foot, two of the greatest courses in the world, and to be up on that wall with all those great names is a thrill I'll remember forever."

"It was exciting and it was exhausting. I don't have anything left. My legs are tired, my back is tired, but I feel great," added Smith. "Winning it once is special, but three times? I never dreamed of it. But they treat us so well, and it's such a privilege and honor to come here, just getting to play in it is a life event in any golfer's career. I'm grateful just to get the chance to compete."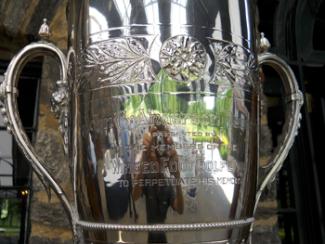 And so the day ended, much like a day 15 years earlier. "It reminded me of Davis Love's win in 1997," said one golf fan. "The rainbows that came out today were just like that day 15 years ago, and we had just as exciting a finish to the tournament."

It was just as exciting as that day in 1997 and just as poignant and just as inspiring, because while we all admire the magical talent of the PGA Tour pros, amateurs are truly the lifeblood of the game. The great soul of golf is not its millionaires jet-setting around the world raking in vast sums of money while mugging for TV cameras. It is, instead, the camaraderie of good friends, the thrill of competition at any level, and the grace, class and dignity of the everyman golfer exhibited whether they win or lose.

It's you and I and our regular foursome, who love golf with all the ardor of any Tour player, and who come from vastly different walks of life. Amateur golfers are bankers, doctors, lawyers, clockmakers, pilots, bartenders, policemen, teachers - virtually any profession. But on weekends, they are also the greatest amateurs in the game fighting for something far more precious than a fat purse.

They play for the love of the game.

Yes, Winged Foot hosts the greatest players in the world for the game's largest events. But when she hosts tournaments like the Anderson, that's when every one of us can feel the great virtues of golf so much closer and on a more personal level. And in the end, that's what keeps us coming back.
Since launching his first golf writing website in 2004, http://jayflemma.thegolfspace.com, Jay Flemma 's comparative analysis of golf designs and knowledge of golf course architecture and golf travel have garnered wide industry respect. In researching his book on America's great public golf courses (and whether they're worth the money), Jay, an associate editor of Cybergolf, has played over 420 nationally ranked public golf courses in 40 different states, and covered seven U.S. Opens and six PGA Championships, along with one trip to the Masters. A four-time award-winning sportswriter, Jay was called the best sports poet alive by both Sports Illustrated and NBC Sports writers and broadcasters. Jay has played about 3 million yards of golf - or close to 2,000 miles. His pieces on travel and architecture appear in Golf Observer (www.golfobserver.com), Cybergolf, PGA.com, Golf Magazine and other print magazines. When not researching golf courses for design, value and excitement, Jay is an entertainment, copyright, Internet and trademark lawyer and an Entertainment and Internet Law professor in Manhattan. His clients have been nominated for Grammy and Emmy awards, won a Sundance Film Festival Best Director award, performed on stage and screen, and designed pop art for museums and collectors. Jay lives in Forest Hills, N.Y., and is fiercely loyal to his alma maters, Deerfield Academy in Massachusetts and Trinity College in Connecticut.