TRUE linkswear Releases Exclusive LE Line
April 2, 2014. With dogwoods blooming across the South and the golf world gearing up for the game's most prestigious major championship, TRUE linkswear has unveiled a limited edition run of its new TRUE gent wingtip, as well as some complementary apparel pieces.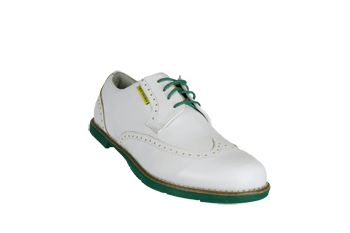 TRUE's New LE Series
"There are several iconic stops on the PGA Tour each year, and with spring upon us and a revamped line of shoes at our disposal, this was a great opportunity to do something really fun and really creative," said Jeremy Moore, president of the company.

"Given the tradition and history of the season's first major, we knew the TRUE gent was the perfect shoe from our collection to really celebrate it."

By combining the heritage of classic golf style with a core built for walking, the TRUE gent is an ode to the traditional fashions that shaped golf. Its wingtip upper is fashioned out of ultra premium leather, and its completely waterproof upper wraps your foot in 360-degree protection.

Built on the TRUE Flex-Feel-Gent outsole, the faux heel in the back gives the look of a traditional shoe while still maintaining a zero-drop nature.
TRUE also is releasing a limited edition hat and t-shirt for sale. The hat is a white TRUE snapback with an all new LE logo, while the t-shirt is an Augusta-Green premium tri-blend that features a unique, vintage art concept perfectly suited for April.
TRUE products are now available at many national retailers, including Golfsmith, PGA Tour Superstores, Golf Galaxy and GolfTown in Canada. For more information, visit www.truelinkswear.com.