Trump National Golf Clubs - 'Make Them the Very Best & They Will Come'
By: Dave Droschak
In case you're been buried deep in a pot bunker in Scotland, in a perpetual three-putt on the turtleback greens at Pinehurst No. 2, or glued to the TV waiting for Tiger Woods to win another major, Donald Trump is turning more than a few heads with his golf operation these days.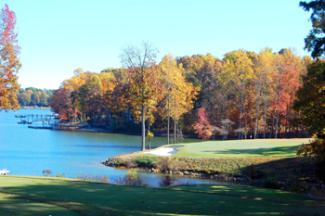 Water Enters Play on More than Half the Holes
at Trump National Charlotte
(Photo by David Droschak)
The Trump National brand now owns Doral, but you may not recognize the famed "Blue Monster" or its surrounding landscape after a $200 million make-over. Trump also recently unveiled an eye-opening layout in Aberdeen, Scotland, with lodging available in a castle from the 1400s, and a Gil Hanse design in Dubai will come online in late 2014.

All total, Trump owns 15 golf courses, most of them exclusively private with the "white glove" touch the billionaire real-estate developer and his team deem appropriate.

With a good share of private clubs across the United States searching for ways to stay afloat, Trump is charging down green fairways in a speedy cart, rumbling past any and all hazards in his way.

I recently had an opportunity to sit down with Eric Trump, Donald's son and executive vice president of development and acquisitions for the Trump Co. Eric is also the main cog behind the Trump golf machine. He spends at least one day a week at Doral as that multi-million-dollar project nears completion.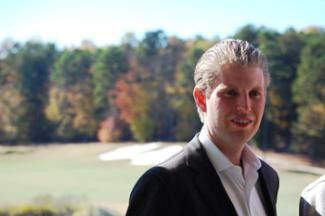 Eric Trump Heads the Growing Trump
National Golf Operations (Photo by David Droschak)
Eric was also very much hands-on at another of the team's recent purchases, Trump National Charlotte, where "tens of millions" were spent to restore a Greg Norman-designed layout nestled along the banks of massive Lake Norman that opened in 1999, and a club that quickly had become "tired."

When Eric Trump arrived in Charlotte four years ago he found a central village he described as having a "Nantucket" feel. The course was also in bankruptcy and ripe for the picking at a $3 million bargain price.

"It was something I was blown away with," Trump said of the development. "There are cobblestone streets, gas lanterns burning at night; it has an ambiance. You have a corner bakery and a meeting house right in the middle; it just resembles a great little village. It is very inviting and homey. Between what we saw on the golf course and the amenities, I saw the potential it had. This (dining) room did not look like this, the ceiling was falling down and the chairs were out of the 1980s. To take something that was structurally beautiful and bring it to this point was something we've had a lot of fun doing."

When word of the Trump purchase leaked, close to 300 new members joined the club, which now has an initiation fee of $80,000.

"It was the most unbelievable thing," Trump said of his firm's involvement. "There was a reality that it was going to get much harder to get into and it was going to get much more expensive given our ownership."
The Trumps don't hide behind the fact their clubs are exclusive, likely aimed at the one percent of the population who can afford them. And there is a method to the madness. Notice the purchases are in major cities like Los Angeles, Miami, Philadelphia, Washington, D.C., and Charlotte, which has a strong banking reputation and is located in a state with a receptive business climate.

"We're catering to somebody who is very, very affluent. Where do you typically have those people? In metropolitan areas," Trump said. "I think the future looks incredible for golf. We wouldn't be expanding the way we're expanding if we weren't very bullish on it. During the boom everybody was building golf courses and doing them in crazy locations. Some amazing golf courses got built, but they happen to be in the middle of 'you name the place' and weren't near any metropolitan city, not near any highway. You had to take a prop plane and then a helicopter to get there. The notion that those would be successful was a little fictitious. There has just been a rebalancing.

"The places that had the great locations, the places that were the great courses, the places that had that combination of physical beauty and also service did very well. There are just so many courses that are bank-owned courses that had incredible potential and were built well that weren't run properly, so the asset is okay and the service is awful and then they wonder why they don't succeed. When we come into a course the first thing we do is we rebuild the place - the clubhouses and the courses, so you have a perfect asset. If you won't have incredible service you are dead. It's just so important to have that white-glove touch and have great food."

At the course in Charlotte, Trump called on friend and PGA Tour player Martin Laird, a resident of the community, to help with its expansion to 7,500 yards. Laird teed it up at various proposed starting points and let it rip to help identify proper landing areas. The final touches of the course renovation - which included new greens surfaces, new bunkering and additional length - were completed six weeks ago.

"The members are on cloud nine," said Trump, who is a 13 handicap and can't beat his father, who plays at scratch.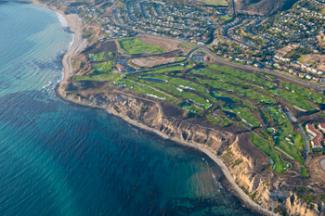 The Pacific Ocean Provides an Amazing Backdrop to
Trump National Golf Club Los Angeles
(Photo Courtesy Trump Golf)
Water comes into play on a dozen holes at Trump National Charlotte, which fits nicely into one of Trump's main preferences when it comes to selecting prime golf locations around the world.

"I'm partial to water and one of those things that I really focus on," Trump said. "Our course in L.A. is three miles on the Pacific overlooking Catalina Island in the distance. It is the most incredible thing you have ever seen. It's an amazing place and a place where you could never replicate land again. And our Washington, D.C., course is literally two and a half miles on the Potomac River . . . and Ferry Point is right on the entrance to the Long Island Sound."

While the Trumps have built some of the tallest high-rises in the world, Eric says he favors golf renovations over starting from scratch.

"I love taking something that somebody else put their fingers in and, at some point, maybe they got it wrong or it got old or they didn't think of something, and making it better than what it is," he said. "Renovations are much harder in a certain, crazy way. It's a lot easier to take a piece of land and build something. You saw the picture of Doral. There are tens of thousands of hours put into that, thousands of calls I have on a weekly basis. It is a big puzzle a lot of times and it is fun to solve.

"It is what makes us good at what we do," he added. "We've set higher expectations of what people ever set of us. I can't tell you how many times we come into a facility and a few members will tell my dad they don't think something is a good idea and think it is great the way it is. We do it and they come back a year later and say 'That was the most unbelievable thing,' and we totally surpass their expectations."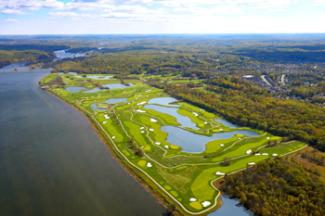 Trump National Washington, DC Borders the
Potomac River (Photo Courtesy Trump Golf)
Eric Trump estimates the value of the company's golf assets in the billions. And don't think for one minute the Trumps are trying to reinvent the "snobbish" country club scene from the 1960s or '70s. Engage in a 10-minute conversation with Eric and it becomes immediately evident he's always on top of his game, down to every last detail he can rattle off about all the courses he oversees.

For example, Trump National Charlotte has "an army" of 1,400 kids in a massive development that Trump knows are the future of the game. So are the wives and girlfriends, who are now teeing it up as much or more as their male counterparts.

"The game of golf is going to survive off of one thing and that is getting the next generation out there," he noted. "That's no different than anything - like football or baseball.

"Country clubs by definition are places where people go and enjoy the time when they are not working. It's kind of somebody's home away from home, or like this place in Charlotte, your home. There is a lineage that gets passed down through a country club along with so many memories. These places are ingrained in their soul. That's so important in the business model as well. For the game of golf you have to get kids, but the most successful clubs are the ones that nurture those kids and really make it their home as well."

So, what's next for Trump Golf? How many courses will be added to the Trump portfolio in the next five, 10 years? One more North Carolina purchase may be in the works, but Trump says it's too early in the process to reveal any details.
"We have 100 courses that come to us every week," Trump said. "It is a pretty amazing thing. I can't tell you how many failing courses come to us and say, 'Listen, we'll give you our course, we're a member-owned club, just take our course and fix it and make it beautiful.' We're lucky in that we're a private company. We don't have to appease some kind of shareholder. We do what we want to do. It means we can do a great job guarding the golden egg . . . and that's ultimately our brand. So, for us, it's getting the best and making sure we never compromise the standard. We can't dilute the portfolio.

"It depends what comes open over the next 10 years. Maybe we'll have 25, 30 or 40, but if we never did another golf course again because the perfect one didn't come up we would be okay with that. If we did another 20, because 20 incredible courses came up, we would be okay with that, too.

"If there is one element that ties our company together it's that we work on the high set. We have to be the best hotel in every market we go into, and we have to be the best golf course."

It's called the Trump Touch . . . and very few, if any, can duplicate it.
David Droschak has covered golf in the Carolinas for three decades, mostly with The Associated Press, where he worked for 20 years as AP sports editor in North Carolina prior to launching Droschak Communications, a full-service marketing and PR firm based in Apex, N.C. Dave, 51, has covered numerous major golf tournaments, including the 1999 and 2005 U.S. Opens at Pinehurst Resort, and is a longtime member of the Golf Writers Association of America.

Dave was honored with the Sports Writer of the Year award in North Carolina in 2005, and is currently editor of Triangle Golf Today (www.trianglegolf.com), a print and online publication regarded as the "No. 1 Source for Golf News in North Carolina." He is golf editor for Pinehurst Magazine, an award-winning glossy publication, and was instrumental in helping launch Triangle Golf Deals powered by Twongo (www.trianglegolfdeals.com) in the fall of 2011.

Dave also is the co-founder of www.HurricanesBeat.com, a website devoted to coverage of the Carolina Hurricanes, an NHL franchise he has covered since the team moved to North Carolina from Hartford in 1998.

Dave grew up in Penn Hills, Pa., about five minutes from the famed Oakmont Country Club and was introduced to the game of golf as a caddie at Green Oaks Country Club in nearby Verona, Pa.

Dave was the co-captain of the 1978 Penn Hills state championship baseball team, was a pitcher for the 1982 Atlantic Coast Conference champion University of North Carolina Tar Heels, and pitched professionally for two years in the St. Louis Cardinals organization. He is a member of the Penn Hills High School Sports Hall of Fame, which also includes NBA coach George Karl and former four-time Pro Bowl offensive lineman Bill Fralic.