Trump Scotland - Believe the Hype
By: Tony Dear
Still relatively unknown in the U.S. but highly respected in the UK, where he was born 65 years ago, Martin Hawtree does not share the often larger-than-life characteristics of other golf course architects. He flies as far under the radar as the often-ravenous golf media will allow.
Most Visitors' Favorite Hole
- the Majestic Par-4 14th
In 1972, three years prior to earning a doctorate in Philosophy, he joined the course-design firm his grandfather F.G. Hawtree established in 1912 and, four years later, was elected a member of the British Association of Golf Course Architects. In 1991 he became a Fellow. Though he has plenty of original courses to his credit, Hawtree has built his excellent reputation as much by restoring, refining and retouching old classics - including several Open Championship layouts - as creating anything from scratch. He is a mild-mannered, even-tempered, level-headed man, three generations of whose family have been involved, to some degree or another, in over 800 golf projects.

But despite his modest, low-key demeanor and the vast number of courses he and his forebears have produced through the years, you better believe Hawtree was worked up about his role at Trump International Golf Links Scotland. This job wouldn't require him to noiselessly shift a bunker 10 yards further up a fairway at a quiet, nine-hole track in Denmark, but rather design an 18-hole links course in the Home of Golf with the developer noisily predicting it would become the greatest course in the world.

No doubt about it, for Hawtree and his company's standing, this job was a very big deal indeed.

"When Mr. Trump asked me to be the lead designer, the feeling was one of exhilaration," says Hawtree. "But the sense that I could throw away a heaven-sent opportunity always remained in the background. I was constantly aware of the awesome responsibility, but to be honest I was really just swept up in the excitement and enthusiasm of Mr. Trump and the team in Aberdeen."

Hawtree had not been Trump's first choice, however. Tommy Fazio, nephew of the Shadow Creek/Wadehampton/Alotian Club-designing and Augusta National-lengthening Tom Fazio, was Trump's initial hire having worked for "The Donald" as an independent contractor for the previous eight years, co-designing and constructing Trump courses in Bedminster, N.J., and Briarcliff Manor, N.Y. Tommy Fazio arrived in Scotland in 2006 and was there long enough to devise a routing plan before question marks over his suitability began to appear.

Anyone with even the smallest interest in the project knows how tough a time Trump had advancing his proposals through the courts. The idea of a $1 billion, 1,400-acre golf resort and residential village situated partly on sensitive, millennia-old sand dunes didn't go down well with some members of Aberdeenshire's Infrastructure Services Committee, which rejected Trump's planning application in November 2007 despite the fact the less powerful Formartine area Committee (Formartine is a "committee area" within Aberdeenshire) had granted planning permission just nine days prior.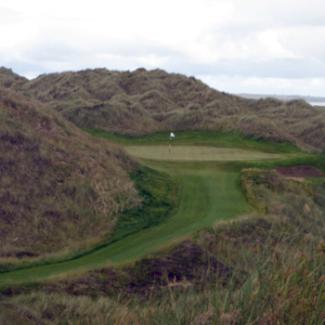 There's More Room to Land the
Ball than It First Appears at the Par 3 6th
Issues involving the dunes ecosystem in particular were a major sticking point for the eight council members, who voted against the project. And it was in this area that Fazio was an unknown quantity, especially in Scotland. It's probable that Trump, who had made no secret of the fact he wanted his course to one day host a big-time tournament - even the Open Championship, began seeing him as a liability. If his course was going to be built at all, Fazio would surely have to go.

"I believe Tommy was dropped because he presented a big issue for the environmentalists," says David Kidd, who had spent a couple of days wandering the dunes with Fazio in 2006 and was being spoken of as a possible replacement. "Sure, there was some talk about me taking over from Tommy, but working for Trump didn't really appeal to be honest. I obviously knew about his courses in the U.S. with the waterfalls and the major earth-moving, and all that stuff scared me. But it was such a great site; if I could have beaten my trepidation I might have gone for it."

But the waterfalls weren't the only thing holding Kidd back. According to the designer of Bandon Dunes, Queenwood and Castle Course, Trump insisted he sacrifice his work at Machrihanish Dunes - on the other side of the country - in order to get the Menie job. "We'd already started at Mach Dunes and Trump was clearly having all sorts of permitting problems," says Kidd. "And besides, there is a strong family connection at Machrihanish, so it was very special to me. I wasn't going to give it up."

In October 2007, with Kidd out of the picture and Fazio unlikely to appease the councilors' environmental concerns, Trump turned to Hawtree, who had been on the site for over a year working alongside Fazio as a consultant. Hawtree may not have had the big-name cachet a publicity-hungry "player" like Trump might have preferred, but he knew he was on safe ground with the Englishman as he came very highly recommended by Peter Dawson, Secretary of the R&A, who knew him well from his work at Royal Birkdale, Carnoustie, Muirfield, the Jubilee Course at St. Andrews, and the 2011 Walker Cup venue, Royal Aberdeen, among others.
"Martin was well-known to the R&A, obviously, and had a good reputation for treading lightly," says Kidd. "It was absolutely no knock on Tommy's ability as a designer, but Trump thought the authorities would have more confidence in Martin."

Hawtree doesn't mention the environmental factor in attempting to explain Trump's decision, citing Fazio's ongoing work in the U.S. and his own relationship with the R&A as the reasons for suddenly finding himself in the driver's seat. Whatever the truth, Hawtree was now charged with turning an almost inconceivably great site - he compares the dunes at Trump to those at Ballybunion, Royal Birkdale, Royal Aberdeen and Cruden Bay, but magnified "I don't know how many times" into the course Trump had been ballyhooing for 18 months but which was still two years away from being built.

In December 2007, the Scottish Government called in the Planning Permission application, saying it "required consideration at a national level." A year later, following a local public enquiry, it reversed the Infrastructure Services Committee's decision and granted Outline Planning Permission. Hawtree, or rather Trump, broke ground in October 2009, and full-scale construction finally began in earnest in July 2010. The architect would be on-site for two or three days every two weeks while his young Danish associate, Caspar Grauballe, put in double time.

Many of the holes were "given," says Hawtree, most notably the spectacular 14th but, he adds, the boss discovered the first and 18th, while a handful of Fazio's originals remained. The second, fourth, fifth, sixth, seventh, eighth, ninth, 15th, 16th and 17th holes, however, were personal to Hawtree's layout. "Mr. Trump needed a little persuasion on the 16th and 17th," he says.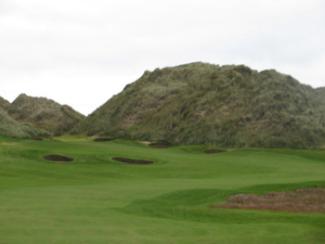 The Par-5 10th with its Wonderfully
Obscured Approach to the Green
"But once he had seen them shaped, he was delighted with them. He was very keen to have sea views, but 16 and 17 didn't really have them. That was part of my hole sequencing though - moving out of the enclosed space of the 15th, turning at the 16th, then moving progressively through and out of the valleys in easy gradients, onwards and upwards, before finally reaching the exhilarating climax of the 18th tee."

Several hundred thousand cubic meters of earth were moved but, Hawtree insists, that figure should not be misinterpreted. "We didn't move earth to alter the natural landscape," he says. "We needed to raise fairway floors out of wet slacks, and widen narrow 'V-shaped' valleys like that at the 14th. We created a new chain of dunes alongside the 11th, and corrected a considerable side-slope on the fourth fairway. Some material also went into forming shelter for certain greens such as the 13th."

The results, as just about every golf publication that has reviewed the course attest, are sensational. The course opened on July 10th thanks to a remarkable effort from superintendent John Bambury and his crew, who overcame a dreadful spring and early summer to get the course ready the week before the Open Championship.

Hawtree admits to feeling "anxious" as the public saw it for the first time, but "greatly relieved" at how it has been reviewed thus far. "The response from nearly everyone who played the course in the first two months was very positive," he says. "People were full of excitement and praise and said that if there were any negatives, just a little more time was needed to add the finishing touches."

Count David Kidd among those impressed. "If it isn't already, it soon will be a must-play," he says. "The construction is brilliant, and the holes fit superbly into the landscape. Martin did a really great job."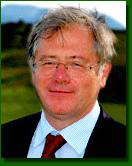 Martin Hawtree
Like any new course though, Kidd adds, Trump International Golf Links isn't quite perfect just yet. And it's true one or two minor criticisms have surfaced. "It's young and, because the weather during spring was so terrible, the ground is a little soft, which means the ball doesn't bounce like it should on a links," says Kidd. "The marram (grass) to the sides of the fairways (millions of sprigs were planted to help stabilize the dunes) is very thick, and at the moment I'm not convinced all the bunkers are positioned exactly where they should be."

Kidd is certain, however, these teething troubles will soon be overcome. "Martin will no doubt be making the odd tweak now and again," he says. "The marram will thin out, and the fescue become firmer. In a couple of years, I expect it to play exactly as a genuine links should."

Hawtree concurs. "It won't be long before the ground conditions are where I'd like them to be," he says.

Fair or not, Martin Hawtree went into the Trump project knowing only too well he would ultimately be judged on how this one course turned out. It wouldn't matter that clients from Britain to Ireland to Sweden to Spain to Turkey to Poland to Tunisia to Australia to Korea, the U.S., Canada and elsewhere have been singing his praises for nearly 40 years. If he hadn't made the most of those imposing dunes near Aberdeen, and Trump International Golf Links had turned out a little ordinary, the record books would have made much of this apparent failure. "Of course I knew how important this course was," he says, "and that it would probably determine how my career is judged when I'm gone."

He can rest easy. Having played the truly exceptional course he designed under Donald Trump's and the media's hypercritical, judgmental, analytical, nit-picking eye, golfers will praise the name of Martin Hawtree forever.

For more information about the course, visit www.trumpgolfscotland.com.
The Northeast Scotland Golf Trip

Besides Trump International Golf Links, the northeast of Scotland is full of great courses that make a golf trip to this part of the country every bit as memorable and rewarding as a trip to the better-known destinations of Fife (St. Andrews, Kingsbarns, Crail, etc), and Ayrshire (Turnberry, Royal Troon, Prestwick, etc).

About 30 miles north of Aberdeen is Cruden Bay, a course that many Americans come home listing as their absolute favorite. Pete Dye is said to have looked to the heavens and shouted "Okay, you win," when he played there. Nairn GC, 25 miles east of Inverness, celebrated its centenary 25 years ago and has been shaped by Old Tom Morris and James Braid in its time. The links, overlooking the Moray Firth, hosted the Curtis Cup in June, when the GB & Ireland team ended 16 years of American domination with a 10½-9½ victory.

A few miles further west is the magnificent Gil Hanse/Mark Parsinen-designed Castle Stuart, which has hosted the Aberdeen Asset Management Scottish Open the last two years and will do so again in 2013. Forty miles north of Inverness is Royal Dornoch, which anyone who knows anything about links golf cannot get to quick enough.
Tony Dear is an Englishman living in Bellingham, Wash. In the early 1990s he was a member of the Liverpool University golf team which played its home matches at Royal Liverpool GC. Easy access to Hoylake made it extremely difficult for him to focus on Politics, his chosen major. After leaving Liverpool, he worked as a golf instructor at a club just south of London where he also made a futile attempt at becoming a 'player.' He moved into writing when it became abundantly clear he had no business playing the game for a living. A one-time golf correspondent of the New York Sun, Tony is a member of the Golf Writers Association of America, the Pacific Northwest Golf Media Association and the Golf Travel Writers Association. He is a multi-award winning journalist, and edits his own website at www.bellinghamgolfer.com.