Tuesday at the 2008 PGA Championship: The Monster Slumbers
By: Jay Flemma
Cybergolf's Jay Flemma is in Michigan this week for the PGA Championship and will be writing daily updates. Here, Jay reflects on the challenge facing the players on the South Course at Oakland Hills. The Monster is ready for them.

The sky darkened without warning, but that happens in Bloomfield Township with alarming frequency. A drowsy, lazy-hazy day of summer - a mellow day more reminiscent of the easy-going South than the hardscrabble rust belt of Michigan - suddenly turned into roiling darkness. In an instant, the sky turned from glorious gold and bold, bright blue, to violent violet. Then the rain came, slow, yet steady and persistent. The only sound was the padding of the raindrops as they hit the turf.
It didn't matter. The golfers had long finished, surrendering the course to the grounds crew. An army of red mowers emerged in parade formation, split into divisions, and then performed their precise military maneuvers in the fairways, a carefully choreographed dance more akin to the movement of bees in a hive. Then they seamlessly reformed the line and retired before the first of the weather hit.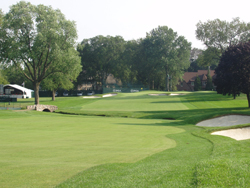 Finally, man and machine were gone, and the bloodthirsty Monster, the great, grassy guillotine which is the South Course of Oakland Hills Country Club, was left alone at last, slumbering under a coffee-black sky. Her scales shedding raindrops, her brute, sinewy arms bursting with shaggy rough, and her teeth - those ferocious green contours - gleaming razor-sharp and glistening with venom. That's when you finally sensed her breathing. You couldn't hear it, of course, but alone in the newly minted and rapidly-growing storm, watching the dappled shadows retreat in fear to the oppressively low-hanging clouds and deepening night, that's when you could really feel the sheer fury of Oakland Hills, chained tightly for now, but ready to erupt ferociously and without warning.
All day, the beast endured the players quietly as they inched along her massive frame: up and down her broad shoulders, across her powerful haunches, within snapping distance of those cruel jaws. They even played across her piercing eyes - eyes of the basilisk, eyes that decipher the faintest movements on far horizons, and then kill instantly with the speed of a cobra. Soon, the cold eyes will open and narrow into a fearsome sneer. Then the hunt will begin and the hapless players will know the bloodthirsty fury of her attack.
For over 50 years, ever since Robert Trent Jones turned kindly Dr. Jekyll - a warm and inviting Donald Ross course over 400 acres of rolling farmland with fascinating greens - into Mr. Hyde, a knuckle-dragging, hulking behemoth, the players have had a healthy respect, even fear of Oakland Hills.
"It has the potential to be the toughest course we play this year," admitted Woody Austin grimly. "The greens are way more severe than Pebble Beach. The fairways are just as tight and the rough is pretty close," he continued, shaking his head as if adding unnerving sums on his scorecard. "So if they get these greens at any pace and throw in some bad weather; if it dries out, or gets some wind, no question it could be the toughest," he finished, trailing off his answer.
The deep moment of silence that followed Austin's answer spoke volumes about the feelings of everyone in the room. For goodness sake, Austin didn't even bring up the brute length of the course. He needed driver on the 257-yard, par-3 ninth and was still short of the green.
But brute length and fierce rough are not her only defenses. Part of Oakland Hills's reputation is from her criminally narrow fairways, squeezed further in the landing areas by "wasp-waisting" - pinching the fairway right where a driver would finish, instantly bringing the deep flash-faced bunkers and tangled rough into play each time a player considers hitting driver. "I think the guys who come here this week and hit the ball really accurately off the tee are going to be the guys who come out on top this week," said Masters champion Trevor Immelman tartly, as though already frustrated that The Monster was forcing him into her game plan rather than his own.
"At Firestone last week, the way it was set up, you could miss a fairway and still advance a ball near the green, and then you could allow your short game to save you on many occasions," Immelman began, gesturing pointedly with his hands. "Whereas here this week if you hit it in the rough, it's almost impossible to get the ball on the green. So the guy who drives the ball the straightest here is going to have a huge advantage."

Yet, the adventure only begins upon reaching the greens. While not as relentlessly treacherous as Oakmont or Winged Foot, their twists and turns instill as much fear. "These greens are very, very slopey, so they are probably the biggest defenses out there on the golf course," said a respectful Ian Poulter, fresh from a runner-up finish at the British Open on another fearsome layout, Royal Birkdale. "We're trying to hit it as close as we possibly can, but on some of those greens, you're going to need to leave yourself a 30- or 40-foot putt, and with how slopey they are, it's going to be hard to two-putt."

Poulter is referring to the strategy Tiger Woods used last year at Southern Hills with great success. At the 2007 U.S. Open at Oakmont, Woods explained that left himself putts of eight to 15 feet, but they had four to five feet of break. "You're just not going to make all of those," he declared candidly. At the PGA Championship at Southern Hills, another course known for insidiously tricky greens, Woods tried a new strategy. "I hit to the flat part of the greens. Even though I had longer putts - 20, sometimes 30 feet - they were straight," he concluded triumphantly, pausing to glance at his reflection in the squat, shining silver of the Rodman Wanamaker Trophy.

A similar, more defensive strategy might work at Oakland Hills as well: skirt danger as much as possible, keep away from the beast's sharpest fangs and longest claws. Battle her cautiously, wisely and then hope to get hot with the putter. "Whoever putts best this week is probably going to win this golf tournament," Poulter predicted.

While Poulter says the best putter will win, Immelman says the straightest hitter will. Jim Furyk disagrees with both. "I don't think it's a bombers' paradise where big hitters are favored," he explained earnestly. "I think it's more about working the ball . . . getting the ball in the fairways, then getting close with your irons. But the course is long, and even longer because it's a little soft from the rain we've had."

Three different players, three different facets of the game that they each thought were the key. The Monster rewards the most complete, phlegmatic player. "The best player's going to win this week," said an unfazed, but respectful Kenny Perry, who's been demonized himself for the last few weeks. After skipping the British Open to play in the U.S. and improve his chance to play at the Ryder Cup in his home state of Kentucky, some writers and commentators would have you believe he sleeps in earth-filled coffins all day, avoids running water and garlic, and turns into a bat at will. He took it all in stride though. "Nobody's going to be lucky enough to escape hitting poor shots and survive this golf course . . . with all the swales and slopes on these greens, I think over-par is going to win, I really do," he finished, almost with resignation.

Two-time defending British Open champion Padraig Harrington agreed. "This year, it feels like a U.S. Open. It's like they switched the two of them around this year."

Wednesday is the deep breath before the plunge. The first bites come Thursday. But Oakland Hills will not simply emerge like a hungry dragon. She won't make the same mistakes of hubris that proved the downfall of Tolkein's prideful lizard, Smaug, Chiefest and Greatest of Calamities. Instead, she will lie still for a day, maybe two, and lull some players into false confidence. She'll let then have a few birdies, perhaps at the short par-5 second hole or the downhill fourth. Maybe a few players will wield white-hot putters. Maybe some will spar and parry, playing defensive golf - minimizing mistakes and hoping The Monster will turn her attention to an easier victim, leaving him standing last.

Maybe someone will play Hogan a la 1951: groove their swing, hitting both precise approaches and perfect putts, and pierce her armored scales. But that's doubtful. Twenty-three years ago, T.C. Chen had a four-stroke lead after four holes in the final round in 1985 and seemed destined to be the next Hogan. Then, with a disemboweling flash of steely talons and a growling roar that was the deepest crash of thunder, he didn't have the lead at all. All four shots were squandered at the par-4 fifth - a 490-yard beast with a diagonal-cutting creek bisecting the fairway. He was never seen or heard from again.

Bleed to death a cut at a time or succumb quickly to a single fatal blow, The Monster can dispatch you either way. She has one more day to gather her full strength, and then we'll see who can withstand the full might of her fury. Only a complete player can approach her lair and return unscathed. Furyk and Harrington are strong on every facet. Perry, who's personal bugaboo has been his putting, has been putting better than any other time in his life. He'll rise or fall on that razor's edge, as will every other player. The Monster will find your weakness, no matter who you are, no matter what it is and ruthlessly exploit it.

Now, the new crescent moon blazes red, glowing like a brazier in the sky, giving the world an eerie cast. The dappled shadows that veiled The Monster's lair have retreated in fear, and, where the course's heaving muscles can be seen, a surreal bloody glow seeps into the earth. She's sleeping, but soon will wake, savoring the scent of the meal to come, and rise to battle. There's prey to stalk and it's time to clean her claws.


Since launching his first golf writing website in 2004, http://www.jayflemma.thegolfspace.com, Jay Flemma's comparative analysis of golf designs and knowledge of golf course architecture and golf travel have garnered wide industry respect. In researching his book on America's great public golf courses (and whether they're worth the money), Jay, an associate editor of Cybergolf, has played over 220 nationally ranked public golf courses in 37 different states. Jay has played about 1,649,000 yards of golf - or roughly 938 miles. His pieces on travel and architecture appear in Golf Observer (www.golfobserver.com), Cybergolf and other print magazines. When not researching golf courses for design, value and excitement, Jay is an entertainment, copyright, Internet and trademark lawyer and an Entertainment and Internet Law professor in Manhattan. His clients have been nominated for Grammy and Emmy awards, won a Sundance Film Festival Best Director award, performed on stage and screen, and designed pop art for museums and collectors. Jay lives in Forest Hills, N.Y., and is fiercely loyal to his alma maters, Deerfield Academy in Massachusetts and Trinity College in Connecticut.