Tufts Archives - THE Key Piece to Pinehurst No. 2 Restoration
By: Dave Droschak
The older I get the less a fan I am of museums. Heck, I'll be a relic soon myself. I tend to gravitate toward new and sleek, not old and musty.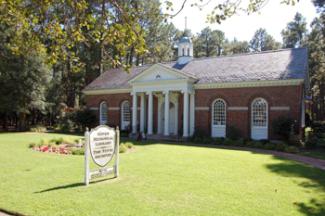 The Tufts Archives
But there is a big part of my heart that contradicts the left side of my brain. I am nostalgic and sentimental - a softie if you will - when it comes to the inspirational past. So I'm all-ears whenever Ben Crenshaw wants to chat about the Tufts Archives and how instrumental the museum - which is centered on golf, Donald Ross and countless other fascinating items - was in his restoration work of Pinehurst No. 2.

And if you've ever been down the narrow hallway to the back of the Given Memorial Library off Cherokee Road in the Village of Pinehurst you'll completely understand why it was akin to "an architectural Christmas" for Crenshaw and architect-partner Bill Coore when they sat down at a small table in the Tufts Archives and began pouring over original Ross drawings, notes and photos of No. 2.

The restoration project, which will be highlighted during the 2014 U.S. (men's and women's) Opens at the resort, literally unveiled itself right before their eyes as if Ross was himself present, guiding his pencil over the yellowed paper to produce his most famous Sandhills masterpiece.
"God, everything was so magnificent to look at," Crenshaw said of the Ross renderings, and black-and-white photos from the 1930s and '40s. "I can't think of any places that even come close to what Pinehurst has at the Tufts Archives. Whenever you go to a club and you may be part of reconstruction or doing a few things to spruce up courses, the first thing you love to find is an old aerial of some period - and then you look for blueprints if you can find them. But artifacts are invaluable for history . . . and then bringing things forward."

It's probably not an understatement to speculate that the Tufts Family could have been featured on the current TV show "Hoarders," as the resort founders collected and saved just about everything that passed through their fingers, dating to the 1890s.

"And to our good fortune," Crenshaw said.
Inside the Tufts Archives
The nonprofit Tufts Archives is regarded as one of the most unique and authentic "museums" in the world. Want to see a Ross autograph? There are plenty on hand. How about a set of clubs Ross hand-made for his 4-year-old granddaughter in 1913? Check. Even James W. Tufts' marble-and-silver, 19th century Arctic Soda Fountain machine is front and center, and a favorite of elementary school children during tours of the archives.

"The Tufts had this sprawling resort and owned all of the buildings, so there was plenty of places to store things," said Tufts Archives executive director Audrey Moriarty. "Richard Tufts' attention to detail was amazing. We have ledgers in the basement from the hotel; we have ledgers from Ross that he signed when he came to visit."

And virtually everything in between.

Plans for an expansion after the 2014 U.S. Opens forced Moriarty and her dedicated staff of volunteers to begin inventory this past summer. They're still logging items as we speak. There are also approximately 150,000 images on hand, and Moriarty is more than halfway (78,000) to digitizing them all.
"Yes, we do take this place personally," she said. "Somebody said something the other day about punching out and we laughed. I have not punched out since 2002. It grabs you because we can read about the people in their own words and there are so many wonderful letters in here, like from Donald Ross to his staff. It is such a great way to learn about people. I feel sorry for the next generations who won't get to read letters. They don't really exist anymore because of all the emails and texting."

The area's tradition that led to National Historic Landmark status began in 1895 when J. W. Tufts first built Pinehurst and, then a few years later began a grand experiment when he installed the resort's first nine-hole course. It continued with the Scotland-born Ross, who until his death in 1948 designed and developed approximately 400 courses in Pinehurst and around the country.

However, the Tufts Archives is much more than golf and Ross. It details every twist and turn of the area that makes the free entry into the archives truly priceless and well worth a few hours of your time on a rainy winter day.

The Tufts Archives has more than 80,000 negatives from the John Hemmer collection. Hemmer was the official resort photographer for more than four decades from the late 1920s. His photos promoted Pinehurst on the front, sports and society pages of newspapers across the U.S. The maps at the archives include the original drawing for the layout of Pinehurst, created by Frederick Law Olmsted, who also designed Central Park in New York City. A leather case Ross used to keep his scorecard in is displayed, as are ticket stubs to the 1925 Yale vs. Harvard football game at Soldier Field in Chicago.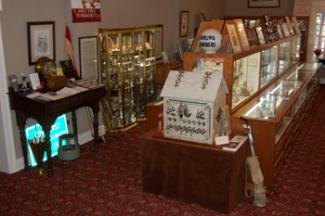 Some of the Gleaming Displays of the Tufts Archives
The Tufts Archives is now privately funded, and the Village of Pinehurst in the last decade has begun to offer financial support, making a large commitment to the expansion that will take the museum from 7,000 to 21,000 square feet in the near future.

"The Village Council and the mayor realize what we do for the community and they are very much behind our plan," Moriarty said. "History is something that kind of grows on you," she added. "When you come in here for the first time we get a lot of people saying the same thing, 'Oh my gosh, I didn't know this was here - you have such neat stuff.' "

Most of the "stuff" is one-of-a-kind originals that can never be replaced, so placing a value on the museum is virtually impossible, noted Moriarty, who handles some items with gloves to help in the preservation process.
"I was frightened when I first came in here and saw everything, and thought if there was a fire everything would be lost, so it was a pretty high priority for us to get everything digitized," she said. "And we do have a disaster plan; if the place suddenly got a warning that in two hours there was going to be a hurricane or a mudslide what would you take? We've identified those items."

Virtually 100 percent of the museum is irreplaceable. "I have a set of CDs at home, we have a set locked in our safe and then we have them digitized. I think we have them protected pretty well," Moriarty said. "There are other sports museums and other archives and probably some private archives that are extensive, but I think anyone would say there is no place like this. This is such an unusual combination with the Ross documents and 75 years of the growth of the resort. Then add to it everything documented with photography (and) we pretty much have everything covered.

"We're not like the Pro Football Hall of Fame with all these diamond and gold rings, but some things we have are truly valuable because once they are gone they are gone, they will have been lost in the annals of American history."
The Tufts Archives sells various items on-site and posts online pricing for postcards, drawings and posters - even a limited amount of script money from the 1930s - to help fund various projects.

For more information, visit www.tuftsarchives.org.
David Droschak has covered golf in the Carolinas for three decades, mostly with The Associated Press, where he worked for 20 years as AP sports editor in North Carolina prior to launching Droschak Communications, a full-service marketing and PR firm based in Apex, N.C. Dave, 51, has covered numerous major golf tournaments, including the 1999 and 2005 U.S. Opens at Pinehurst Resort, and is a longtime member of the Golf Writers Association of America.

Dave was honored with the Sports Writer of the Year award in North Carolina in 2005, and is currently editor of Triangle Golf Today (www.trianglegolf.com), a print and online publication regarded as the "No. 1 Source for Golf News in North Carolina." He is golf editor for Pinehurst Magazine, an award-winning glossy publication, and was instrumental in helping launch Triangle Golf Deals powered by Twongo (www.trianglegolfdeals.com) in the fall of 2011.

Dave also is the co-founder of www.HurricanesBeat.com, a website devoted to coverage of the Carolina Hurricanes, an NHL franchise he has covered since the team moved to North Carolina from Hartford in 1998.

Dave grew up in Penn Hills, Pa., about five minutes from the famed Oakmont Country Club and was introduced to the game of golf as a caddie at Green Oaks Country Club in nearby Verona, Pa.

Dave was the co-captain of the 1978 Penn Hills state championship baseball team, was a pitcher for the 1982 Atlantic Coast Conference champion University of North Carolina Tar Heels, and pitched professionally for two years in the St. Louis Cardinals organization. He is a member of the Penn Hills High School Sports Hall of Fame, which also includes NBA coach George Karl and former four-time Pro Bowl offensive lineman Bill Fralic.