Twin Oaks Golf Club
One of the ways a golf course can set itself apart is through a unique layout. In San Diego's North County, Twin Oaks Golf Club gives you just that. The course isn't one of those places that has the same look on nearly every hole – you know, the ones that are about as interesting as going to a meatloaf cook-off! At Twin Oaks, the course will get your attention. Opened in 1993 and designed by Ted Robinson, Twin Oaks was a big hit when it debuted, and brought some new excitement to golfers in the North County. The excitement is still there.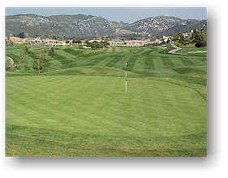 The layout starts out tight and then opens up a little bit for a while, and gets somewhat hilly on the front nine. The back winds you around the foothills of San Marcos in a very beautiful park-like setting.

There's a certain amount of risk and reward on this course that keeps your mind in the game for the entire 18-holes. If you're playing an early-morning round and forget to drink your coffee, don't worry – the first three holes will wake you up in a hurry. Holes No. 1, No. 2 and No. 3 respectively go par-4, par-5 and par-3 and are all fairly tight, with accuracy being paramount for a good start. No. 3 is 194-yards and will make you wish you had hit a few more shots on the practice tee. Even No. 4 from the blues will give you that feeling of having to drive your ball down a building-lined alley.
You're going to want to think about leaving the driver in the bag some of the time if you want to have a score worth bragging about at the 19th hole. It is a fair course, but you can get in trouble in a hurry if your not careful. Twin Oaks measures out at 6,535 yards from the blues with a 71.2 rating, a 124-slope and has a good amount of elevation change to keep things interesting.
The fairways and the greens are in as good a shape as ever. The greens aren't as fast as putting on the kitchen floor at home, but they are very smooth and roll very true. They don't have a lot of undulation to them either, but they do have some mounding that can make things tricky. A few of the dance floors are double tiered, and with a tough pin placement, can prove to be easy three-putt possibilities. You can fire at the pins most of the time; these greens stick pretty well.

You'll need that Velcro feeling on the 9th green, it has water all along the front and if the pin is in the front, good luck, because if you don't stick it tight, you'll have nice little down-hiller to get your blood pressure going. After you grab a dog and a drink at the turn, take an antacid tablet, because you start off the backside with a 207-yard par-3 from the blues, and you don't want to get a case of the "pushes" here, or it's hasta la bye-bye to par.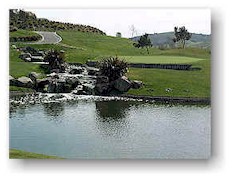 The next few holes won't scare you too much, but then get your "A" game out if you want stay ahead in any wagers you might have, 15 through 18 are going to test you. The par-4 15th has two narrow fairways to land on and a slope in-between. Did I mention it also doglegs about a 90-degrees to the left, over water, and if you think about cutting it, make the sign of the cross and be careful of the homes down the left hand side. Your ball will have to fly them for any chance at landing on something green! Tiger and the boys could probably do it, but it's has high a percentage shot as shooting free throws with a bowling ball.
Hole 16 is a 555-yard par-5 with heavy brush and trees down the right side that leads you over to No. 17, which is a 194-yard long par-3, also with nowhere to land on the right side, except in trouble!
If you're up on your match on No. 18, don't be surprised if you hear the word "press!". This par-5 finisher could finish you if you don't bomb a drive and position yourself nicely with your second shot. Your uphill third shot, on this 561-yard monster, is into a two-tiered green with boulders and other unfriendly landing spots. If you miss the green, get ready to open the wallet up and start crying.
Twin Oaks not only offers you great golf, but also has a lot of room for your group to hold meetings, parties or banquets of up to 250 people. The 2,600 square foot facility is fairly new, and events can be catered to meet your needs. It's also a great place to have a wedding; it has a patio area that overlooks the golf course. Tournaments are always welcome and can accommodate up to 350 players. For your practice needs, there is a great all-grass driving range to tune your game. Instruction is also available.
If you're tired of playing courses that have holes as different as socks in your drawer, get out to Twin Oaks Golf Club, and leave those humdrum layouts behind.