Two Austin-area Private Clubs Boast Top Layouts
By: Steve Habel
Things are tough all over the golf world, but perhaps none of the segments of the industry are more at risk than newer, less established private clubs.
That's not totally the case in Central Texas, where - thanks to heady planning, an ever-changing rollover of new residents spurred by the region's tie to high-tech industries, education, state government and just plain luck - the economic hardships being endured in other areas have been minimized here.

Two such private clubs, Lakecliff Country Club in Spicewood and Twin Creeks Country Club in Cedar Park, have survived and even thrived during this challenging economy. Both venues opened in 2003 and benefited from infusions of capital and stability. But a key to their success is rooted in the fact that the two courses are solid and fun to play.

It also helps to find a plan and to stick to it, an aspect that has been at the forefront of both clubs since their founding. We were able to tee it up at both courses during a four-day period in October when Central Texas was enjoying its best weather of the year and about a month after a solid week of rains produced excellent conditions, with roughs thick, fairways green and putting surfaces at their optimal speeds.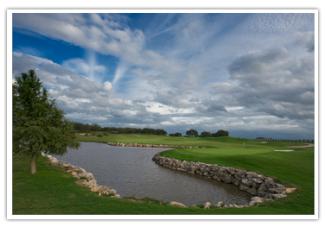 Lakecliff's 18th Hole (photo by Carlton Wade)
Blueprint for Lakecliff Found in Neighboring Course & Founder's Keen Eye

When developer Bobby Day decided to build another golf course community in the western Austin suburb of Spicewood, he already had an excellent formula in mind. Day had acquired a piece of land almost right next door to the neighborhood that surrounds Barton Creek Lakeside and its Arnold Palmer-designed track, a development that Day had marshaled and marketed years previously as Hidden Hills before the property was bought by Barton Creek Resort.

Day, who passed away in May after a long battle with cancer, went to Palmer for the design of Lakecliff, and the two placed the course on a rolling piece of ground where the Colorado River meets the Pedernales River on Lake Travis.

"This is the last piece of property like this on Lake Travis so I wanted to make sure I didn't mess up anything," Day said in 2008. "Palmer and (clubhouse architect) Dick Clark and I worked together pretty well in the past, so I wanted to go with a proven team so that everything right and first-class. I think we have done a pretty good job of those things."

Lakecliff is routed on 180 acres and features bentgrass greens, well-placed bunkers, 12 lakes and a handful of waterfalls along with views of beautiful Lake Travis. The facility is also marked by stone bridges, sheer cliffs and wide fairways, while every twist and turn bears Palmer's unmistakable touch and flair.

The course has great sightlines, and it's easy to walk. The property is laid out so there few residential lots are right on the course, which makes for an enjoyable feeling of solitude. Lakecliff plays to a par of 71 and at 6,724 yards from the back tees, with a rating of 72.2 and a slope of 123.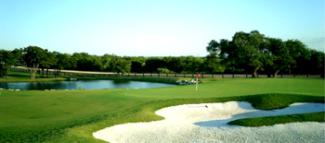 The 11th Green at Lakecliff CC
The round begins with two medium-length par-4s to get the muscles loose and swing in rhythm. You then move to a 172-yard par-3 bordered by a creek on the front and left and sand on the right, a combination that makes an accurate tee shot crucial. No. 4, a 500-yard par-5, asks for a tee shot over a 230-yard carry to a slightly uphill fairway and an approach to the green that must hold an odd-shaped green and carry a bevy of sand bunkers.

The fifth is the hardest hole on the course by handicap and - at 431 yards - makes a par-4 an excellent score. Temper your swing on the eighth, a 333-yard par-4 with a mound on the left side that hides a green that is downhill and bordered by a small lake front and right. Brave souls may try to hit the ball over the mound and hope for a roll to the green, but you have to place the drive in the perfect spot because the slope of the right side of the fairway will redirect the ball into the water.

The front side ends with a 532-yard par-5 with out-of-bounds on the right for any long hitters that slice their shot a bit too much. The green is one of the largest on the course, and a little course management can lead to a birdie as you head to the back nine.
After the fairly straightforward 406-yard par-4 to begin the par-35 inward side, you reach the hole Palmer considers his favorite on the course - the 439-yard, par-4 11th. According to Day, "The King" says the hole reminds him a lot of No. 11 at the Augusta National Golf Club, so par is quite a challenge.

Immediately following is the par-3 12th, a 222-yard tester that's all carry over water. The lake borders the front and right edges of the green, which can sport brutal pin placements. "Just stepping to the tee gets my pulse racing," Day once told me.

No. 15, a 532-yard, par-5, brings the "big dog" back into play, and sets the table for the 16th, a 389-yard, dogleg-right par-4 where you can cut the corner if hit over or around the tree that stands sentinel right of the fairway. No. 17 is a 180-yard par-3 with a narrow but deep green that leads a three-putt if you don't get the your tee shot close to the hole.

After 17 holes up and down the rolling canyons and through the sand and over the water, you think you've seen just about everything Lakecliff has to offer. But the round's real challenge is still ahead, as the 462-yard, par-4 18th looms, one of the best finishing holes you will ever play. Designed to be under the microscope on the final day of a tournament, this closer utilizes a huge lake and an undulating fairway to protect its green. Its length and a prime Sunday pin placement in the back-right corner create the need for long-iron carry over the lake to a tiny landing area guarded at the back by two bunkers.
Lakecliff has one of the area's most unique and functional practice facilities. It incorporates three tee lines at opposite ends of the range, an area of uneven lies, a wedge-target area, two huge putting and short-game greens and three bunkers to work on a vast array of shots.

In April 2008, Lakecliff was bought by former Major League baseball player Jeff Kent, who lives about 20 minutes east of the course in Bee Cave. Kent has infused the track with some needed money, assuring its stability and many more excellent rounds to come. For that, we are all very appreciative.

For more information, visit http://www.lakecliff.net/default.asp?PageLink=10&Visitor=161981.
Aerial View of Twin Creeks' 5th Hole
Canyon Holes are Highlights of Twin Creeks

Some 20 miles north and west of Austin in the burgeoning city of Cedar Park, Twin Creeks Country Club is the centerpiece of a huge residential development that's also known for having one of the region's most demanding courses.

Marketed as a Fred Couples Signature Course and designed by Lee Schmidt and Brian Curley, Twin Creeks' fairways meander through low-lying ravines, with long views of unspoiled Texas Hill Country sprawling beyond its rocky ridges.

Two creeks traverse the course, enhancing the experience with stream crossings and natural water elements. "We set out to create an exceptional golf experience for every level of player, with a delicate balance of challenge and fun created by the positioning of the holes in their natural scenic settings," Schmidt said. "Playing Twin Creeks is what it would feel like if you just happened upon a golf course carved out of nature."

Playing to a par of 72 and 7,033 yards from the tips, Twin Creeks features multiple evaluated tee boxes and severe drops to the fairway on several holes. The fairways are lined with century-old oak and pecan trees, follow or cross ravines lined with limestone outcroppings, and a few homes line a couple holes on the front.

Bring you're "A game" with you here as the track is rated at 75.7 and sloped at 142 from the tips, and there is little drop-off on its demands when you move up to shorter tees.

The front nine begins at the bottom of a deep canyon before moving back to and along a ridge for a few holes before heading back down, in the process offering some majestic views and dramatic elevation changes. Holes five through nine define this outward side to make it unique and enjoyable to play.

No. 5, a 593-yard par-5 is perhaps the course's most picturesque hole, dropping some 150 feet from the tee atop the ridge to the valley and a tight fairway. Once in the fairway, you're faced with a second shot over a creek to a well-protected green, making course management and club selection critical. Nos. 7 and 9 are also stunning and tough. The seventh has a blind, uphill tee shot before descending almost straight downhill through a steep and narrow fairway to a shallow green with trouble rear.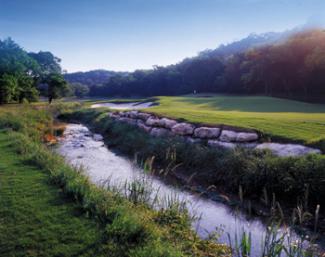 Twin Creeks Country Club
The ninth is a 208-yard par-3 that requires a very accurate shot off a huge elevated tee box to carry a vast natural area and nail a small green and landing zone some 100 feet below.

The back nine plays along the ridge and is defined by the creeks that run alongside and cut across seven of the side's fairways, sometimes twice on the same hole. Smart play is the key here, as a wonderful mix of short holes that make you think (such as the 308-yard par-4 13th - which cannot be tried in one shot because of the creek's location in front of the green) and make you want to swing away.

The 412-yard 10th, which is seemingly easy because of its wide fairway and a lack of bunkers but can play two clubs more than you think because of its location on the edge of the canyon, and the 627-yard par-5 15th - a hole that requires three great shots to reach the green in regulation - fall into the latter category.

Twin Creeks Country Club is owned by the Dominion Golf Group, an Austin-based company that also owns and operates River Place and Onion Creek in Austin, the Dominion in San Antonio and Lantana Golf Club in Denton.

Twin Creeks is very challenging, scenic, and fun to play. The course's routing, through 195 acres of creeks, doglegs, blind shots, strategically placed and huge fairway bunkers, fast sloping greens, thick rough and rolling, contoured fairways combine for a real test.

For more information, visit http://www.twincreeksclub.com.
Steve Habel is one of Cybergolf's national correspondents, contributing news stories, features, equipment and book reviews and personality profiles from his base in Central Texas. He is also the managing editor for Texas CEO Magazine and works as a contributing editor for Horns Illustrated magazine, a publication focusing on University of Texas sports. He also writes a blog (www.shotoverthegreen.blogspot.com), which features news on golf and the Longhorns, and another (www.checkinginandplayingthrough.blogspot.com) on his many travels, which took him across the nation and to 105 different golf course in 2009. Habel is a member of the Golf Writers Association of America and the Texas Golf Writers Association.