Two Courses Join Idaho Golf Trail
Two new courses - Jug Mountain Ranch Golf Course in McCall and Falcon Crest Golf Club in Kuna - have been added to the Idaho Golf Trail for 2008. The additions bring the number of Trail courses to 10.
With the two courses, the Trail has been reformatted from two "loops" (North and South) to three:

* Central - Osprey Meadows at Tamarack Resort, Jug Mountain, Whitetail Club and MeadowCreek
* Southern - Sun Valley Resort, BanBury and Falcon Crest
* Northern - Circling Raven Golf Club, Coeur d'Alene Resort Course and StoneRidge
The reformatting is designed to enhance visitors' trips. Golfers can now enjoy more options within a tighter area.
Some of the highlights of the Idaho Golf Trail include:
* The debut of Sun Valley's new course, which is unique from a real estate perspective. While most resort courses are built in valleys with real estate and resort lodging enjoying the best vantage points, Sun Valley's new nine now under construction has the premier location - on high ground that offers panoramic views. This strategy stems from owner Earl Holding wanting to continue Sun Valley's legacy of preserving the beauty and aura of an area which has appealed to ski-and-golf resort travelers for decades. The new hole offers spectacular views of the Sawtooths, Boulder and surrounding peaks.
The new nine will debut this summer (with a second nine in 2009). It was designed by Donald J. Knott of Knott Brooks Linn Golf Course Design Group in California, the lead architect during the Robert Trent Jones Jr. design firm's renovation of Sun Valley's original 18 holes in 1978-79. In addition, Sun Valley will debut a new clubhouse and Nordic Center this summer along with a Symphony Pavilion, which will showcase mountain and meadow views, an expansive new practice facility, and a new 18-hole putting course. Named "Sawtooths" because it contains a series of mounds which mimic its namesakes in miniature, Sawtooths is patterned after the putting course at St. Andrews ("Himalayas").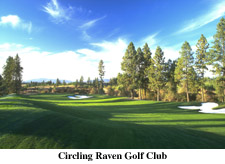 General Manager Wallace Huffman recalls a trip to St. Andrews when he and his mates were joined in a putting match by some Scots on the Himalayas. The drama and formality of the match - after cocktails while wearing sports jackets - struck a chord with Huffman, who envisions a similar experience for players at Sawtooths.
* The addition of Jug Mountain is good news for golf travelers as it brings into play Osprey Meadows at Tamarack Resort (RTJ Jr.) and Whitetail Club (Andy North-Roger Packard), both which are with 30 minutes apart. All three courses offer excellent conditions, exemplary customer service and inspired course designs amid spectacular mountain, meadow and lake scenery. All three facilities are devising stay-and-play packages now that Jug Mountain has been added to the Trail.
* Circling Raven Golf Club and Coeur d'Alene Resort Course continue to garner acclaim as among the best tandems of resort courses in North America given their proximity, sublime layouts, and value-priced stay-and-play packages.
Courses along the Idaho Golf Trail

Idaho Golf Trail (800-84-IDAHO, www.idahogolftrail.com)  
Sun Valley Resort (800-894-9941, www.sunvalley.com)  
Circling Raven Golf Club and Coeur d'Alene Casino Resort Hotel (www.circlingraven.com,  www.cdacasino.com, 800-523-2464)
Osprey Meadows at Tamarack Resort (www.tamarackidaho.com, 877-747-5676)
StoneRidge Golf Course (www.stoneridgeidaho.com, 800-952-2948)
BanBury Golf Club (www.banburygolf.com, 208-939-3600)
Coeur d'Alene Resort (www.cdaresort.com, 800-688-5253)
Whitetail Club & Resort (www.whitetailclub.com, 800-657-6464)
MeadowCreek Golf Resort (www.meadowcreekresort.com, 208-347-2555)
Falcon Crest Golf Club (www.falconcrestgolf.com, (208.362.8897)
Jug Mountain Ranch (www.jugmountainranch.com, (208-634-5072)