Two Doak Tracks in Michigan Great Intro to His Work
By: Steve Habel
Having never played Bandon Dunes and with most of my travels focused below the Mason-Dixon Line and west of the Mississippi, until last fall I had not teed up on a golf course crafted by architect Tom Doak.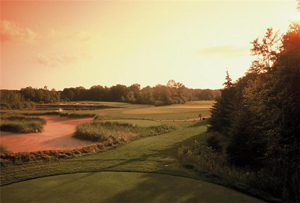 Lost Dunes at Sunset
That situation was rectified with rounds at three Doak courses - Black Forest at Wilderness Valley and Lost Dunes in Michigan, and The Rawls Course at Texas Tech in Lubbock - during a three-month stretch. I have to say that I now at least have an idea for why all the kudos have been thrown in Doak's direction.

Since hanging out his shingle in 1992 after years of work for Perry and Pete Dye, Doak has designed or renovated upwards of 30 golf courses that rank among the world's best, including Barnbougle Dunes, Ballyneal, Cape Kidnappers, Sebonack and Pacific Dunes. Seeing his company, Renaissance Golf, attached to a golf course means you'll be playing a track that uses the land without over-manipulating it.

Doak's "minimalist" approach is appreciated for its respect to existing terrain, a preference for shot-making skills rather than unbridled power, and economical construction that helps keep green fees reasonable.

Such is the case with the three Doak tracks I played. The Rawls Course - which was born out of a Lubbock cotton field - is an example of land used at its finest. See my feature on The Rawls Course at www.cybergolf.com/golf_news/doaks_work_at_rawls_course_exceeds_expectations.

I went to Michigan for a little more education on his work and was blown away by what I found.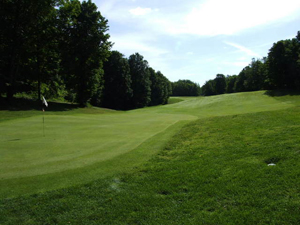 Black Forest Golf Club
Black Forest is Minimalist but not Minimal

Doak's first at-bat as a solo designer is the stunning creation at Black Forest at Wilderness Valley, set in the northern portion of Michigan's Lower Peninsula in Gaylord as part of a links-rich area known as the Gaylord Golf Mecca.

Here Doak's work is minimalist but not minimal as the 7,044-yard, par-73 course (there are three par-5s on the back nine) winds though thick stands of maple, pine and oak en route to greens complexes and putting surfaces that are dramatic and sometimes extreme in contour. Opened in 1992, the course occupies nearly 400 acres and is serene and isolated. Players won't be hitting through tunnels in a real estate development because there's not a single house to be found.

Black Forest, which carries a rating of 74.5 and a 145 slope from its back set of five tees, is all about angles; players don't have to hit it super-long but you have to know where to place your shots. You can hit driver on almost all the par-4s and -5s (and maybe on the uphill 238-yard par-3 fifth if there's a facing wind) as Doak designed the course to feature one landing zone while tempting you with another.

Adding to Black Forest's assets are its bunkers (there are more than 100 to deal with here). They represent a "retro" approach that launched an industry trend. Prior to designing Black Forest, Doak traveled up and down the length of California to analyze bunkers on the Golden State's great coastal courses, then returned to Michigan and started to build bunkers in the same style.

Black Forest's opening stretch - ending with the aforementioned fifth - is a real test. Doak says that even a good player is likely to be a couple over par in the first five holes.
None of the quintet of par-5s is excruciatingly long, but all of them are better played conservatively for birdies and pars instead of eagles. Black Forest also sports a quartet of short two-shotters, which give you a chance to hit a wedge shot close, and two of the par-3s are less than 197 yards. Throughout the course, the combination of trees, sand, grasses and elevation changes are a veritable feast for the eyes.

Be sure to select the right stick to cover the pin on the 443-yard par-4 second, as the green drops mightily from back to front and a hole cut at the rear can play as much as two clubs more. The 166-yard 8th is the most-photographed at Black Forest as the putting surface is perched on a ridge and protected by greenside bunkers molded into the side of a hill.

When players get to Black Forest's amazing 547-yard par-5 10th they'll be wowed by the way the hole seems completely natural, as if Doak just found it in the gently sloping meadow and touched little. About 150 yards from the green are a pair of "goalpost" trees, one or both of which must be contended with irrespective of where golfers have put their tee shots. The further down the fairway players try to go, the tougher the approach.

The 13th is the shortest par-4 on the course at 364 yards, and its fairway bunkering creates multiple options from the tee. Warning: the bunker-less green is much trickier than it appears.

The 155-yard, par-3 15th runs downhill, but staring up at the golfer is a sequence of artfully positioned bunkers. On the 18th, the entire 500-yard par-5 - and every one of its 22 bunkers - spreads out in front of players from the elevated tee. The green is reachable in two with a solid drive and uphill approach, if you can stay out of the sand.

With its often dark, tree-lined holes and small, difficult green complexes, Black Forest can be intimidating, but its fairways are actually wider than they appear. You can definitely see the Donald Ross influence in Doak's design, with some greens crowned, others that slope severely front to back, and all filled with multiple swales and hollows that induce multiple breaks even on fairly short putts.

Doak, who is based just down the road in Traverse City, says Black Forest is where he started experimenting with some of his renowned bunkering concepts. "If I had design Black Forest all over again, I wouldn't have made it so hard," he said recently.

Black Forest has reaped kudos since the day it opened. Among these are "Top New Public Courses in America" by Golf Digest, "Top New Courses You Can Play in the United States" by Golf Magazine, and "Top Modern Courses in the United States" by Golfweek. For more information or a tee time, visit www.blackforestgolf.com.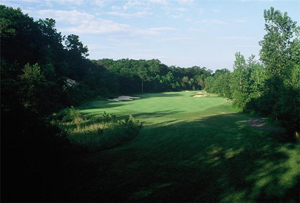 Lost Dunes
Up & Down the Edge of Lake Michigan

While you never spy Lake Michigan from the playing ground that's Lost Dunes - Doak's course in Bridgman in the state's southwest corner, the influence of the massive water body is mighty. Doak was able to fashion the track out of a unique dunes environment that had previously been a 250-acre sand mine whose scars were bared by the industrial operation.

These days there are no unsightly remnants of the sand quarry days. Instead, golfers will find foliage-covered dunes among patches of hardwood and scatterings of pine. Oh, and there are those Doak signatures: large, devilish putting surfaces and tricky greenside collection areas.

Lost Dunes is split in two by a busy interstate highway, with seven of the holes east of the road and accessed from the course's clubhouse by a tunnel under the asphalt. But the highway is barely visible or audible, as Doak was able - through thoughtful routing and the use of some natural dunes covered with large trees - thoroughly minimize the proximity of the road.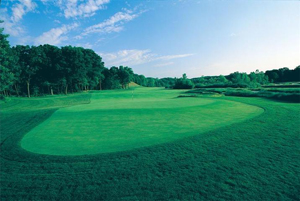 The 8th Hole at Lost Dunes from Behind Green
Lost Dunes, which opened in 1999, is an extraordinary course that truly marries the land to the game as the ground had been hand-tooled for ages by wind and water from the lake. It's carded as a par of 72 and plays 6,905 yards from the tips, and the use of different grasses in waste areas, bunkers and rough is memorable and minimalist - there's that word again.

The course, rated at 73.8 and sloped at 138 from the back set of four tees, is the main draw of the golf-only private club of about 180 members, most of whom hail from Chicago, about a 90-minute drive around the lake or a quick hop by helicopter.

The sandy soil Doak found on-site is wonderful, and little, if any, sand for bunker construction or the greens was needed to be imported; the designer simply put gentle brush strokes on what was already there.

Because the course was going to be carved from such an unusual plot of ground, Doak understood that Lost Dunes' putting surfaces and green surrounds would be paramount. The site had been reduced by all the mining to a kind of flat-bottomed bowl protected from the wind of the lake (which is literally 400 yards west of the 14th and 16th holes), as the landscape had been left smooth and level by construction equipment.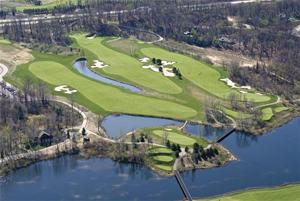 Aerial View of Lost Dunes
"It was almost dead-flat," Doak said of the property as he found it. "We needed to jazz things up to make it interesting. At a place like Pacific Dunes you don't need a lot going on. But this place was different." And jazz it up Doak and his team did.

There is plenty of room to drive on all the holes at Lost Dunes. Together, they offer plenty of charm, drama and beauty.

The tee complex on the 525-yard par-5 fourth holes rests atop a pair of dunes in the northeast corner of the property. The hole turns gently left, with cross-bunkers down the right side and dunes and OB left. The fairway is very generous, but the two-tiered green is considered the most difficult (and controversial) at Lost Dunes.

Hole Nos. 5-9 provide the sturdiest stretch, beginning with the well-protected, 243-yard par-3 fifth, then a pair of two-shotters (470 and 448 yards, respectively), the 603-yard, water-bordered par-5 eighth, and the 188-yard par-3 ninth, which is surrounded by sand.

The 11th is a 428-yard par 4 with a slightly elevated tee playing to a generous landing area with cross-bunkers right and left. The green is above the landing area and sits in a bowl with the nastiest bunker on the property at the right-front.
The 391-yard par-4 12th starts at a towering tee, runs past a huge bunker on the right and ends at a green that moves mostly from back to front. Here is where players will pull out their cameras at Lost Dunes.

Nos. 13-15 are snuggled against a couple of dunes on one side, with a large pond acting as a buffer on the opposite side. On the 510-yard, par-5 15th, the tee is elevated and on an island shared with the 10th green. The hole turns right and around a pond left over from the sand mining; the green can be reachable with the right wind and a brave line off the tee. Left of the fairway is the tallest dune on the property, with Lake Michigan on the other side shielded by trees.

Rankings for Lost Dunes include it being listing as No. 63 on Golfweek's "2010 America's Best Modern Courses," No. 63 in Golf Digest's 2007-08 "America's 100 Greatest Golf Courses" and No. 32 spot in that magazine's 2007-08 index of "America's Best Modern Golf Clubs."

At Lost Dunes, Doak found the soul of Lake Michigan's soft eastern lakeshore. Playing the course is both a privilege and truly unforgettable, and an illustration of the designer's burgeoning prowess and vision.

For additional information, visit www.lostdunes.com.

This story originally appeared in Cybergolf on April 29, 2011.
Steve Habel is one of Cybergolf's national correspondents, contributing news stories, features, equipment and book reviews and personality profiles from his base in Central Texas. He is also the managing editor for Texas CEO Magazine and works as a contributing editor for Horns Illustrated magazine, a publication focusing on University of Texas sports. He also writes a blog (www.shotoverthegreen.blogspot.com), which features news on golf and the Longhorns, and another (www.checkinginandplayingthrough.blogspot.com) on his many travels, which took him across the nation and to 105 different golf course in 2009. Habel is a member of the Golf Writers Association of America and the Texas Golf Writers Association.