'Two Good Rounds - Superstars'
By: Jeff Shelley
Elisa Gaudet is at it again with a follow-up to her 2011 title, "Two Good Rounds -19th Hole Stories from the World's Greatest Golfers." Her second book is in the same vein, with Gaudet branching out to include athletes from other sports.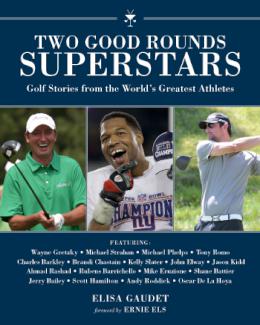 Two Good Rounds Superstars
She travels extensively and has written many stories about charity tournaments, golf courses, resorts and, especially, celebrities with whom she's come in contact. The former model and actress has a real flair for becoming friends with some of the top contemporary figures in sports and entertainment, and her stories have appeared in Cybergolf's "On the Lip" section since 2005.

That ability to make connections with big names is evident in her newest book, with its chapters covering 54 luminaries. Gaudet's interviews include, among others, swimmer Michael Phelps, basketball's Dr. J, decathlete Bruce Jenner, the NFL's Lawrence Taylor, hockey great Wayne Gretzky, boxer Oscar De La Hoya, baseball's Roger Clemens, NASCAR's Dale Jarrett, bullfighter Pepin Liria, skier Bode Miller, and ice skater Bonnie Blair (the only other woman in the book is soccer star Brandi Chastain).
Each chapter contains the superstars' comments on such items as golf handicap, first introduction to golf, favorite courses, best golf memories, how golf compares to (that person's sport), golf and life tips, favorite charity golf events, favorite 19th hole drink, favorite country club grill room/19th hole, holes-in-one (and how many) and others, such as dream foursome.
Though not exactly a penetrating analysis of each personality, there are several revealing anecdotes, and Gaudet has made it clear that the people in the book have a strong affinity for golf. She's also got her heart in the right place as a portion of the sales will go toward the Els for Autism Foundation.
Ernie Els, the foundation's namesake, wrote the Foreword, calling Gaudet's latest book "a fun, feel-good, respectful, lighthearted look at golf and the players' lives and personalities." I can't disagree with that.
The solid, hard-bound book features color photos and several sidebars, including a comical one in Joe Theismann's chapter. When Theismann is asked if he ever played golf with Lawrence Taylor - who, with Giants' teammate Harry Carson, memorably sacked Theismann and gave the Redskins' quarterback a gruesome compound fracture of his leg, he remarked, "Yes, we have played golf a couple of times together . . . and I won't let him play on my left side."
The overall design of the book is good. One quibble I have is the small type, a pale sans-serif font that is hard to read on the heavy, glossy stock. In general though, this book would be a fine addition to your favorite sports-loving relative or friend's library.
"Two Good Rounds - Superstars," by Elisa Gaudet, Skyhorse Publishing, 2013, 225 pages, $19.95, ISBN 978-1-62914-214-2