Two Icons to Lead Golf-in-Olympics Effort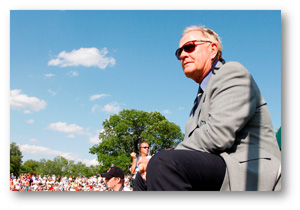 Editor's Note: In a press conference Thursday, Jack Nicklaus and Annika Sorenstam announced they will be spokespeople for the group advocating that golf be added to the Olympics. During the media session staged by the organization pushing for the game's Olympics' inclusion - The International Golf Federation (http://www.internationalgolffederation.org) - the two icons announced they will serve as global ambassadors for the movement.
In addition to World Golf Hall-of-Famers Nicklaus and the recently retired Sorenstam, the session included the federation's two main leaders, Peter Dawson, CEO of the Royal & Ancient, and Ty Votaw, its executive director. Here's what the panel had to say via a teleconference about their efforts.
TY VOTAW: Welcome, everyone, thank you very much for being part of this phone call and this international media teleconference. We appreciate you joining us today on late notice and so close to the holiday season. Without further ado I'd like to get started. On the phone call with us today, we have two very special guests that we'll have introduced here in a little bit. Also on the call with me is Peter Dawson, the co-secretary of the International Golf Federation, as well as the CEO of the R&A, and also with us today are Jack Nicklaus and Annika Sorenstam.
The reason for our phone call is the announcement that we are very pleased to be able to make today, that two of the game's all-time greatest players, Annika Sorenstam and Jack Nicklaus have agreed to serve as global ambassadors in support of the International Golf Federation's business to reinstate golf as an Olympic sport. We'll be turning the program over to Annika and to Jack in a little bit to have them say a few remarks and then open it up for questions.
But prior to that happening, as global ambassadors, these two World Golf Hall of Fame members will be representing the Olympic golf effort at select international events moving forward over the next year leading up to the vote of the IOC in October of next year in Copenhagen at the IOC session. We'll be working very closely with the IGF's Olympic Golf Committee which is spearheading the bid. This will include the Olympic Golf Committee's future communications and meetings with international meetings with the international Olympic committee and other select events and meetings that we'll be having over the course of the next ten months until the vote takes place.
We couldn't be more pleased to have these two iconic golf greats lend their support to this effort. No one is more passionate about growing the game around the world than Annika and Jack and having them be part of this process, we feel is going to be very impactful and very important to us moving forward. At this time I'd like to introduce Peter Dawson to say a few remarks before we ask Annika and Jack to share their thoughts.
PETER DAWSON: Thank you, Ty. I think that golf's Olympic bid is of enormous importance to the game. Not only will it enhance the competitive landscape of our sport, but it will also do an enormous amount to assist the growth of the game. Especially in countries where golf is relatively new and where Olympic sports receive a lot more attention than non-Olympic sports. We are very fortunate to have an increasing constituency in the game behind our Olympic effort. All of the major organizations in the professional and the amateur game are right behind the bid. And an increasing number of current-day players are also lending their support. It's quite a wave of support that we are now experiencing.
But to have two of the greatest figures in the game in Annika Sorenstam and Jack Nicklaus to join our bid as global ambassadors, I'm quite sure is going to give our work a tremendous boost and a tremendous fillet, and we could not be more delighted that they have agreed to do this. So without further ado, I'm going to hand over to Annika and Jack, and perhaps Annika, you'd like to say a few words first.
ANNIKA SORENSTAM: Thank you, Peter and thank you, Ty and everybody. It is obviously with great honor that I am getting involved in this project. I can only echo some of Peter's comments, how important it is to get golf in the Olympics. As you all know, golf has certainly changed my life. Now it's time for me to give back to the game in different ways, and this couldn't be a better timing for me as I'm really determined to give back, because golf is just an amazing game. I mean, it's taking me to all of these places and I've met all of these people, and I can't think of any other sport that would fit better in the Olympics for so many reasons. It's a global game, and you know, some of the values that we see in this game, it's just hard to find in any other sport.
I'm just really, really excited to be part of it and obviously going to do the best I can to make an impact on a global level. You know, growing the game is very important to me. I mean, my foundation is a lot about youth and introducing this game and getting kids a chance to follow their dreams. Another thing that I think is very exciting with the Olympics is also here we have a chance to come together as a union with all of the different organizations that care about the game. It's male and female, and therefore, that's another reason why I'm very excited about this. So I just want to thank everybody for giving me a chance and looking forward to the next few steps.

TY VOTAW: Very well said, Annika, thank you very much. And Jack, it's an honour to have you on the phone as well as Annika and we would appreciate you perhaps saying a few words on this subject.

JACK NICKLAUS: Thanks, Ty, and Peter. And Annika, I couldn't have said what you said better and I couldn't agree with you more that are that area little bit of an aside, part of why golf should be part of this is to benefit the Olympic movement throughout the world. Golf is a perfect match with Olympic ideals. Golf's inherent values embody the Olympic spirit of honesty, integrity, dignity and sportsmanship. Golf has become an international game with its international stars and the thrill of our athletes to have the opportunity to represent their respective countries every four years on the world's grandest sports stage is something that I'm sure all of the athletes will have something that they will remember forever and they will have the opportunity to do so.

The Beijing Games truly showed how the Olympic Games inspired the world's most famous athletes. You saw them from all over the world go there and watch the inspiration that they received from being at the Olympics. As you said, it certainly represents a tremendous opportunity for the growth of golf in countries where it is a developing sport. The Olympics would be a catalyst to ignite golf's growth and identity as an Olympic sport, and the funding it would receive from those countries would be just tremendous for the game of golf. It would obviously bring about some really, really outstanding golfers in all of those countries as they move forward.

And obviously to have the opportunity to represent the Olympic golf initiative with Annika is a true honor. She's been a true ambassador and a true sportsman, and of course, obviously the best champion in the game the women's side has seen forever. I'm delighted to be part of that. I anticipate the opportunity where I can voice my support to the IOC members, and, of course, I'll be discussing it further with Ty and Peter as we go along. But to have the opportunity personally to be involved with this is a big thrill for me.

As I'm winding down my career, it seems to be as though there seems to be another thing come along that sort of inspires me and says: Okay, hey, you're not done old man, yet; you can still contribute to the game. And so to have the opportunity to contribute and try and hopefully bring golf into the Olympics is something that I'm looking forward to very much.

TY VOTAW: Jack, thank you very much and Annika, thank you, as well, for what you've meant to the game and for what you will continue to be to the game, not only with this effort, but in what you're doing to grow it around the world in other ways, as well. At this time I think it would be appropriate for us to open up so that we can have Annika and Jack take some questions.

Q. Jack, what would your argument be to somebody that says that there is enough international competition in golf when you have the four majors, the Ryder Cup and the Presidents Cup?

JACK NICKLAUS: Well, that's totally different. You do have a lot of world competition, but to have golf be an Olympic sport being represented by every country in the world that plays the game, to have the opportunity to develop in countries such as China; India, whose population is immense; to have the opportunity to grow the game in those countries and see the golfers that will come out of there and see what might be, because of the Olympics, how the game could grow and how it could develop players from around those different places; I think it's just truly amazing. As I say, the other side of it is not only what can the Olympics do for golf, but what can golf do for the Olympics. And I think that the Olympics, as I said, the things that golf sort of exemplifies are things that will just be stronger and strengthen the Olympic ideals.

Q. And for Annika, I'm wondering if golf does become part of the Olympics, would that lure you out of retirement to represent Sweden one day?

ANNIKA SORENSTAM: (Laughing) I'm not really sure. I haven't really thought about that. Obviously that's a few years ahead. Now I'm putting my efforts into growing the game in different ways and this is one way. But it's certainly an honor to get a chance to represent your country, and I can't agree more with Jack. This is more than just -- we are not just talking about a golf tournament here. We are talking about the impact this has on the world and the game of golf. If I would play or not, I don't really know. Of course, the competition is going to be so tough that I don't know if I would ever be ready. But it certainly would be an honor and that's really what I'm hoping; that other players will see when the time is here that you'll have a chance to really make an impact on so many different levels.

JACK NICKLAUS: Gary, you're not going to ask me that? I'll only be 76 then.

Q. Jack, if there's an Olympic qualifying process, feel free. I think everybody loves seeing it.

JACK NICKLAUS: (Laughter).

Q. What kind of ways will you be able to use Jack and Annika to help the movement? What's the first place we are going to see them representing the IGF?

TY VOTAW: Well, there are going to be a couple of opportunities between now and the vote. We would be working obviously with Jack and Annika on their schedules to see whether or not their participation in either of these things or others would be appropriate for them. Again it's a scheduling issue. The first one would be the June presentation to the international Olympic committee executive board that will take place in Lausanne. That's the second presentation in this process. The first, as you know, was done last month in Lausanne in front of the IOC Program Commission, which is the body that has been charged with evaluating each of the seven sports bids to become part of the 2016 Games. That was the first presentation. The second one will be June, as I mentioned. And then obviously the IOC session in Copenhagen where the four bid cities for 2016 will be voted upon, as well as the seven sports that will be voted on amongst other things will take place in that session. And there may very well be an opportunity for Jack and Annika or either one of them to participate in meetings with IOC members during the session, as well as the presentation in June.

Those are two that immediately come to mind. There may be others over the course of the next 10 months, and obviously both of those and others would be subject to their schedules and their availability. But their announcement today reflects their willingness to make themselves available in places where it would be important for them to do so, and as I said, we are very appreciative of that.

Q. Clearly this is part of the most organized effort we have had yet to get golf into the Olympics and clearly it's the first time where all of the constituencies are on board and working in the same direction. Given all of that, what is your optimism level at this point?

TY VOTAW: Well, Peter and I and the other voting members of the IGF Olympic Golf Committee, when we undertook this process, we all agreed that we would do our best. We would conduct this bid process in a manner consistent with the values and ethos of our sport, which all you can do is do the best you can do. Your competition will do the best they will do. At the end of the day, the results will be what they are. If someone shoots -- if you shoot 63 and your opponent shoots 62, you've done the best you can, but someone may have done better.

We are going to do the best we can, and we think the unified approach that we have undertaken in this process with the organizations that are involved, with the individuals that are involved in the form of a Jack Nicklaus and an Annika Sorenstam and with the support that we have received from the top players that we put on display at the November presentation to the program commission, all of those things are examples of us doing the very best we can, and we will continue to do that all the way through to the vote. Obviously we would not be in this process if we were not excited about our prospects and having the ability to be successful, and we are going to do everything we can to make that happen. I certainly having Annika Sorenstam and Jack Nicklaus thrown their support behind it is a huge shot in the arm for us to be successful.

Q. I would just like to ask the panel, is there a clear strategy, is this all cleared to professional golf representing their country and if that's the case would there be a Plan B, per se, to have amateurs representing their country? Is that something that's being considered or is considered?

PETER DAWSON: Well, it's been made very clear to us throughout the process with the IOC, not just this time around, but on previous occasions, that they are looking, understandably, for the Olympic Games to cover the best athletes in the world at any particular sport. And so in golf, that very much means the top professionals and that's what we are gearing up towards. We would not get golf into the Olympics for amateurs, this has been made very clear to us. This is for the top athletes in the world. And the amateur ethos in the Olympic Games has really nowadays disappeared. It's a concept of the past and it's about the top athletes, whichever code they belong to.

Q. Has there been any feedback from the top players? I know it's a busy schedule and congestion on schedules is very much paramount these days. Has there been feedback at this stage?

TY VOTAW: There has been. We made a presentation in November. We have a film that was made that we presented at that presentation that included not only Annika in it, but Tiger Woods, Lorena Ochoa, Phil Mickelson, Vijay Singh and other top players from both the men's and the women's game; Suzann Pettersson and Karrie Webb and Paula Creamer on the women's side and several others on the men's side where they all made statements on camera in their own voice that they support golf in the Olympics. The challenge is that we are eight years away from the 2016 games, and we don't know exactly who the top players will be in the world of golf in 2016. All we can do is take today's top players and ask them what their support levels are and we have received that in both the men's and the women's game in a very gratifying way, and we look forward to having more support from those corners as we go down this process.

Q. Jack, a question for you. The gold medal, it's not something golfers dream of winning growing up, they don't sit on a putting green imagining they are putting for a gold medal. How do you think a gold medal would or should fit into the dreams of golfers?

JACK NICKLAUS: Well, I'll have to say that I go back through the years and one of the most prized things that I had in my home was a medal display which included gold medals from the U.S. Amateur, from the U.S. Open, from tournaments on the Tour, from World Cups and things like that. Those were all very, very prized to me. I mean, money, you can take and spend but a gold medal is something you keep forever and treasure and have the memory of it and something that you are very proud of. So I would think that an Olympic gold medal for somebody, no matter who it would be is something -- would be something they would relish and really love to have and respect and would honor for a lifetime.

Q. Annika, you've changed your mind on Olympic golf, haven't you, if I'm recalling correctly? Just wondering how you've come around to the idea to the importance of golf in the Olympics.

ANNIKA SORENSTAM: I would say, yeah, education and information about the whole process. So, yeah, changed my mind. This is probably several years ago. When I was presented with this project and this information, I clearly understood what it was all about. Yes, I've changed my mind, and I want to echo what Jack said. There are certain things in life that have so much prestige and honor, and looking at, for example, a Solheim Cup or a Ryder Cup, those are memories that just, you know, you don't get from other golf tournaments, and it's totally the pride. It's such a special opportunity for the game.

Q. For Jack and Annika, the World Amateur Team Championships have long been regarded as the Olympics of golf. Jack, I believe you played in 1960 and Annika in 1990 and 1992. Curious whether the experience that you had there in that type of international competition might have influenced your decision to join this effort.

ANNIKA SORENSTAM: Like I said, those type of events are just something that you don't get regularly, and those are the events that I have the most memories from. You know, when you stop playing as a professional, things change and therefore it's nice to get this chance again. So I would definitely say that there are few events through their career that I've been lucky to play in and that's one of them and those are the memories that stick with me forever. So whether I get the chance to play in 2016 or whoever, the next generation, this is something they will be talking about forever. And that's what is so unique about golf; the places and the memories you have, it's incredible.

JACK NICKLAUS: I go back to 1960 at Merion. I was 20 years old. The first round I was playing with a gentleman from Finland. And we walked off and I'm going down, walking down the first hole and he was looking on both sides of the fairways, and he says, "Good gracious, look at these people. Jack, the only people that have ever seen me play are the cows in the fields." And I'll never forget that. And I also remember what an international person I must have been in 1960 and how good my geography was. I was also playing with a gentlemen in one of the rounds, Esperitó Santo from Portugal, and I'm a very suave 20-year-old college kid walking down the fairways, and I turn over to him and I say, "And just exactly what part of South America is Portugal?" (Laughter).

So, you know, you go back and look at those memories and some of those memories will happen in the Olympics, because people will come out of countries that they never have had the opportunity to go to another part of the world. They have only been in their own country and never represented and maybe will learn a little geography. But the opportunity that I had playing in that World Cup and playing with my team is an experience that still is very strong in my memories and one that, you know, obviously the only thing we got from that is a little medal thing that we represented our country and played in that, and that was pretty special.

PETER DAWSON: And I think you won it, Jack, too, didn't you?

JACK NICKLAUS: Well, we won it as a team. I won the individual, but there really wasn't a individual prize.

PETER DAWSON: Well done.

Q. For those of us in golf, you make a very compelling argument for inclusion in the Olympics, but the IOC is a very political animal, and from the experiences you've had so far, and going into June when you make the next presentation, what do you see as the single biggest objection or negative perception that you have to overcome to push this through?

TY VOTAW: Well, I don't know if that's been articulated to us in any kind of meaningful way. The reactions that we have received back from the IOC members that we have spoken with, and the presentations that we made in November; it's been very positive. I do know the feedback that we have received in Beijing when Peter and I were there, the common points that were made at that point were: Is the sport united in its effort to make this happen; does it speak with one voice, that being one.

And the second is, do the top players support the concept of golf in the Olympics. And I believe that over the course of, as we said, in November, and over the course of the next ten months, in every conversation we have had, we have tried to demonstrate that the world of golf from all corners, leading golf organizations on both the men's and the women's side, the amateur bodies and the Golf Federations from around the world and the top players are united in this effort. And obviously the statements and indications and support that we have gotten from the top players of today as well as the iconic players, they are on this phone call with us; our indication is also that the top players support this. We will continue to make these points as we move forward down through this process, and the feedback we have received from the IOC on those points has been very positive.

PETER DAWSON: I think if I could just add to that, Ty. The other issue that we have been asked about quite often is golf's calendar. And because we do have all of the bodies represented on the International Golf Federation Olympic Committee who have the power or the capability to adjust golf's schedules, we have made the commitment to the IOC that if golf is successful in its Olympic bid, we will ensure that the schedules are adjusted in both the men's game and the women's game to accommodate.

Q. Do you think that unit gives you a 1-up on roller sports and squash?

PETER DAWSON: Well, as Ty said, we can only do the best that golf can do. It's for other sports to make their own cases.

Q. As a follow-up on a question that's already been asked, but I think it's a topic that's very important for the bid. Can I ask Annika and Jack if they think the Olympics can become the pinnacle of the game from the golfer's point of view, i.e., more important than the majors, Ryder Cup and Solheim Cup, and if it's not the pinnacle, how high up would it be on the players' list of priorities?

JACK NICKLAUS: Well, I think that's a very good question. I think that you're going to bring a whole new event into the game of golf. The Olympics have never been -- it's been 1904 since golf has been part of the Olympics. Golf is a much different game today than it was 104 years ago, and it will be 112 years if they are successful in playing in the next (eligible) Olympics. And that would remain to be seen. I think that winning an Olympic gold medal has been a very valuable feeling for somebody in any sport, and I think the difference -- it is representing your country. When you play in the four majors, you're representing yourself. Yes, you are a representative of the United States or Sweden or wherever you might be, but to represent your country in the Olympics and to win a gold medal for that is something that will probably be grow stronger over time.

Will it be, like Annika was talking about, like a Ryder Cup and a Solheim Cup; it's something that's totally different than playing in a major championship. Major championships are very special as individuals, but as a representative of your country and playing in that, I think it will have a totally different meaning and I think it will be very special. Where it will rank, you know, I think that's going to be -- time will tell.

ANNIKA SORENSTAM: And I would agree with that. Time will certainly tell. And I think what makes the Solheim Cup and the Ryder Cup so special is, you know, it only happens every other year. Majors, there are only four and they are just very, very special. Here we have an event that will take place every four years. So it's going to be a very elite and exclusive group that gets a chance to go. So I would think that would make it even more exciting and more special. Growing up in sports and just watching the Olympics, I mean, it was the top athletes that made it there. And again, to represent your own country once every four years, that is very, very special. That's one of the things that may be made me reconsider my thoughts on the Olympics. I would think all of those points, you know, in a few years or decades or whatever it will take, I would think young golfers would love the opportunity to be a part of it, and therefore, it will make it very special.

PETER DAWSON: I would think, as well, to play golf at that level while surrounded by the world's best athletes in the Olympic Village and everything else from other sports will make it doubly special, too.

TY VOTAW: And I'm reminded of Raf Nadal's answer to that very question this past Olympics when he acknowledged in tennis that the Grand Slam may very well be the pinnacle. But if you're a sportsman the Olympics are the pinnacle and he felt as a sportsman, he felt that was his best answer for his sport, which has a lot of parallels in tennis of the schedule and major championships in his sport. I think the same, to have the top men and women golfers from around the world consider themselves not only golfers, but also sportsmen, would be a very positive and impactful sense on their part for our sport.

Q. With new options around like power play golf in mind and given the impact that other sports have achieved by coming up with a shorter format of the game, particularly when you think about the demands of TV, do you feel that traditional 72-hole tournament is the best format for the Olympics?

JACK NICKLAUS: I don't know what the format is going to be. I think the format -- and I think that probably Peter or Ty could answer that question better than I, or Annika. I would think that -- I'm just not exactly sure what the format really is.

TY VOTAW: Jack and Annika, for your benefit and for the benefit of those on the line, we are in the process of talking to the top players in both the men's and women's game to get their feedback as to what format they feel would be the best test for an Olympic golf competition. That will actually be memorialized in the detailed questionnaire that we will be providing to the IOC by the end of March. We are in the process of getting that feedback. The one thing that we have said in terms of some parameters that we presented in November, Peter and I, in our presentation to the Program Commission was: We do see this as an individual competition, not a team competition; country-by-country, but individual, and approximately 60 players for the men's and 60 players for the women. And whether it is stroke play or whether it is match play or some combination of both is what we are discussing with the top players.

Given the fact that the IOC has said that the top players have to support and want to play in the Olympics if golf were part of it, we think it's critical that we get that feedback from the top players so that we maximize the potential for that sport, and the format is certainly something that we are going to be going to the top players and talking about before we submit the bid.

Q. With regard to the after effects that would happen in the game if golf was featured in the Olympics, does the technical bid require the IGF to show what legacy there would be for the grass roots game of golf should we be successful in the bids becoming an Olympic sport?

PETER DAWSON: I believe it will. There are questions on that topic, I understand, on the questionnaire that we have to complete in the first quarter of 2009. Of course, all of the bodies represented in the IGF Olympic Committee are already working hard at grass roots level with various programs and degrees of support. I'm sure we'll be able to answer those questions very positively when we combine what we are already doing with the input we are getting from all of the members around the world of the International Golf Federation country by country as to their current programs and how they see funding growing in their individual countries if golf is successful in its Olympic bid. So that's very much a part of it.

TY VOTAW: On behalf of the International Golf Federation we want to thank Annika and Jack for their support and their commitment to this effort and their participation here today, and we thank all of the participants on the call and wish you all a very happy holiday and look forward to seeing and you working with you in 2009 as we go through this process with the IOC.

The transcript for the above interview is courtesy of ASAP Sports.