Two Indy Area Courses Illustrate Pete Dye's Growth as a Designer
By: Steve Habel
There are 15 golf courses in Indiana "built" by Pete Dye, the most of any state. That's understandable considering Dye has lived in Indiana for about 60 years and still resides in a home on his creation at Crooked Stick Golf Club in Carmel, a leafy northern suburb of Indianapolis.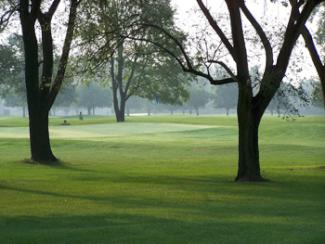 Maple Creek GC
Dye's importance to golf in the Hoosier State and overall influence on the game has spawned the Pete Dye Golf Trail, a seven-course collection with some of the master architect's favorite public layouts in Indiana.

Four of the Dye Trail's courses are in the Indianapolis area, including two - Maple Creek Golf & Country Club and Plum Creek Golf Club - that are critical pieces to Dye's growth as a designer and his ability to optimize a chunk of real estate.

Both courses should be included in a textbook of golf course design, not because either is among Dye's best but because each has its place in the progression in his thoughts about course design 50 years ago and how thinks about it now.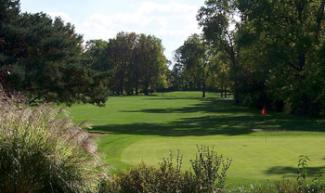 Maple Creek Was Dye's First 18-hole Course
Maple Creek was Dye's First

Originated as Heather Hills Country Club on Indianapolis' northeast side in 1961, Maple Creek Golf and Country Club was the first 18-hole course built (he says he never "designed" a course) by Dye and represents the first chapter in the story of his illustrious career.

Created in partnership as usual with his wife, Alice, Maple Creek's intense routing begins with small tee boxes and often-diminutive putting surfaces and greens, rolls down hilly terrain through fairways narrowed by mature trees, and is accentuated by areas of tall native grasses. Selective bunkering adds to the test, as does a creek that winds through the first 10 holes and is prominent on four of them.

Carded at just 6,623 from the back set of four tees, the par-72 course at Maple Creek carries a rating of 72.7 and Slope of 141. These degrees of difficulty come mostly from the course's absolute demand for accuracy. Sheer length isn't an issue here, as just three of the par-4s (the 456-yard 11th, 401-yard 14th and 410-yard 17th) extend more than 400 yards.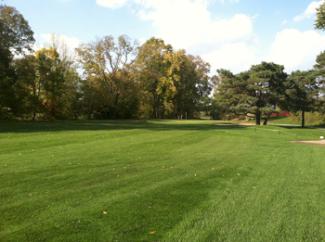 No. 13 at Maple Creek
Three of the first four holes are wonderful short par-4s, all playing 347 yards or less, with the yardage not hinting at their testiness. No. 1, at 347 yards, heads down and then up and over the creek to a putting surface just 20 feet deep. The third is a pinched 340-yarder where the creek enters play 227 yards off the tee and a bunker guards the left of the putting surface.

Then the 339-yard fourth is a slight dogleg-left with a bunker at the elbow and the creek rolling across the fairway at a low-left-to-high-right angle.

Other front-nine highlights are its two par-5s. The sixth plays 540 yards, with water right and the fairway lined by tall trees on both sides. It ends at a green just 29 yards deep, but the approach is made to an area where the putting surface is half that width.

Meanwhile the 535-yard ninth turns hard leftward on the approach, giving the hole the look of a question mark.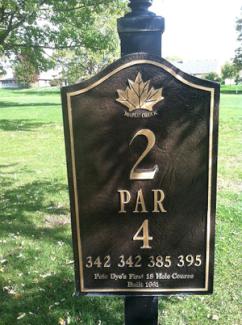 Signage at Maple Creek
The home half is a bit wider but also has Maple Creek's longest par-4s. The top hole might be the 475-yard par-5 13th, which has two bunkers along the right of the prime landing area and two others closer to the green, which - at 47 yards across - is the biggest on the course.

The round ends at a 185-yard par-3 that plays uphill to a huge putting surface ringed by three bunkers. I wonder how many other Dye-designed courses end with a one-shotter (not many I'd wager.)

There are none of Dye's later signature railroad ties or large waste bunkers at Maple Creek, but it's easy to see his stamp on the course, especially in the placement of water hazards and movement of the greens. Any aficionado of Dye's work should play Maple Creek and step back 50 years to see where one of the game's greatest architects placed his first imprint.

For more information, go to www.maplecreekgc.com.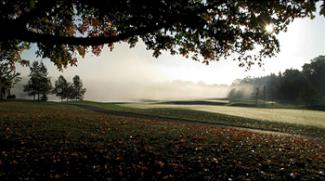 Plum Creek in the Mist
Plum Creek GC is Residential Golf Done the Dye Way

For years, the acres between Hazel Dell Parkway and River Road in Carmel were home to Lynnwood Farm, one of America's most prized Percheron horse farms. Today, those same fields are now occupied by Plum Creek Golf Club, a standout because of its naturalness and how wisely Dye utilized the property.

Plum Creek, near Dye's residence in Carmel, is an example of residential golf done right. Homes line the course, but ample setbacks make them seem like distant spectators, giving the layout a wide-open feel.

The par-72 layout - which plays 6,802 yards from the tips where it's rated 72.6 with a 133 Slope - opened in 1998. It's lined by tall grasses and adorned with multiple water features, strategically placed bunkers and some tough greens.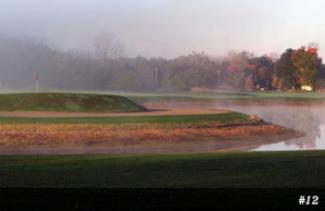 The 12th hole at Plum Creek GC
"Plum Creek is what we wanted in a golf course in a residential area," Dye said. "It's easy to walk, and there is plenty of room to play and some nice holes with lakes and water. The course changes dramatically throughout the round, with short and long par-4s. It's a real challenge."

The front nine winds through the neighborhood, offering mostly straightaway holes, with the only water hazard on the first hole. The opener, a mere 317 yards from the tips, is the first of two drivable par-4s in the first five holes (when have you seen that on a Dye-designed course?).

The 419-yard fourth features a split fairway, with thePlum Creek bisecting it. Stay on the right fork if you want a safer drive, or aim left and take the chance of shooting over the creek for an easier approach to an elevated, deep putting surface.

No. 18 at Plum Creek GC
Just in case you think Dye went easy on golfers here, the rest of the round will have you thinking otherwise. One of the course's toughest tests is the 485-yard par-4 seventh, which has two bunkers on the right side of the prime landing area; they must be carried to have a decent shot at the green.

The back nine winds around the old Lynwood Barn and features more water hazards. The 460-yard 14th is set in a broad plain and is played down and then back up to a green.

No. 17, a 539-yard par-5 that turns hard to the right around the lake, is tough because it's narrowed in the initial landing area by a long bunker. The lay-up is between two more bunkers, while the putting surface has sand at the front-right, left and rear.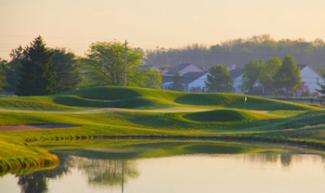 Plum Creek
The 422-yard par-4 closer asks players to drive over a lake and a wide bunker to find the optimum landing area. The approach must avoid more water left as well as one of the biggest greenside bunkers at Plum Creek; a back-left pin brings both water and sand into play and can be brutal.

The course has held several big tournaments, including the 2004 Indiana Women's Golf Association Mid-Amateur Championship and 2003 Indiana State Open.

With a handful of blind shots, great tilts on the putting surfaces, plentiful mounding, and colorful contours, Plum Creek is a solid example of modern golf architecture done the Dye way.

For more information, see www.plumcreekgolfclub.com. And for more information about the Pete Dye Golf Trail, go to www.petedyegolftrail.com.
Steve Habel is a freelance writer contributing Cybergolf news stories, features, equipment and book reviews and personality profiles from his base in Central Texas. He also works as a contributing editor for Horns Illustrated magazine, a publication focusing on University of Texas sports, and is a contributing writer for Golfers' Guide and Golf Oklahoma magazine, Texas Links magazines and Golfers Guide. Habel's main blog (www.shotoverthegreen.blogspot.com) features news on golf and the Longhorns, and another (www.checkinginandplayingthrough.blogspot.com) chronicles his many travels, including playing more than 600 golf courses since 2008. Habel is a member of the Golf Writers Association of America and the Texas Golf Writers Association.