Two New Jacobsen Hardy Treats in the Northwest
By: Jeff Shelley
Peter Jacobsen has become an icon in Northwest golf circles. The personality-plus touring pro from Portland has not only proven to be one of the best players ever to emerge from the nation's upper-left-hand corner, but he's also developed a remarkable variety of golf-related avocations along the way.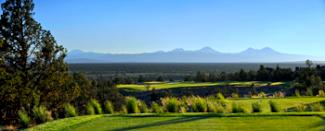 Some of the Vistas from Brasada's 9th Hole
In addition to forging a fine career on the PGA and Champions tours, "Jake" as he's popularly known has his own golf course architecture firm, Jacobsen Hardy Golf Course Design; and a management company, Peter Jacobsen Sports, a sports-marketing firm he created in 1988. He's also been an on-course reporter for NBC and The Golf Channel; had cameo appearances in two popular movies, "Dead Solid Perfect" in 1988 and "Tin Cup" in 1996; and has co-authored two books about his life as a touring pro, "Buried Lies: True Tales and Tall Stories from the PGA Tour," and "Embedded Balls: Adventures on and off the Tour with Golf's Premiere Storyteller."

Jacobsen also created the Fred Meyer Challenge, a pro-pro, team best-ball event in the Rose City that has drawn such luminaries as Arnold Palmer (his partner since the event was established), Greg Norman, Fred Couples, Paul Azinger and many other PGA Tour stars. The tournament was held from 1986 through 2002. One of its annual highlights was the performance by Jake Trout & the Flounders, a band Jacobsen formed with Mark Lye and Payne Stewart in the mid-1980s. It played until Stewart's untimely death in a plane crash in 1999.

The event, locally known as "Peter's Party," went on hiatus in 2003 when Fred Meyer withdrew its sponsorship, but returned August 28-30, 2011, as the Umpqua Bank Challenge at historic Portland Golf Club. Among the players Jacobsen enlisted were Palmer, John Cook, Mark O'Meara, Jay Haas, Ben Crenshaw, Tom Lehman and Fuzzy Zoeller.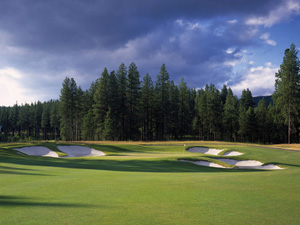 The Par-4 Third at Rope Rider
Earlier this year, Jacobsen was named the winner of the 2012 Old Tom Morris Award by the Golf Course Superintendents Association of America, the organization's highest honor. The award will go next to the Francis Ouimet Award Jacobsen received from the Francis Ouimet Scholarship Fund in 2006 for his lifelong contributions to golf, and his 2003 induction in the Oregon Sports Hall of Fame.

Jacobsen's course architect-partner, Jim Hardy, is no slouch in the golf world either. After playing on the PGA Tour from 1968 through 1974, Hardy turned to golf instruction, an area where he's still one of the game's pillars. With Shelby Futch he co-founded the John Jacobs Golf Schools and the Carol Mann Golf Schools.

In the 1980s, Hardy formed a course-construction management company and began a new career in course design and development. His construction management company developed more than 60 golf course-related properties, including Bonita Creek, Ventana Canyon, Shadow Hawk, Conway Farms and Bonita Bay. He's worked alongside such high-profile architects as Tom Fazio, Jack Nicklaus, Palmer, Arthur Hills, Robert Trent Jones Sr. and Rees Jones.

Hardy served as the design consultant for the PGA Tour's Tournament Players Clubs (TPCs), assisting with renovations of the TPC at Southwind in Memphis, the TPC of Louisiana in Avondale, La., and, with Stephen Wenzloff of PGA Tour Design Services, the total redesign of TPC at Avenel in Potomac, Md., in 2007.

In 2007, Hardy was named the PGA of America's National Teacher of the Year, the highest golf-instruction honor in North America. Hardy has maintained his position as one of America's top-50 instructors, working with players such as Jacobsen, Scott McCarron, Tom Pernice, Bob Tway, Olin Browne, Duffy Waldorf, Jay Delsing, Stan Utley, Don Pooley and Graham Marsh from his base of operations in Houston.

The Elevated Tee at Brasada's 17th
Jacobsen's work with Hardy is evident at several courses in the Pacific Northwest, including in Jake's home state of Oregon, where the duo designed Stone Creek in Oregon City, Creekside in Salem, Oregon Golf Club in West Linn, and the sublime Brasada Canyons Golf Course near the small town of Powell Butte in the central part of the state. Jacobsen Hardy also oversaw an extensive remodel of Salishan Resort in Gleneden Beach alongside the Pacific Ocean.

Up north in the Evergreen State, the pair's only course is its newest. Rope Rider, a public-access facility, opened in late summer 2011 at Suncadia Resort near the small Central Washington town of Roslyn.

On a whirlwind three-day period during an unseasonably hot stretch in September, I played Brasada and Rope Rider, two very different tracks but each blessed with many attributes.

The 3rd Hole at Brasada
Brasada Canyons

This course opened in 2007 as an exclusive, private club for homeowners in a 1,800-acre development. Unfortunately, the area around Bend, Ore., suffered greatly - probably more than most places - from the housing collapse and subsequent economic meltdown, forcing Brasada's original model to be significantly altered.

Originally developed by Klamath Falls-based door-and-window manufacturer, Jeld-Wen, Brasada was acquired in November 2010 by Northview Hotel Group, which also bought two other Jeld-Wen properties in Oregon, Eagle Crest Resort near Redmond and Running Y Ranch west of Klamath Falls.

Northview has since been making strides to convert Brasada into a true four-season destination resort. The company has spent $3 million on upgrades, including a new spa and opening up some of the amenities to guests previously reserved for members, such as equestrian facilities, an athletic center and fishing programs.

Particularly alluring for visitors are the outstanding one-, two- and three-bedroom "cabins," many of which feature hot tubs, decks with gas barbeques, full kitchens and wonderful views of the golf course and surrounding mountains. These are some of the most spacious, quiet and best-furnished accommodations at any of the dozens of golf resorts that I've stayed and played over the past 30-plus years.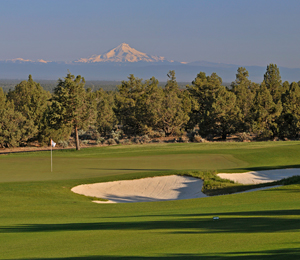 No. 7 at Brasada
This was the second time I've played Brasada, and it's the type of course you can circuit over and over again and never tire of. There are long and short par-3s, up-and-down topography that offers myriad shot options, generally huge but interest-piquing greens, and vistas of nearby peaks like mounts Jefferson, Three Sisters, Broken Top and Bachelor.

When we played here in September 2011, the course was absolutely immaculate, one of the best-conditioned tracks I've seen in years and well worth the $100 green fee for that reason alone.

In 2008, Jacobsen said of the course: "There's so much to see during a round at Brasada, it's such a feast for the eyes that we had to make some strategic decisions about when to create visual drama and when to simply get out of the way. The creative part of our design here was mainly a matter of routing. There are three basic types of holes at Brasada: those that play in the canyons themselves; those that play along their edges at elevation; and those that play off the edges, either into the canyons below or across them to another edge.

"It's unbelievably dramatic, nearly a mountain golf experience with all the elevation change - but very high desert in terms of the surrounding vegetation, which is unique to central Oregon. When we first arrived on-site, it struck us all as being similar to Desert Mountain, in Scottsdale, but with juniper in place of the cactus. It's a singular golf environment, and the course we created here accentuates every bit of it."

During my chat with Hardy this September, he said, "Brasada is one of my favorite sites ever - you have a kaleidoscope out there." Hardy made sure to note that the development of the course was a cooperative effort. "It was a real team at Brasada. We had lots of environmental concerns (to mitigate). We worked with land planners, civil engineers and local permitting authorities. The coordination required (for the project) was the most I've ever worked."

Housing never intrudes onto the 7,328-yard course, and the routing is such that your group feels very much apart from civilization. At Brasada Canyons, it's just you, your clubs and golf buddies along for what I consider an invigorating ride. For more information, visit http://www.brasada.com.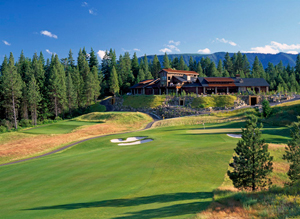 Looking Up the 9th Hole at Swiftwater Cellars
Rope Rider

While Brasada weaves through the canyons and plateaus of Central Oregon's juniper-dotted high desert, Rope Rider is an altogether different animal. Though not what I'd consider a true tree-lined parkland-style layout, Rope Rider - named in honor of the miners who precariously balanced themselves on the roped coal cars that maneuvered the steep mine shafts weaving through the area - features generally broad fairways lined by native fescues, scrub growth and high-mountain pines.

Situated on the east side of the Cascade Mountain Range, this latest Jacobsen Hardy creation is the third 18-hole layout to open at Suncadia, a massive 6,300-acre development that also contains the public Prospector - an 18-hole Arnold Palmer design, and private Tumble Creek, a Tom Doak track that I consider among my top-10 places to play in the state of Washington.

Rope Rider was originally slated to open two years ago, but the economy and sluggish home sales postponed its debut until late August 2011.

The course is unique in that its pro shop is situated inside Swiftwater Cellars winery, a handsome 42,000-square-foot structure that offers tours, wine-tastings, offices, shops and a bustling restaurant. The winery, which opened in September 2010, was started by Don Watts, a south-central Washington native who made his mark as a farmer, growing thousands of acres of vegetables (including potatoes for McDonald's French fries). One of his neighbors in Patterson, Wash., was Gary Hogue, who founded Hogue Cellars, one of the most esteemed vintners in the Evergreen State, which now has over 600 wineries.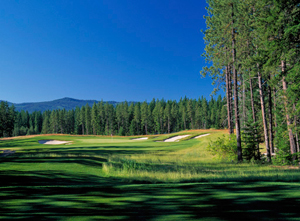 Rope Rider's Eighth Hole
Watts later expanded his business into a major food-processing concern - Watts Brothers Farming and Frozen Foods - before selling the company. The likable winery owner, who attended a Q&A session in shorts, T-shirt and flip-flops, joked that he had been "a Coors Light guy" before venturing into the grape-growing and winemaking businesses. The winery now produces 4,000 cases of whites and reds; Watts says his goal is 7,000 cases a year.

Watts is also a golfer; we all drove off the Jacobsen tee on No. 1, which sits just outside the winery. When played from these way-back blocks, Rope Rider extends over 7,300 yards. During a 2011 U.S. Mid-Amateur qualifying at the course only three players broke 70.

The layout has several unique features, including the ability to be set up for three-, six- and 12-hole loops. The designers wanted to make the venue "family friendly" and offer time-pressed members and guests quick and affordable golf fixes.

There are also "junior tees" in the fairways that range in distance from 60 to 170 yards from the hole, giving youngsters a chance to do well and have a sense of participating in an outing with parents or friends.

Another unusual sight is a long, massive mound of coal-mine tailings - Tipple Hill - that's on view from the winery and rises 120 feet.
Rope Rider's Par-5 Opener
Hardy said his firm's design goal with any golf course is to have a player say, " 'Wow, I had a lot of fun and want to come back again.' If you make it too much of a challenge and not enough fun for players, they won't come back."

He said the duo's philosophy is that "the land is the hero," and that "we want to produce beautiful golf courses. We move only enough earth to fit into the surrounding land."

As for their latest project, Hardy marveled, "We had so many opportunities at Rope Rider. There were so many geographic features to work into the golf course. The rolling land also gave us a lot of variety to the holes - in the trees, in the open areas, 'spoils' areas. The land was very appealing to us."

He and Jacobsen craft a course in nine-hole increments, giving players the chance to score while also posing holes that will test their mettle. "We look at golf courses as nines, providing a par-3 that's really a par-3½, a par-3 that's a 2½. We want to build holes that will take strokes from you and others that'll give them back."

As for the abbreviated loops at Rope Rider, Hardy is singing in the same choir as Barney Adams, the club-maker who now backs the "Tee It Forward" initiative that hopes to attract players to golf by offering faster rounds while not beating them to death with difficult set-ups.
"We played those short loops at Oklahoma State," Hardy said of his days as an All-American on the Cowboys' golf team in 1966. He's also good friends with Adams, who he considers a visionary in the golf world. "People should just follow him around and pick up the scraps," Hardy said with a laugh.

Hardy feels blessed to have had the chance to design courses in the Pacific Northwest with his longtime friend Jacobsen, whom he met in the early '80s and gave swing tips. The region's varied topography and geographical features - not to mention the sweeping views of mountains and ocean - make Hardy feel "lucky" to have worked here.

When asked about the difference between designing and building a course in the Northwest as compared to his hometown of Houston - where Jacobsen Hardy crafted the acclaimed Redstone Golf Club in Humble, Hardy drawled, "Houston has one foot of elevation change."

For more information about Rope Rider and Suncadia, visit http://www.suncadiaresort.com.

Jeff Shelley is the editorial director of Cybergolf.